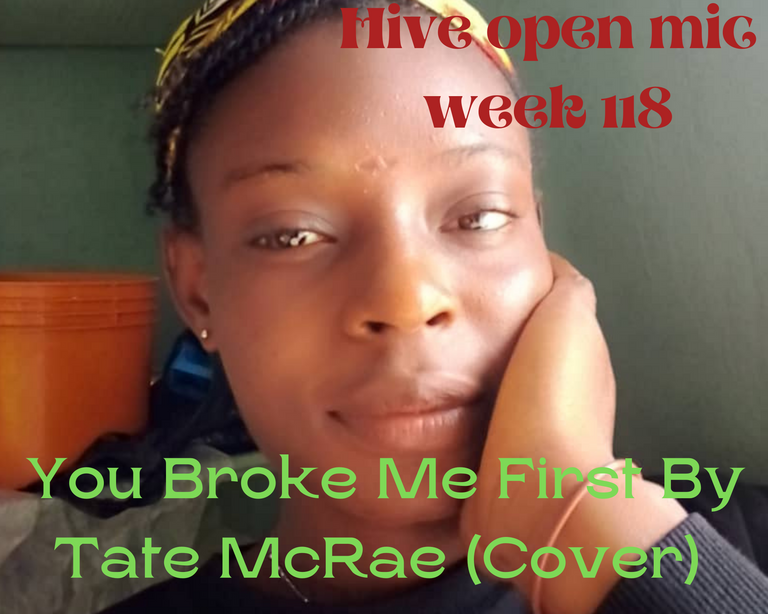 ---
---
English
---
Love is a strange feeling that at one point in one's life, one is bound to have this feeling and it is some times weird because you start doing things that ordinarily you won't do.
But there are some times when the love you have for someone starts getting sour and it feels like you should never have fallen in love. But who are we to say when love starts or end? It's almost impossible to do that.
This is Hive open mic week 118 and for this week's theme LOVE HURTS chosen by @khaleesii, I have chosen a song by Tate McRae titled YOU BROKE ME FIRST.
This song revolves around a person who lost the one he loves because they hardly communicate well with themselves and at this period, one of them had already found someone else but never said anything to the one he or she has been with. But the love of the other was strong so he or she always accommodated the other whenever he or she has a problem with the third party.
But with time, the one being used realized what was going on and he got the courage to stop doing all the sweet things and had to let go of the one he loves, you can imagine how it might hurt him but he had to do it because it was bound to happen anyways. Sometimes we hold on too much and end up getting broken to the point were it will leave a very deep scar.
You only know you love someone when you let them go, weird right? Yes, love is weird and we have to face it. But no matter how hurt we are, we should always be ready to move forward and not hold on too long to our past. Love is everywhere but we get blinded by our hurt that it's really hard for us to see all the love that is around.
Always remember, there is nothing time can't heal, as long as you have time, you will pass through that hurt and you will be super happy in the end trust me, all you have to do is give what you want.
You can find the lyrics of the song by clicking Here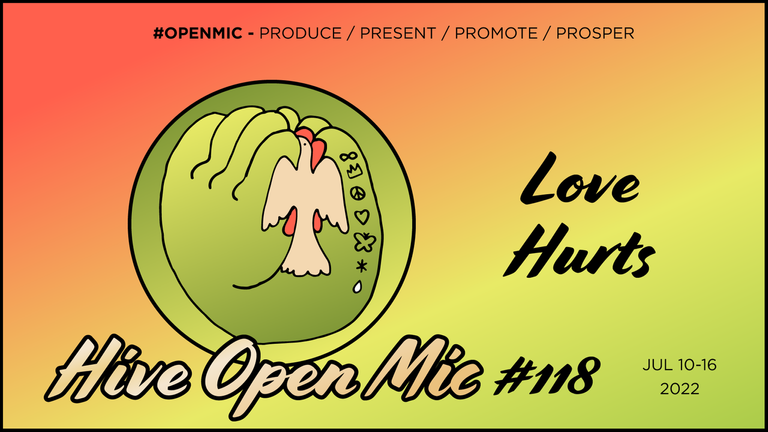 Property of Hive open mic community
Thank you so much for stopping by and I'd really appreciate your comments.
See you at my next post ❣️❣️.
---
Español
---
El amor es un sentimiento extraño que en un momento de la vida uno está obligado a tener este sentimiento y algunas veces es raro porque empiezas a hacer cosas que normalmente no harías.
Pero hay momentos en que el amor que sientes por alguien comienza a agriarse y parece que nunca deberías haberte enamorado. Pero, ¿quiénes somos nosotros para decir cuándo comienza o termina el amor? Es casi imposible hacer eso.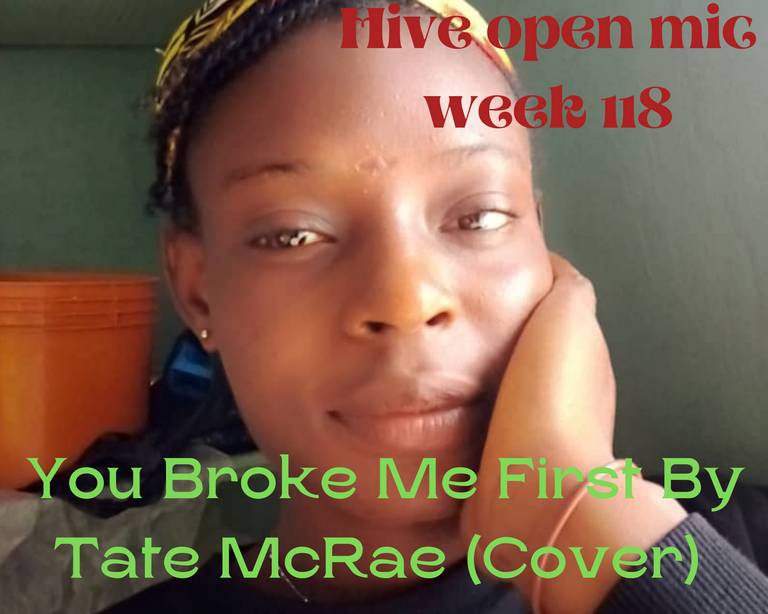 Imagen diseñada con canva
Esta es la semana 118 de micrófono abierto de Hive y para el tema de esta semana LOVE HURTS elegido por @khaleesii, he elegido una canción de Tate McRae titulada TÚ ME ROMPIÓ PRIMERO.
Esta canción gira en torno a una persona que perdió a la persona que ama porque apenas se comunican bien consigo mismos y en este período, uno de ellos ya había encontrado a otra persona pero nunca le dijo nada a la persona con la que ha estado. Pero el amor del otro era fuerte por lo que siempre se acomodaba al otro cada vez que tenía un problema con el tercero.
Pero con el tiempo, el que estaba siendo usado se dio cuenta de lo que estaba pasando y se armó de valor para dejar de hacer todas las cosas dulces y tuvo que dejar ir a la persona que amaba, se pueden imaginar cómo podría lastimarlo, pero tenía que hacerlo. porque estaba destinado a suceder de todos modos. A veces nos aferramos demasiado y terminamos rompiéndonos hasta el punto de dejar una cicatriz muy profunda.
Solo sabes que amas a alguien cuando lo dejas ir, raro, ¿verdad? Sí, el amor es raro y tenemos que enfrentarlo. Pero no importa cuán heridos estemos, siempre debemos estar listos para seguir adelante y no aferrarnos demasiado a nuestro pasado. El amor está en todas partes, pero nuestro dolor nos ciega porque es muy difícil para nosotros ver todo el amor que hay alrededor.
Recuerda siempre, no hay nada que el tiempo no pueda curar, mientras tengas tiempo, superarás ese dolor y al final serás súper feliz, créeme, todo lo que tienes que hacer es dar lo que quieres.
Puede encontrar la letra de la canción haciendo clic Aquí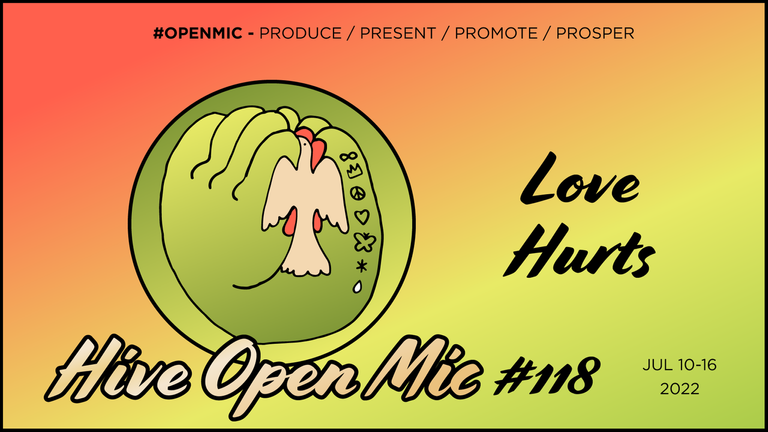 Propiedad de la comunidad de micrófono abierto de Hive
Muchas gracias por visitarnos y realmente apreciaría sus comentarios.
Nos vemos en mi próxima publicación ❣️❣️.
---
▶️ 3Speak