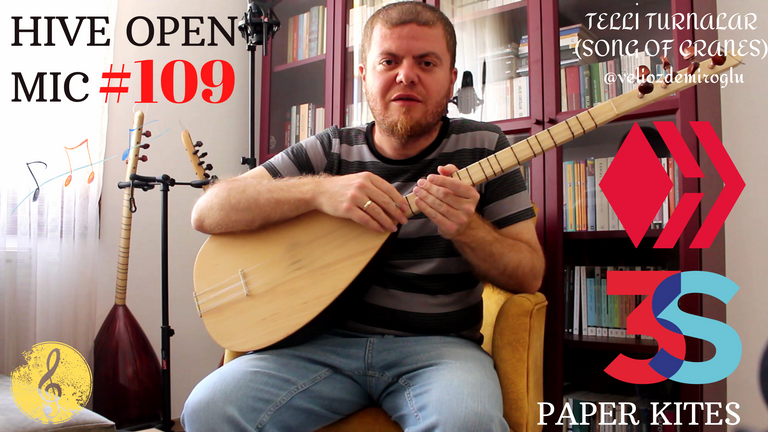 ---
Greetings everyone. Paper kites remind me of freedom. When we humans think or try to understand freedom, we usually think of the sky and the birds flying in the sky seem to be freed from captivity and living their freedom. In my culture, cranes are the closest birds in character to humans, and cranes fly freely and attract people's attention. Their lifestyle, beauty and behavior are reflected in many folk songs. This week I wanted to share with you one of the folk songs with cranes in it. I hope you will like it. I wish everyone success in the new week, goodbye.
Lyrics;
Cranes that comes from below
Cranes
I don't have my crane in you
I don't have my crane
If anyone asks from my friends,
If anyone asks
I don't have my crane in you
I don't have my crane
Hasret Gültekin Cover of Telli Turnalar;

Herkese selamlar. Kağıt uçurtmalar bana özgürlüğü anımsatıyor. Biz insanlar özgürlüğü düşünürken veya anlamaya çalışırken aklımıza genelde gökyüzü gelir ve gökyüzünde uçan kuşlar tutsaklıktan kurtulmuş ve özgürlüğünü yaşıyor gelir. Benim kültürümde insana karakter olarak en yakın kuşlar turnalardır ve turnalar özgürce uçar insanın dikkatini çekerler. Onların yaşam tarzı, güzellikleri ve davranışları birçok halk şarkısına yansımıştır. İçinde turna geçen halk şarkılarından birisini sizlerle paylaşmak istedim bu hafta. Umarım beğenirsiniz. Herkese yeni haftada başarılar diliyorum, hoşça kalın.
Şarkı sözleri;
Aşağıdan gelenler telli turnalar
Telli turnalar
İçinizde telli turnam yok benim
Turnam yok benim
Yarandan yoldaştan soran olursa
Soran olursa
İçinizde telli turnam yok benim
Turnam yok benim
---
▶️ 3Speak