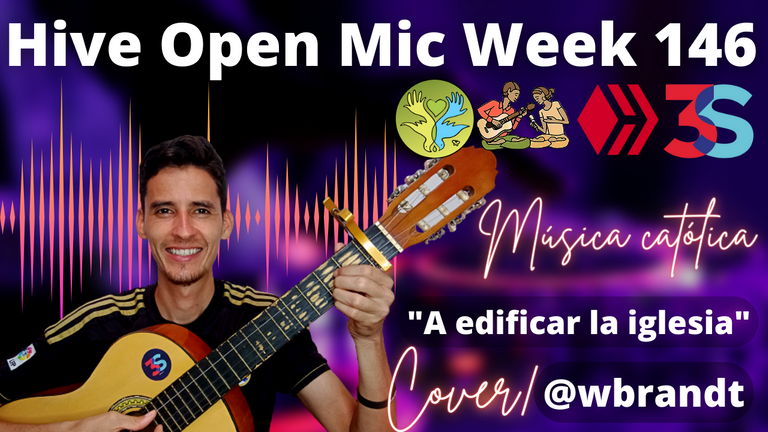 ---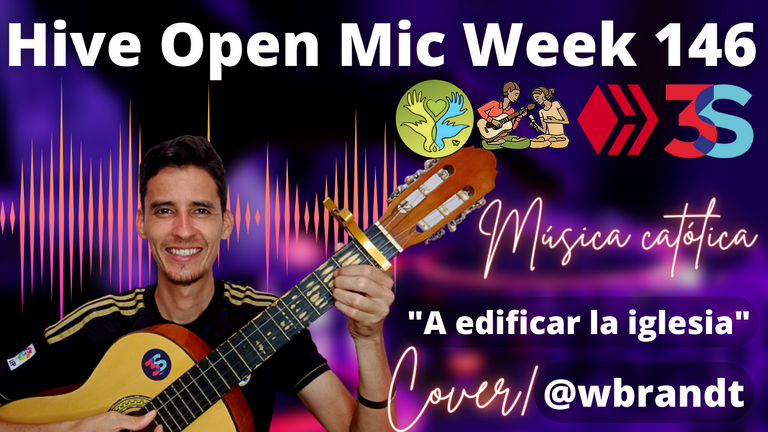 Hello Hive Open Mic Family, I welcome you to my #3speak channel from your friend @wbrandt, I hope like every week that you are doing great wherever you are, I hope you are having a great time, we are starting the week, I wish you can make your plans with total peace of mind, I wish with my heart that you finish a week full of success for you and yours.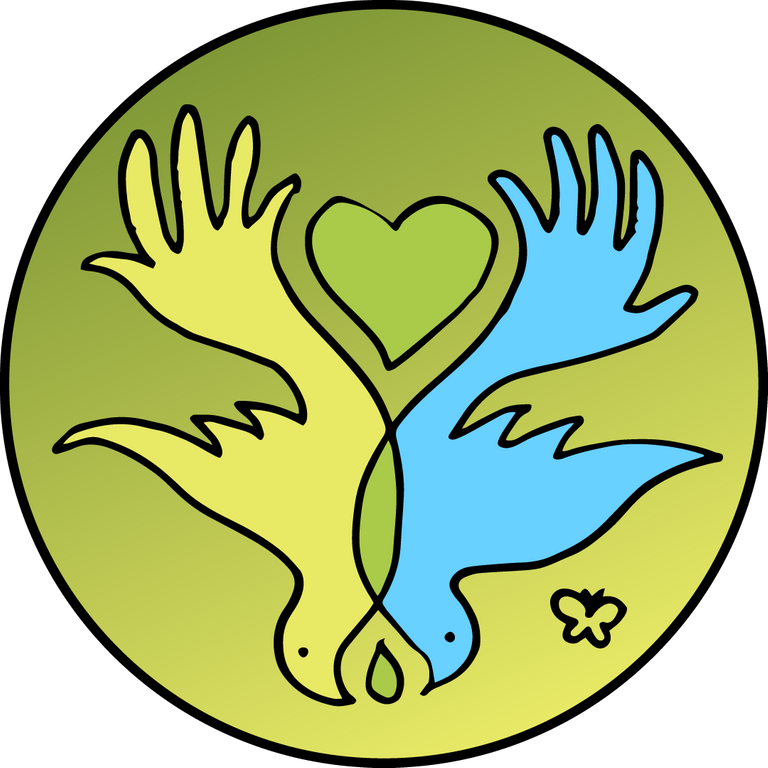 For this week 146 of #OpenMic, with the theme "The Union" proposed by our featured friend of the week, she is @elioe. The theme is very good and just thinking about the title, I start to imagine many things, but I think this word is very fundamental for our life, and to give a little sense to all this and that fits the theme of the week, I chose a song with which I make my entrance and participate in this scenario the theme is called "A edificar la iglesia " de Música Católica I firmly believe that in the union is the strength and that is the strength of the whole, alone we can not be in this world we need our brothers around us, to build a world of love, where there is peace and tranquility, where we all work together for the common good, and that in times of adversity and uncertainty, we can all cooperate and move forward all united.
If we do not unite our souls and our will to be better people, we are not going to get anywhere, that is why I love this song, which is very simple but with a strong and clear message, that we are all members of the church or we are also all parts of this world and that we are all needed with different talents to make this planet a worthy home for us and for those to come, that is why from the smallest to the oldest is part of everything, here no one is discriminated against, no one is set apart because we are inclusive human beings who accept each other as we are and we will not harm anyone in this world.
This is the true union, we are family, we are home, we are the world and we are that perfect union of love.
I hope this song touches your heart, a song that I wanted to play and sing for you dear reader.
So dear and dear friends, I hope you enjoy this video that I made for all of you, without further ado.
Let's start looking at it.

---
To build the church
---
To build the church,
to build the church,
to build the church of the Lord....
Brother come help me,
brother come help me,
To build the church of the Lord,
I am the church,
you are the church,
we are the Lord's church,
brother come and help me,
brother come and help me,
to build the church of the Lord......
---
---
HiveOpenMic Family Thank you for making it this far to the end of this post, I appreciate as always the great support and love that you give me week after week here in this beautiful scenario that is your home and my home, where we all have fun making and sharing music, no doubt this week's participations are good and that we are just starting I can't imagine the ones to come, I hope to see the presentations of my friends, if you like this video let me know in the comments I want to see your impressions, now with nothing more to say I hope to see you next week in your edition #147 starting with a new year, I'm saying goodbye take care of me God bless you always see you soon bye.

Español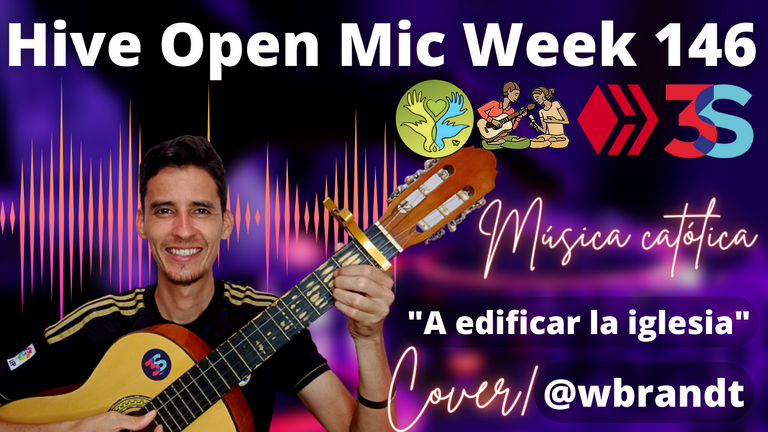 Hola Familia de Hive Open Mic, les doy la bienvenida a mi canal de #3speak de parte de su amigo @wbrandt, espero como cada semana que te encuentres muy bien donde quiera que te encuentres, espero que la estés pasando muy bien, estamos comenzando la semana, deseo que puedas hacer tus planes con total tranquilidad, deseo con mi corazón que termines una semana llena de éxitos para ti y los tuyos.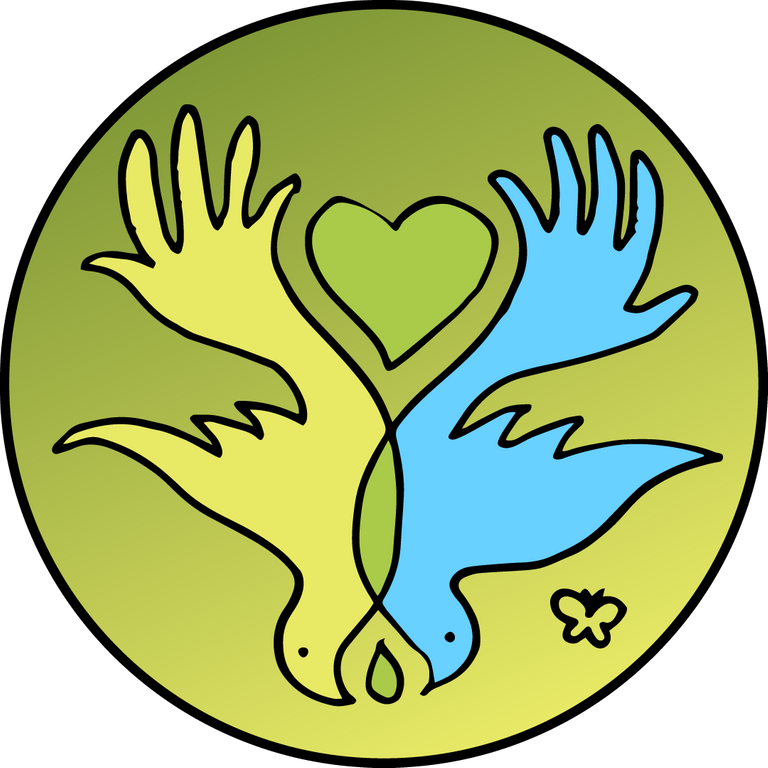 Para esta semana 146 del #OpenMic, con la temática "La Unión" propuesta por nuestra amiga destacada de la semana, ella es @elioe. El tema está muy bueno y solo con pensar en el título, me pongo a imaginar muchas cosas, pero creo que esta palabra es muy fundamental para nuestra vida, y para darle un poco de sentido a todo esto y que se acople a la temática de la semana, elegí una canción con la cual hago mi entrada y participar en este escenario el tema se llama "A edificar la iglesia" de Música Católica creo firmemente que en la unión está la fuerza y esa es la fuerza del todo, solo no podemos estar en este mundo necesitamos de nuestros hermanos que nos rodean, para construir un mundo de amor, donde allá paz y tranquila, donde todos colaboremos por un bien común, y que en los momentos de adversidad y de incertidumbre, podamos cooperar todos y salir adelante todos unidos.
Si no unimos nuestras almas y nuestra voluntad para ser mejores personas, no vamos a llegar a ningún lado, por eso me encanta esta canción, que es muy sencilla pero con el mensaje fuerte y claro, que todos somos miembros de la iglesia o también todos somos partes de este mundo y que todos somos necesarios con talentos distintos para hacer de este planeta un hogar digno para nosotros y para los que vendrán, por eso desde el más pequeño hasta el más anciano es parte de todo, aquí no se discrimina a nadie no se aparta a nadie porque somos seres humanos incluyentes que nos aceptamos como somos y no le haremos daño a ninguna persona de este mundo.
Esta es la verdadera unión, somos familia, somos hogar, somos el mundo y somos esa unión de amor perfecto.
Espero que esta canción te llegue al corazón, un tema que lo quise tocar y cantar para ti querido lector
Así qué queridos y estimados amigos, espero que disfruten de este video que hice para todos ustedes, sin más.
Comencemos a verlo.

---
A edificar la iglesia
---
A edificar la iglesia,
a edificar la iglesia,
a edificar iglesia del Señor....
Hermano ven ayúdame,
hermano ven ayúdame,
a edificar la iglesia del señor,
Yo soy la iglesia,
tú eres la iglesia,
somos iglesia del señor,
hermano ven ayúdame,
hermano ven Y ayúdame,
a edificar la iglesia del Señor......
---
---

</div>

The video was recorded with my Xiaomi Redmi 9 phone.
And it is edited with CapCut
The photo was edited with Canva
CCEXPRESS banner

El vídeo fue grabado con mi teléfono Xiaomi Redmi 9
Y está editado con CapCut
La foto fue editada con Canva
Banner CCEXPRESS

---
▶️ 3Speak