NO CARD UPDATE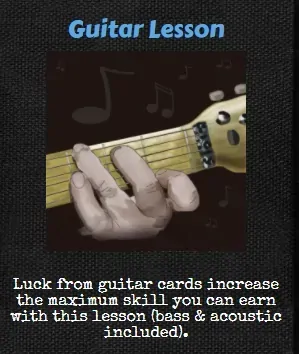 Casual leveling and STARBITS
Today's statistics report on @risingstargame
Current Stat :


👯‍♂️ Fans 92 159
🍀 Luck 9 144
🎸 Skill 132 958
📊 IM 1 671
🃏 Cards 1059
Progression in game become a little bit slower because of the ego. I need more skill, a lots of skill points so I can suppress my ego especially from the drunk fans.
I think I will get another whisky card to store the drunk fan so I can keep adding some skill while keeping the drunk fan from adding more ego for a while.
Instrument card will be added on weekend. I hope to get cheap instruments card during the weekend or anyone wants to swap card let me know.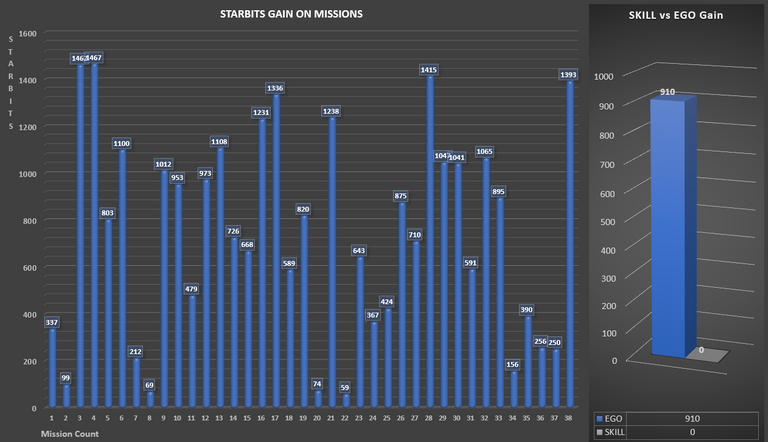 Highest STARBITS reward is 1 467 STARBITS (👍👍👍)
Lowest STARBITS reward is 59 STARBITS (😭😭😭)
Total mission done = 38
Total Music Lesson done = NULL
Total Permanent Skill gained = NULL
Total Permanent Ego gained = 910
Average STARBITS per mission = 746 (Low reward)
Total of 🍕🍕🍕🍕dropped
I tried to do mission only without any music lesson and the result was not that good. Luckily not much drunk fan today, I can still manage to keep EGO at 0%.
The STARBITS drop is still low comparing previous day. Still can collect my daily average STARBITS though. I hope the STARBITS reward will be more tomorrow. So that I can keep some STARBITS for the instrument cards.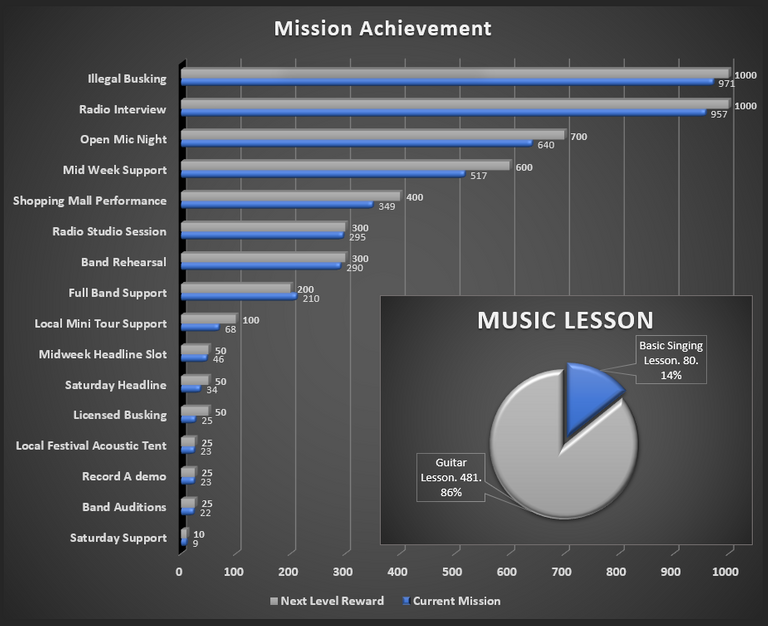 Most favorite mission to the very least favorite mission. 5 179 Total Missions!
My Milestone Update
⬜Milestone #1 Reaching 100 000 fan before the end of the year! (92.2%)
⬜Milestone #2 Reaching 200 000 fan before Q3 Next year. (46.1%)
⬜Milestone #3 Reaching 500 Minimum Skill Reward In Music Lesson
⬜Milestone #4 Reaching 1 000 Minimum Skill Reward In Music Lesson
Milestone Achievement
✅Reached 1000 STARBITS reward on Illegal Busking. (100%).
✅ Get to level 75 and unlock the Band Auditions mission (100% progress). 4 band member slot has been unlocked. (100.0% progress). 🎙️🎸
✅Have the Millionaire card. 100% 💸💸🌟STARBITS Millionaire Card🌟
Below are my current rank as for today :



Highest Rank: #73
My current rank : #76 went down from previous rank #73
My current card collections :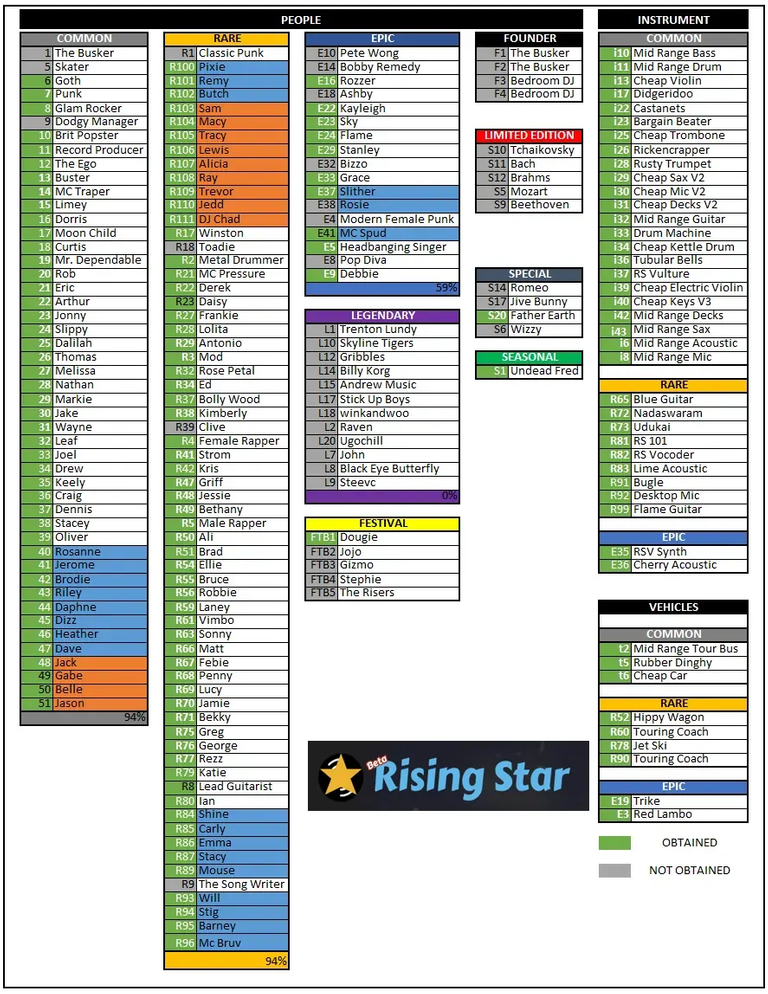 Common People cards:
45/48 : 94% Obtained (+0%)
Rare People Cards:
61/65 : 94% Obtained (+0%)
Epic People Cards:
10/17 : 59% Obtained (+0%)
And that is for today's progress at Rising Star Game
Keep on ROCKING!! and HIVE ON!!
---
Current Market (STARPRO)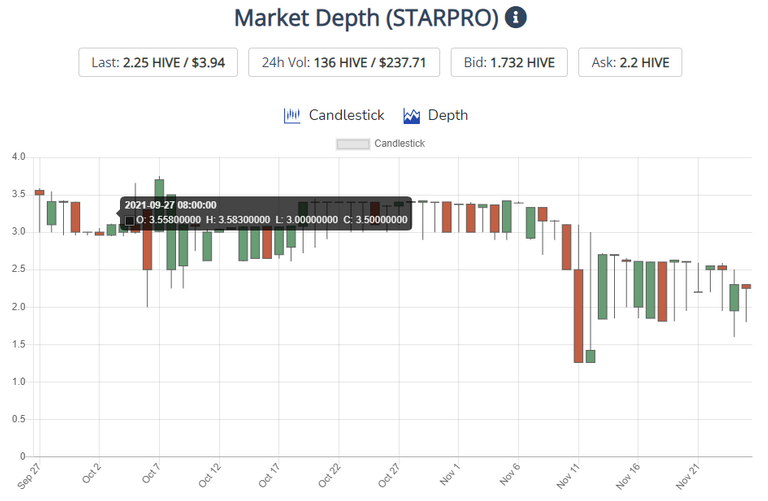 Highest Bid : 1.73200000 (Lower than yesterday)
Lowest Ask : 2.20000000 (Lower than yesterday)
Current Market (STARBITS)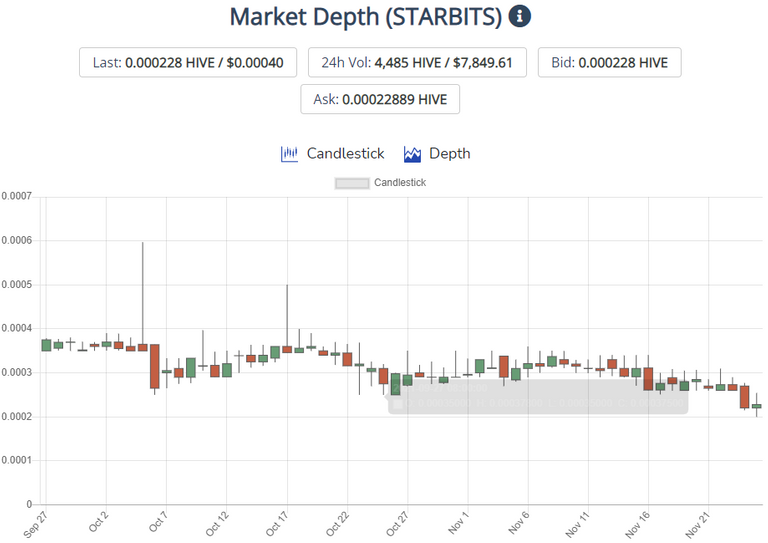 Highest Bid : 0.00022800 (Lower than yesterday)
Lowest Ask : 0.00022889 (Lower than yesterday)
The STARBITS price is still in stable range for 136 days.
Average STARBITS price for today is around 0.00022
STARPRO price had decreased to average 1.9 today. The STARPRO price is good at the moment. It still around one STARPRO equals ten thousand STARBITS.
Hive Engine is stable today! Transaction is less than a minute.
---
You can use my referral link below to start your journey as a Rising Star player!



risingstargame.com