---
ENGLISH VERSION
---
---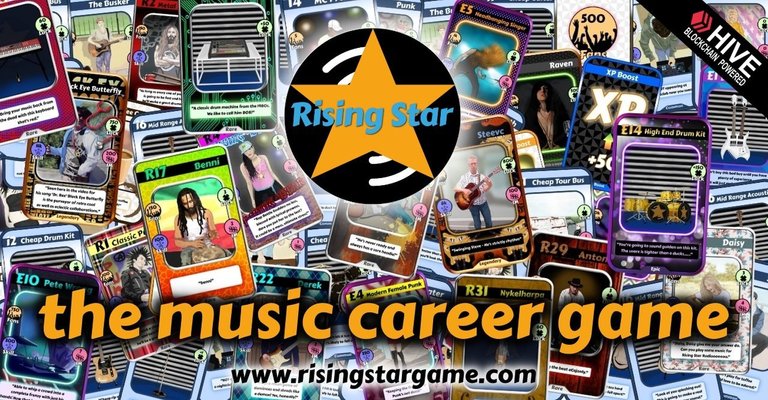 ---
Hi Hivers,
Do you remember that I launched a contest on RisingStar last week?
Well, it's time to go and see the results.
But first, let's see some statistics for the week
---
MY STATS

FAN: 3935
LUCK: 640
SKILL: 5358
IM: 45
EGO: 14%
LEVEL: 50
I finally reached level 50 and I made the first step to be a millionaire: having at least level 50 precisely.
Now I just have to accumulate Starbits!
---
MY GOAL
As you well know by now, my main goal is to become a millionaire because by obtaining the STARBITS Milionaire card you have great advantages in terms of Starbits earnings.
I will now continue to lower my EGO and accumulate Starbits.
Goal Completion: 33.70%
---
ATTENTION
As reported by @oxidil in his post today NEVER BUY THE STARBITS MILLIONAIRE CARD because it's just a scam!
---
EXTRACTION
But let's get to what interests you most: extraction.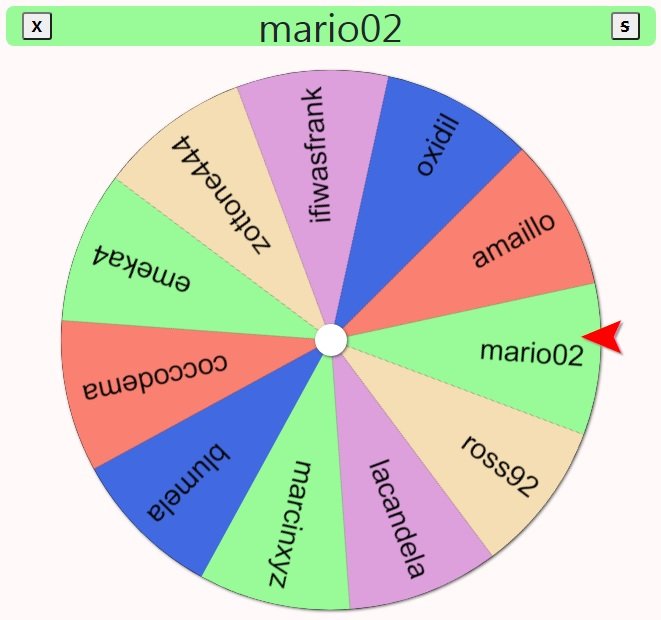 A little while ago I extracted the name of the contest winner: @mario02.
@mario02 will receive Drew as a gift within a few hours.
---
GIVEAWAY
This will be the card for this week: Rosanne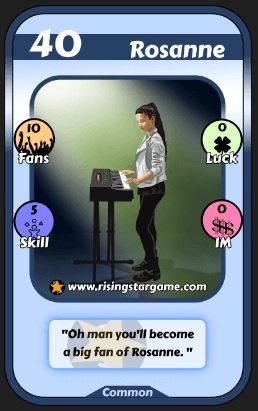 Just leave a comment that says "Rosanne", tag 2 of your friends and leave your RisingStar user if different from your profile.
You have time until the payout of this post, after which I will draw the lucky winner of the contest through this site.
---
RULES
The rules to participate are very simple:
comment the post with "Rosanne"
tag 2 friends
write your RisingStar user
---
If you are not yet a RisingStar member, sign up with my reflink https://www.risingstargame.com?referrer=bencwarmer
---
Call for players: @blumela @libertycrypto27 @zottone444 @mrhuman88 @green77 @art2class @tosolini @kork75 @ifiwasfrank @statico @ciuoto @serialfiller @lallo @regytravel86 @noemilunastorta @riccc96 @aston.villa @claudio83 @mad-runner @robibasa @makeitreal95 @c3r34lk1ll3r @davidesimoncini @rizzellofabio @cryptoitalover @leandro85 @ricky85va @giulius @coccodema @motivationsimo @los2franes @kingkenny44 @astrocreator @chapelle @emeka4 @rickmc10 @sportsbuddy @adedayoolumide @dunksocial @yablonsky @manuvert @oxidil @amaillo @mario02 @an-man @rob23 @stewie.wieno @stefano.massari @ross92
This list includes all users with whom I have had an interaction or who have participated in my other contests
---
Images are taken from RisingStar
---
VERSIONE ITALIANA
---
---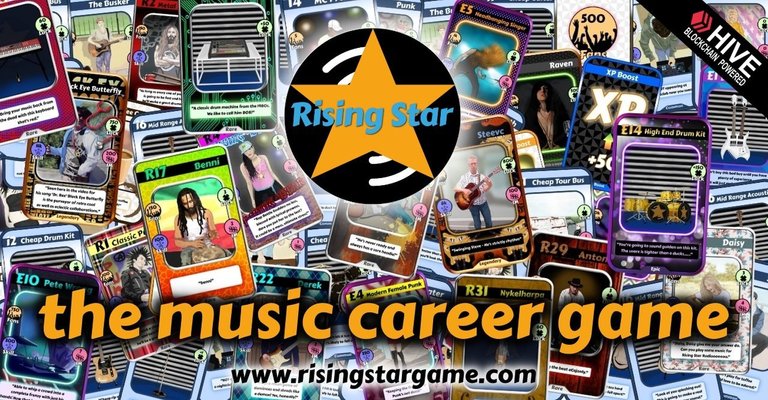 ---
Salve Hivers,
Ricordate che la scorsa settimana avevo lanciato un contest su RisingStar?
Bene, è ora di andare a vedere i risultati.
Ma prima, vediamo un po' di statistiche della settimana
---
LE MIE STATISTICHE

FAN: 3935
LUCK: 640
SKILL: 5358
IM: 45
EGO: 14%
LIVELLO: 50
Sono approdato finalmente al livello 50 e ho realizzato il primo step per essere milionario: cioè avere almeno il livello 50 appunto.
Ora non mi resta che accumulare Starbits!
---
IL MIO OBIETTIVO
Come ormai ben sapete, il mio obiettivo principale è quello di diventare milionario perchè con l'ottenimento della carta STARBITS Milionaire si hanno grandissimi vantaggi in riferimento al guadagno di Starbits.
Continuerò ora ad abbassare il mio EGO e ad accumulare appunto Starbits.
Completamento obiettivo: 33.70%
---
ATTENZIONE
Come segnalatomi da @oxidil nel suo post di oggi NON ACQUISTATE MAI LA CARTA STARBITS MILIONAIRE perchè è soltanto una truffa!
---
ESTRAZIONE
Ma arriviamo a ciò che vi interessa di più: l'estrazione.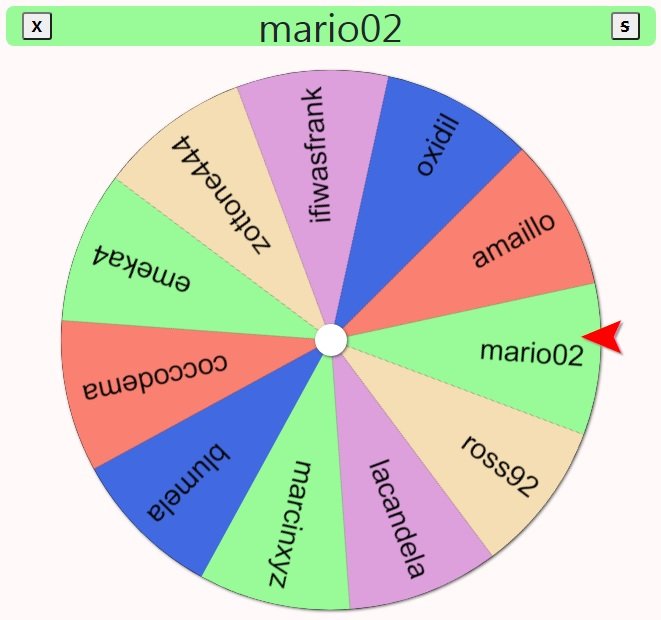 Poco fa ho estratto il nome del vincitore del contest: @mario02.
@mario02 riceverà Drew in regalo nel giro di poche ore.
---
GIVEAWAY
Questa sarà la carta per questa settimana: Rosanne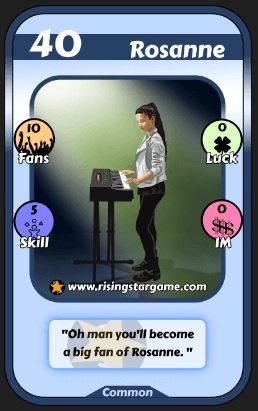 Vi basterà lasciare un commento con scritto "Rosanne", taggare 2 vostri amici e lasciare il vostro utente di RisingStar se diverso dal vostro profilo.
Avete tempo fino al payout di questo post, dopodichè estrarrò tramite questo sito il fortunato vincitore del contest.
---
Regolamento
Il regolamento per partecipare è molto semplice:
commentare il post con "Rosanne"
taggare 2 amici
scrivere il vostro utente RisingStar
---
Se non sei ancora iscritto a RisingStar, iscriviti tramite il mio reflink https://www.risingstargame.com?referrer=bencwarmer
---
Chiamata per i giocatori: @blumela @libertycrypto27 @zottone444 @mrhuman88 @green77 @art2class @tosolini @kork75 @ifiwasfrank @statico @ciuoto @serialfiller @lallo @regytravel86 @noemilunastorta @riccc96 @aston.villa @claudio83 @mad-runner @robibasa @makeitreal95 @c3r34lk1ll3r @davidesimoncini @rizzellofabio @cryptoitalover @leandro85 @ricky85va @giulius @coccodema @motivationsimo @los2franes @kingkenny44 @astrocreator @chapelle @emeka4 @rickmc10 @sportsbuddy @adedayoolumide @dunksocial @yablonsky @manuvert @oxidil @amaillo @mario02 @an-man @rob23 @uggya @barnabo73 @stewie.wieno @stefano.massari @ross92
In questa lista vengono inseriti tutti gli utenti con cui ho avuto un'interazione o che hanno partecipato a miei altri contest