Hello friends,
Today I tell you the importance of "cold pizza slice" 🤣 according to my experience, always when a new user arrives he asks me which is better a "cold pizza slice" or a "pizza Box" and the 2 are important.
![cold pizza slice.png](https://files.peakd.com/file/peakd-hive/keniel16/23vhsM1CuXUL7C8zV7axdmDGyEbxZgxgAqVLfh4fFHgafxzugjV3R3QwpgQPkBz1
First case: if you have little capital it is better to buy "pizza Box", several of them and when you feel confident buy "cold pizza slice".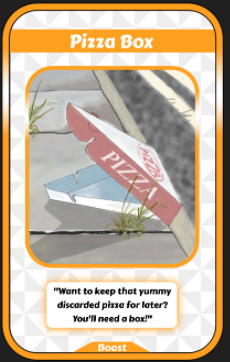 Second case: if you have capital it is better to buy many "cold pizza slice" and few pizza boxes in order not to waste anything.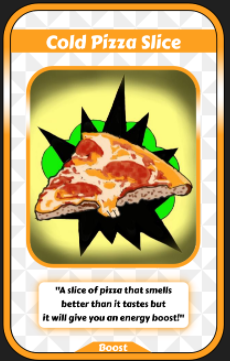 Look I have 18 "cold pizza slice", 8 "pizza Box", because I started as many with little capital and 1 "1st Birth Day" I wish at that time I had more money so I would have bought many more "1st Birth Day" that will make the next anniversary, the programmer always impresses me with new creations very useful, in another publication I will talk about the "1st Birth Day".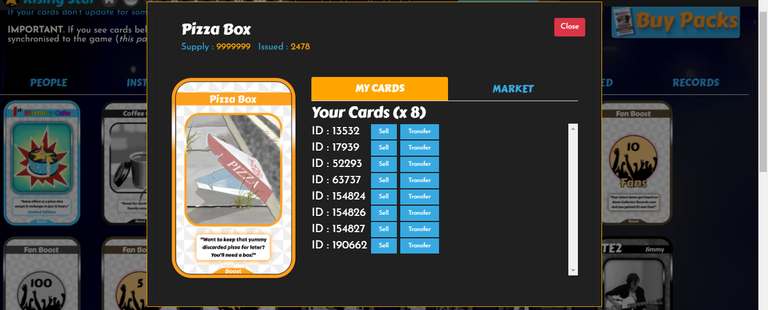 As I always say I don't like luck, the "pizza boxes" are to store pizza, every day they will give you a different amount of pizza, it's random and that's how it should be because it's a gift, that's why I don't trust and I like more 100% the "cold pizza slice", so I can know exactly, when I can make use of them and make interesting calculations, with this amount of pizza I feel comfortable to do the missions.
But now that we are in times of doing special missions, where a mission eats 65% of your energy, the more pizza you have the better and even though I feel I have a lot of pizza I am not ready to do special missions without a strategy.
The first thing I did to get a special card the "s21 cow horn", I ate a pizza to a special mission and ate another pizza, so until I ran out of pizza but I did not use the 35% of the remaining energy to increase my chances. of the remaining energy to increase my chances of getting a special card, but now I feel like a fat 40 year old from eating so much pizza without resting lol.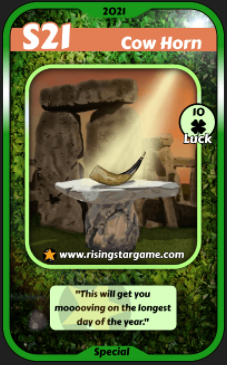 Now I plan to do 5 minutes missions and a special mission, maybe I can get another special card, this would also make my starbits income increase, because remember that the special missions burn your activity, you don't get starbits while you get this card and that makes the income go down, but if you get the card, the effort will be worth it, more for those who earn few starbits and have many pizza is ideal this mission for them.
Today is a good day after making this publication I feel like eating a pizza so many times I mentioned it lol.
Now I show the ranking because it makes me excited, I was number 46 and now I'm number 34 it's amazing even though I spent all my starbits lol! when I see it go down, I'll buy more, there's still a lot to climb.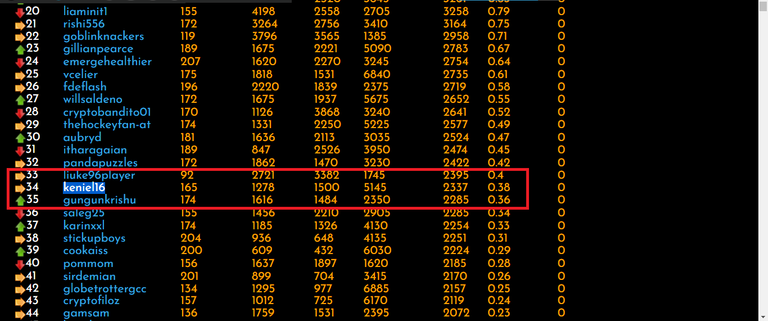 And as usual I show you some of the cards that I acquired in this journey I have a lot but uploading them all in one post would lose the charm of the special rising star, see you, thanks for reading.



Note: I try to make quality content, so if you want to add something I read you, if you like this content ✨ follow me and just share this information.
Translated with www.DeepL.com/Translator (free version)


Link: MUSIC4LIFE


Link: RISING STAR


Link: SPLINTERLANDS

Hola amigos,
Hoy les cuento la importancia de las "cold pizza slice" 🤣 según mi experiencia, siempre que llega un usuario nuevo me pregunta que es mejor una "cold pizza slice" o una "pizza Box" y las 2 son importantes.

Primer caso: si tienes poco capital es mejor comprar "pizza Box", varias de ellas y cuando te sientas confiado comprar "cold pizza slice" congeladas,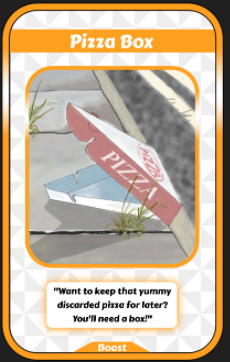 Segundo caso: si tienes capital es mejor comprar muchas "cold pizza slice" y pocas cajas de pizza para no desperdiciar nada.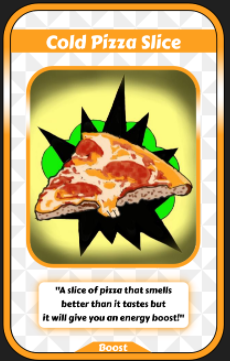 Fíjense tengo 18 "cold pizza slice", 8 "pizza Box", porque comencé como muchos con poco capital y 1 "1st Birth Day" ojala en ese momento hubiese tenido mas dinero así hubiera comprado muchos mas "1st Birth Day" que harán en el próximo aniversario, el programador siempre me impresiona con nuevas creaciones muy útiles, en otra publicación hablare sobre el "1st Birth Day".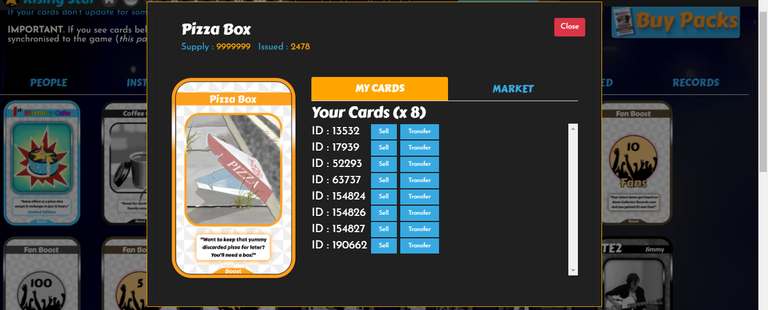 Como siempre digo no me gusta la suerte, las "pizza Box" son para almacenar pizza todos los días te darán una cantidad diferente de pizza es aleatorio y así debe ser porque es un regalo, por eso no me confió y me gusta mas 100% las "cold pizza slice", así puedo saber exactamente, cuando puedo hacer uso de ellas y realizar cálculos interesantes, con esta cantidad de pizza me siento cómodo al hacer las misiones.
Pero ahora que estamos en momentos de hacer misiones especiales donde una misión te come el 65% de energía entre mas pizza tengas es mejor y a pesar de que siento que tengo mucha pizza no estoy preparado para hacer misiones especiales sin una estrategia.
Lo primero que hice para obtener una carta especial el "s21 cow horn", me comí una pizza hacia una misión especial y comía otra pizza, así hasta que se me acabo las pizza pero no usaba el 35% de la energía restante para aumentar mis probabilidades de obtener una carta especial, pero ahora me siento como un gordo de 40 años de tanto comer pizza sin descansar lol.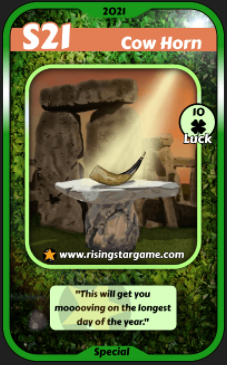 Ahora pienso hacer misiones de 5 minutos y una misión especial, quizás pueda conseguir otra carta especial, esto haría también que mis ingresos de starbits aumentaran, porque recuerden que las misiones especiales queman tu actividad, no recibes starbits mientras consigues esta carta y eso hace que los ingresos bajen, pero si consigues la carta, el esfuerzo valdrá la pena, mas para los que ganan pocos starbits y tienen muchas pizza es ideal esta misión para ellos.
Hoy es un buen día después de hacer esta publicación siento que tengo ganas de comer una pizza de tantas veces que la mencione lol.
Ahora muestro el ranking por que me causa emoción, era el numero 46 y ahora soy el numero 34 es increíble aunque me gaste todos mis starbits lol! cuando vea que baje, comprare mas, todavía hay mucho que subir.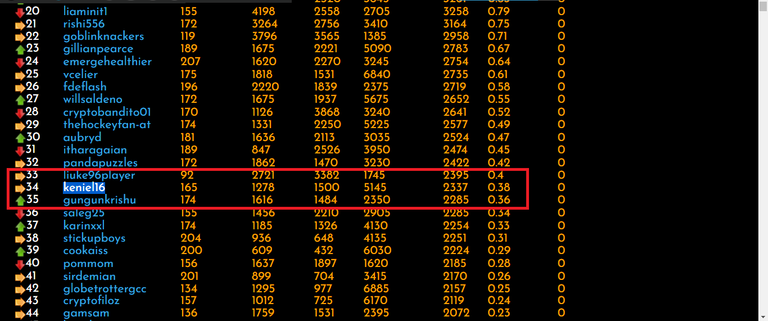 Y como es de costumbre les muestro alguna de las tarjetas que adquirí en esta travesía tengo un montón pero subirlas todas en una sola publicación perdería el encanto de lo especial de rising star, nos vemos gracias por leer.



Nota: Intento hacer contenido de calidad, así que si quieres añadir algo te leo, si te gusta este contenido ✨sígueme y simplemente comparte esta información.


Link: MUSIC4LIFE


Link: RISING STAR


Link: SPLINTERLANDS