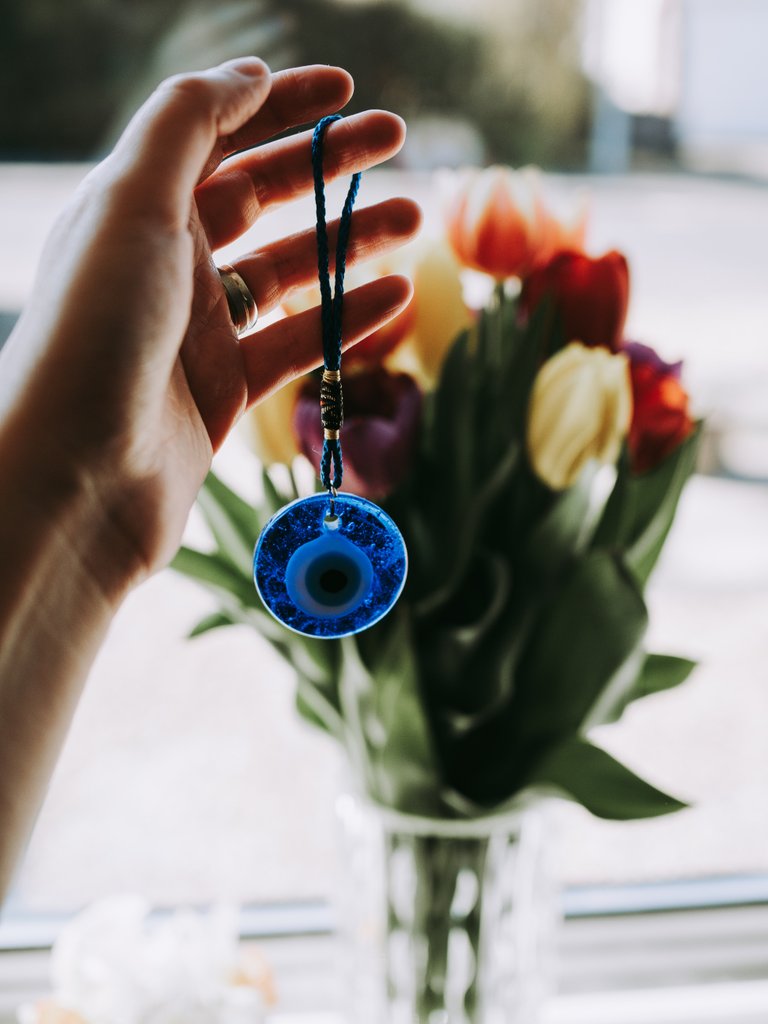 Source
Winning College Exam with the Evil Eye Bead
To be honest, when I wanted to talk about culture, I never thought this would be the first thing I would write about. But it has had such a big impact on me that I can't ignore it.
What I want to talk about is the evil eye bead.
Most of us have seen them in pictures and I'm sure you can find many markets selling them where you live. It is made of glass and colored blue. I want to tell you a story that happened to me.
In 2013, I was preparing for the university exam, and I could not trust, that I would get a high grade on this exam, which was really a difficult and long exam to pass. There is no account of the nights I spent in my room, I would even stay in the classroom more than anyone else and continue to study.
As time passed, the number of questions I got right, increased, and my scores started to rise. But my family, who shared this happiness with the neighborhood, did not take into account that there were bad people, jealousy is very common.
They shared it with everyone and their happiness and belief that their son would succeed spread quickly.
This number of correct scores that were not expected from me because I was not a very hard-working person at that time. I was 17-18 years old and mischievous, as you would expect from a teenage boy.
Then I woke up on the day of the exam.
I felt perfectly healthy. There was nothing wrong, I had my breakfast and even ate what I eat every day, just like the doctors on TV who warned me to eat what I eat every day because I don't want to upset my stomach during the exam. A little tomato, a little cucumber, honey, bread, and some milk...
When I was leaving the house I felt a little bit dizzy with excitement, so of course, that was normal, right?
A drop of honey had also gotten between my teeth and I had an unhealthy tooth there. It started to ache a little bit. So I rinsed my mouth with water all the way.
The aftermath is traumatic.
We had left the house an hour early to go to the school, where I had come and found out where it was, and the distance to me was about 15 minutes. But I was almost late because there was a car crash in traffic.
The security guard at the gate told me that if I had arrived 2 minutes later, he would not have let me in.
I quickly went up to the classroom and sat at my desk.
My tooth was hurting so much... As you can imagine, I couldn't focus on the exam. I got a very low grade. I didn't get into the university I wanted.
A few weeks later the exam results were announced and my WHOLE FAMILY was shocked. They were expecting me to get a very high score.
Here the atmosphere changed with the words of my old grandmother;
"My grandson has been affected by the evil eye. There are people in the neighborhood who are jealous of us and they spoke negatively about us behind our backs, so my grandson could not pass the exam...''
This seemed funny to me at first.
But... I studied hard for a year at the same pace, sometimes bored, sometimes crying, and prepared for the university exam again. I went to classrooms.
And would you believe it, I got almost the same grades as last year. I was solving 1-2 more questions correctly, that's all. The benefit of studying for a whole year was 1-2 extra questions. Obviously this was my capacity. I would be able to do this in the exam.
But just as I was about to take the exam, my grandmother gave me an evil eye bead. A small evil eye bead. She said it is handmade in her village, and pinned it to my shirt with a safety pin. When we entered the school where the exam was taking place, security searched us, but when they examined the evil eye bead, they knew it was a simple talisman because it was part of our culture and they let us in. In fact, I remember that day I was very careful, other students also had evil eye beads.
I took the test.
I calmly solved the exam.
After I finished the exam, I went out and chatted with my family, we had something to eat. It was time to wait for the result of everything I had worked on for 2 years.
I won, yes.
I studied at the university, and now I can live a good life doing my profession.
When I look back, it takes great faith to think that this evil eye bead really protected and saved me. I kept the evil eye bead for years and I still have it, I also made a painting inspired by it in my living room.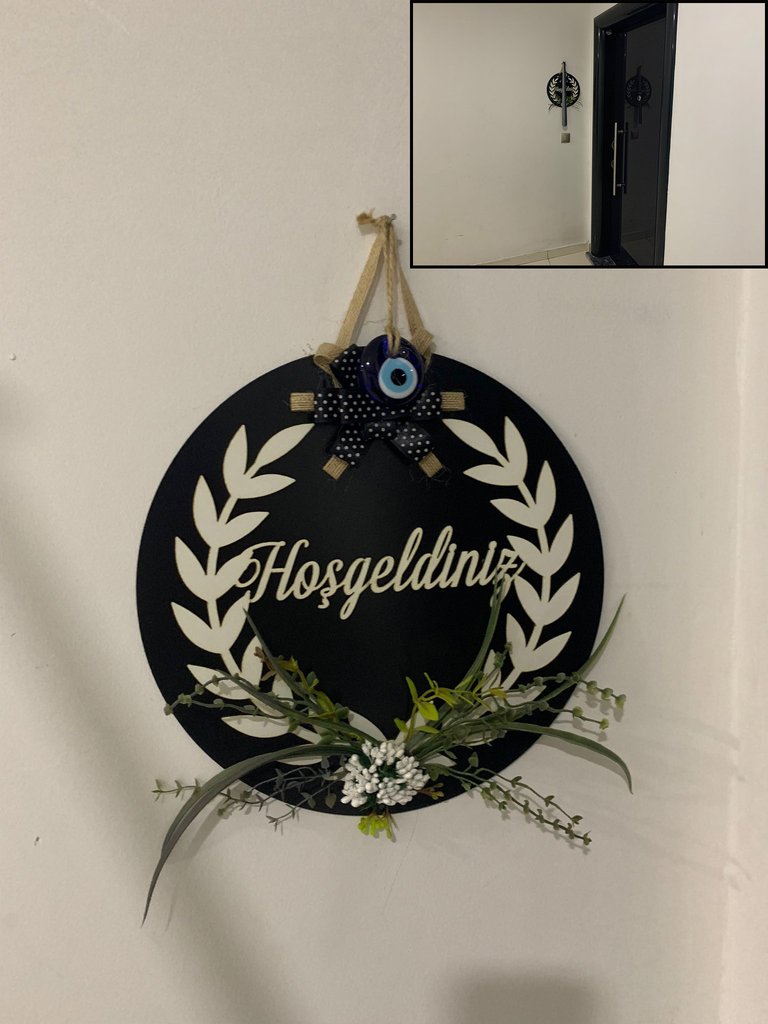 The welcome sign at the entrance of my neighbor's house and the evil eye bead hanging on it. Shared with her permission. The picture belongs to me.
Even though I don't want to, and struggle to believe it too much, I keep an evil eye bead in my house, my neighbor put an evil eye bead on the welcome sign at the entrance of her house, as you can see it was added later and if I have a car in the future, I will put an evil eye bead on it.
In our culture, evil eye beads are used in many places, even on the doors of people's houses. So that the evil eye does not touch our house. It is put on newly bought cars and hangs on the mirror of the car for years. Newly married brides wear jewelry with evil eye beads.
Evil eye beads are also attached to the clothes of newborn children with safety pins
The belief, the evil eye, and the protection beads date back to the time of Shamanism in Central Asia. A genuine evil eye bead needs to also be handcrafted. Machine-produced beads are merely... ornaments. So it is really something that is ingrained in our culture.
---
Here you can see the evil eye beads in my fiancé's house.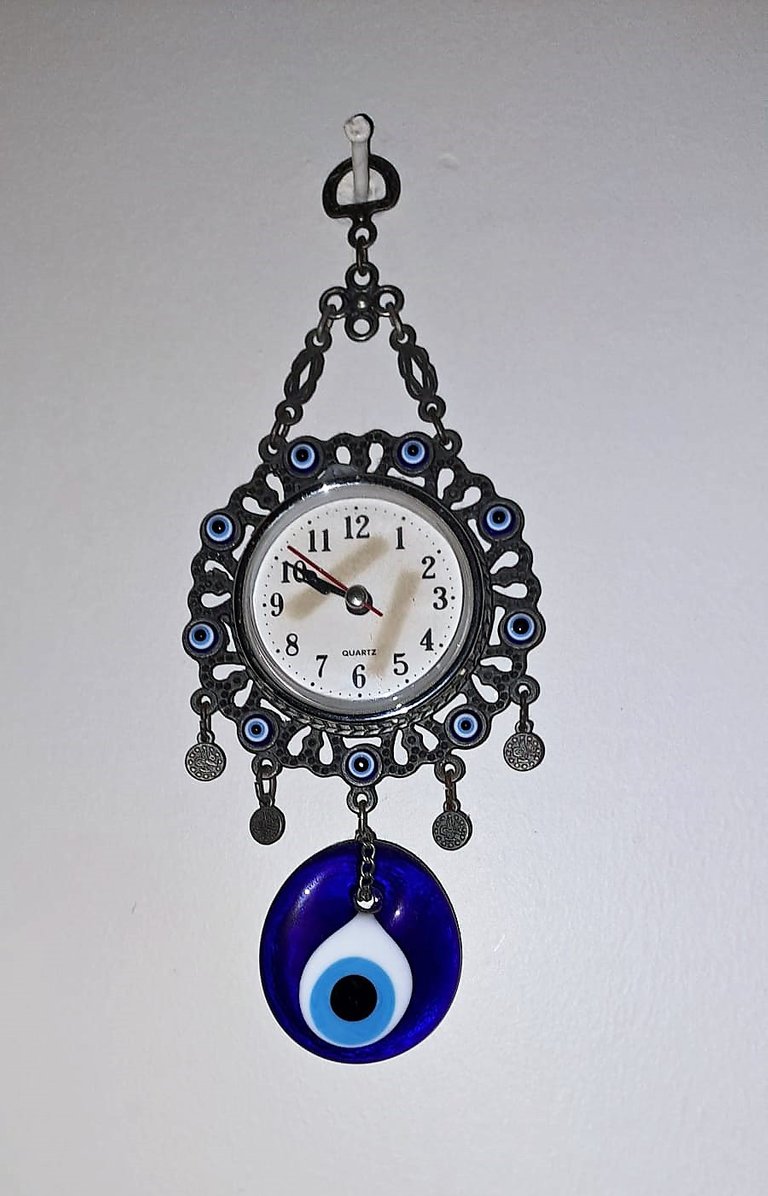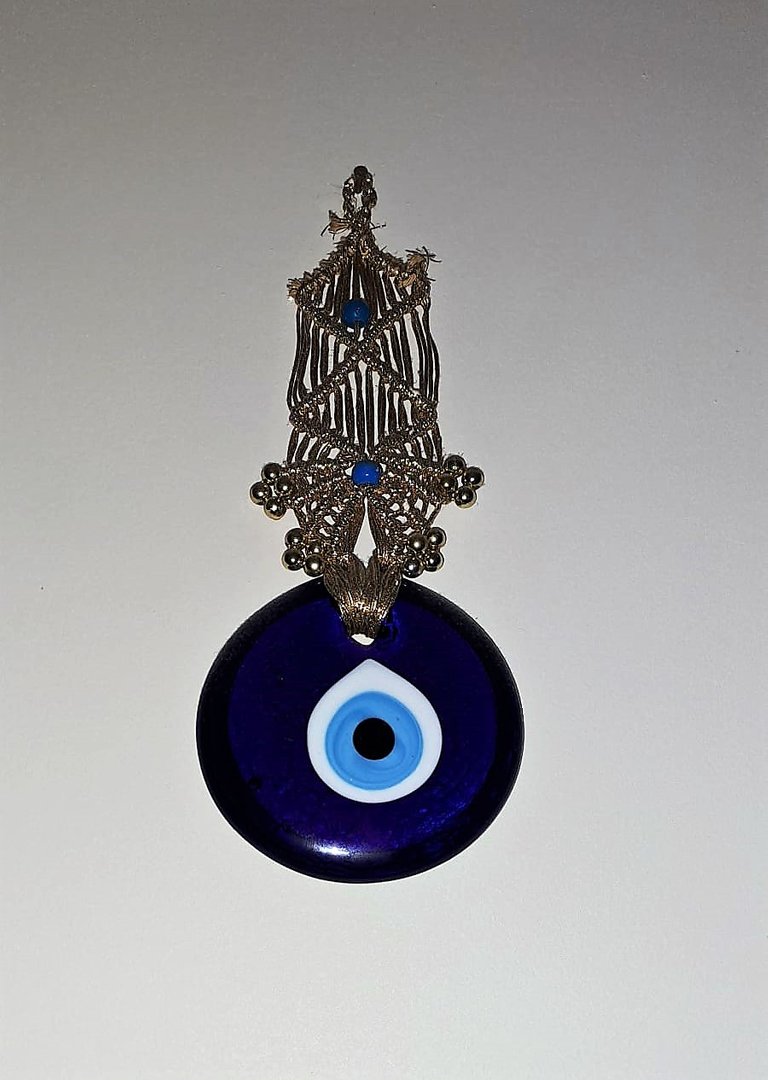 ---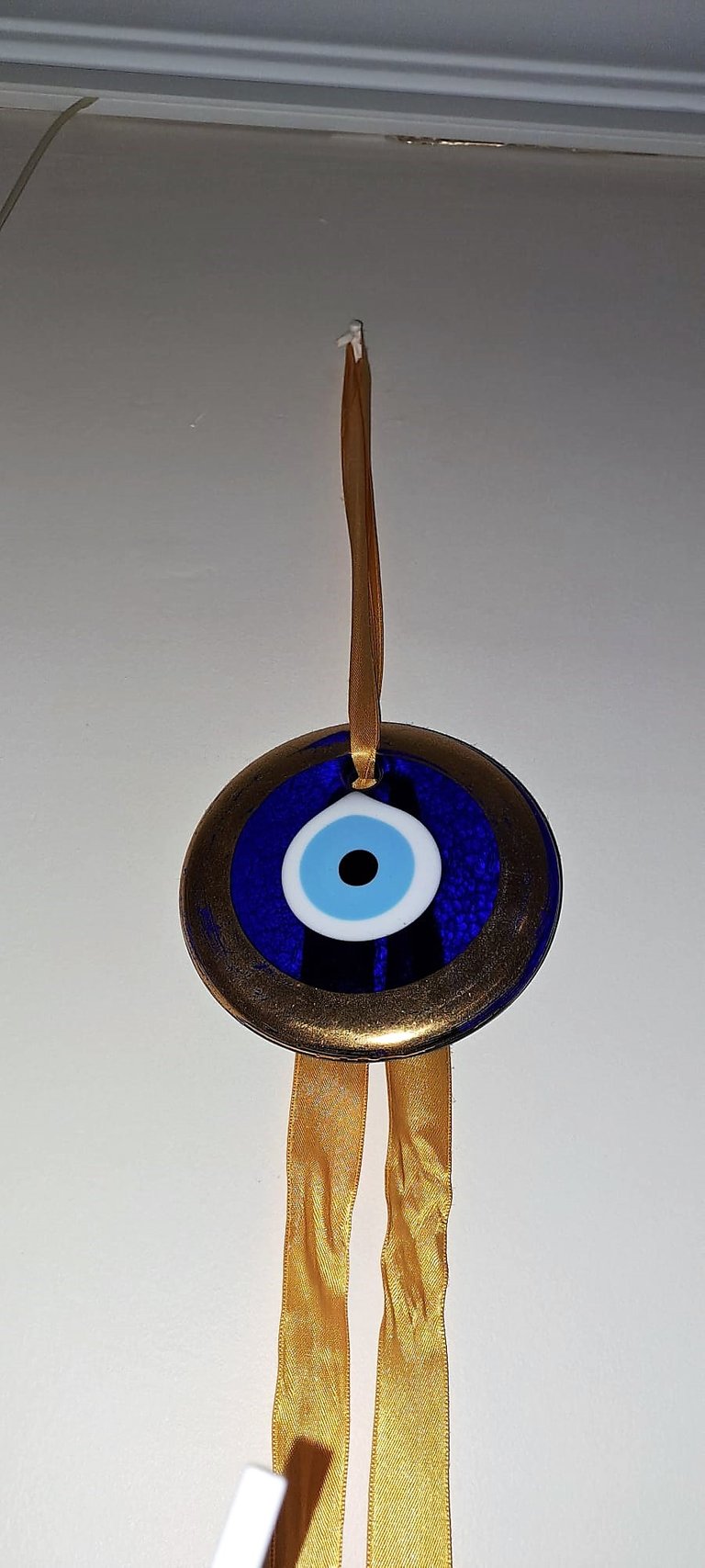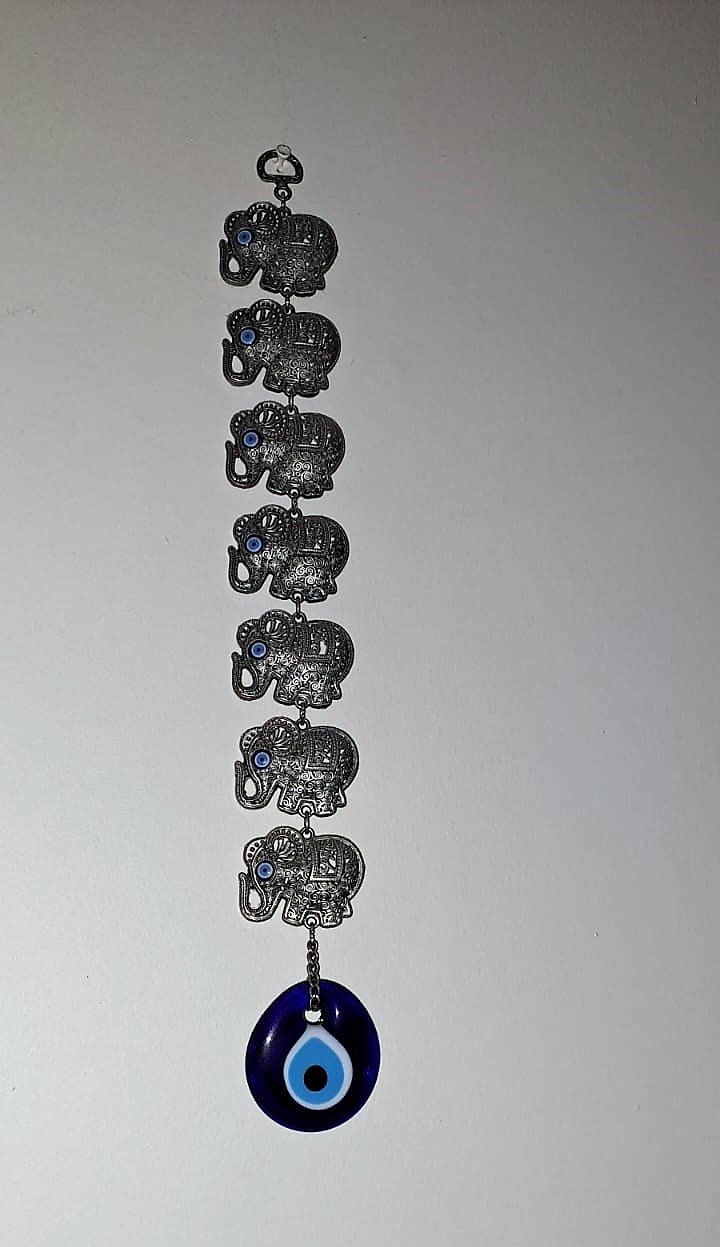 ---
Here you can see some of the evil eye beads in my family's house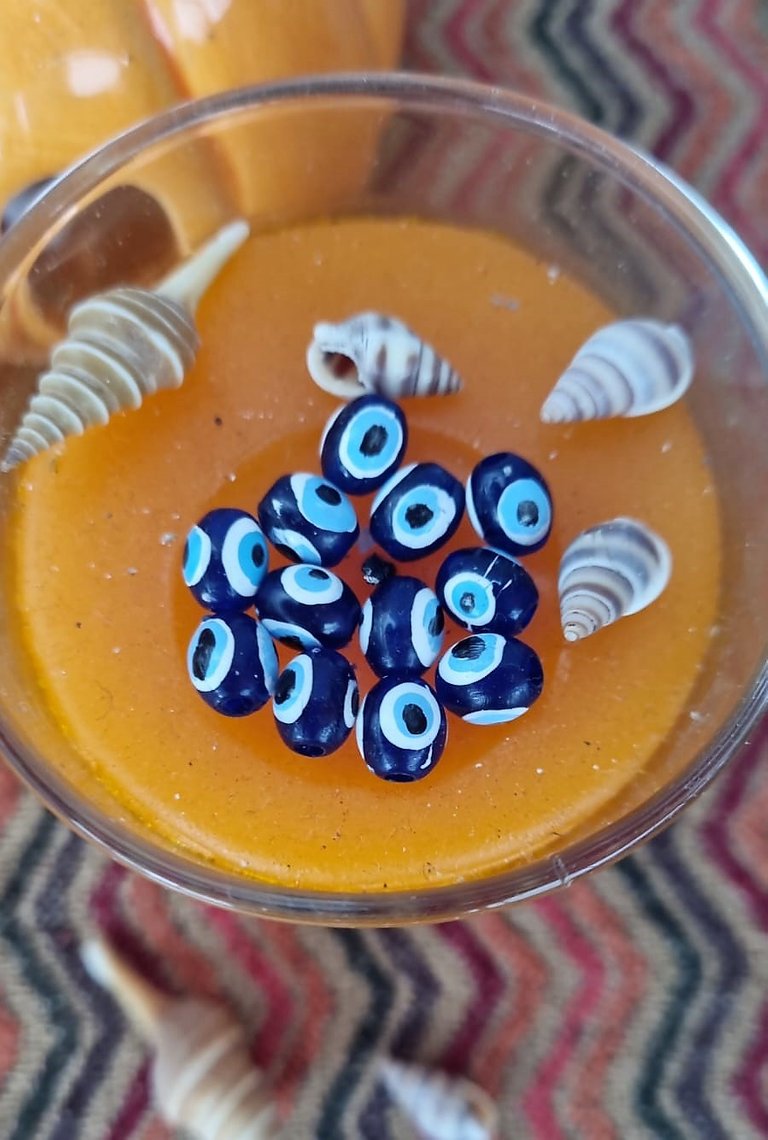 ---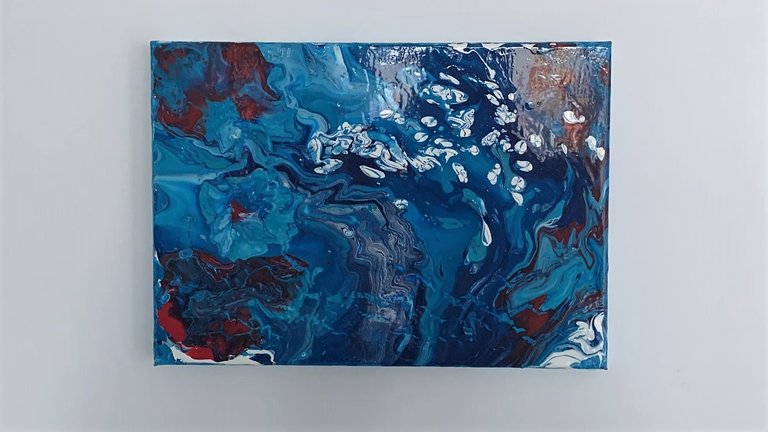 Finally, the painting I made inspired by the evil eye bead.


Thank you very much for reading! This post was inspired by "Creative Nonfiction in The Ink Well: Prompt #6".