¡Hola amigos! Hoy quiero hablarles de una canción que me partió el corazón, un tema que nos involucra a todas, incluyendome...
Hello friends! Today I want to talk to you about a song that broke my heart, a song that involves all of us, including me...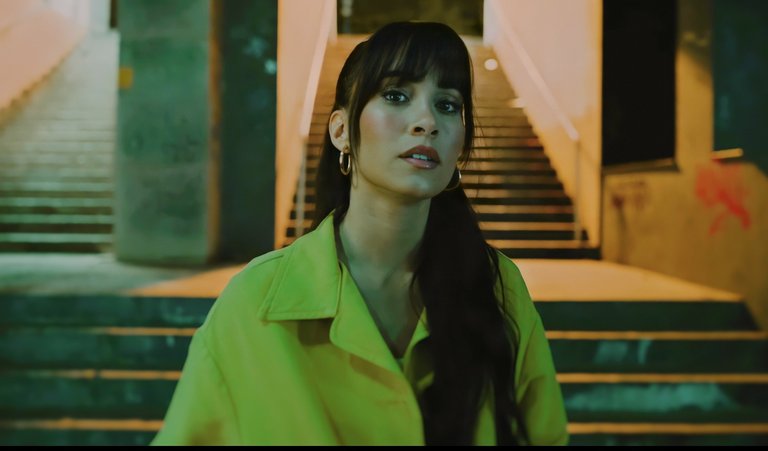 Fuente/Source
"Ni una más" es un sencillo que no dejará indiferente a nadie. Se trata de una nueva propuesta musical que habla sobre una de las problemáticas de la sociedad, la violencia contra la mujer.
"Not one more" is a single that will not leave anyone indifferent. It is a new musical proposal that talks about one of the problems of society, violence against women.
La canción ha sido compuesta por la propia Aitana junto a Juan Pablo Isaza, Juan Pablo Villamil, Nicolas Gonzalez y Pablo Benito; y producida por Mapache. Lo más emotivo de este tema es el mensaje que transmite y como lo transmite:
"Dime qué pasaría si no hubiera nadie... Sintiéndome insegura, aunque no lo soy... No ver tus intenciones me hace vulnerable. Son miles de historias que están enterradas en algún cajón... Son tantos gritos que no escucha nadie..." asi canta Aitana mientras camina sola por un sitio público, una escena con la que muchas nos podemos identificar.
¿Cuantas veces hemos caminado solas por la calle sintiendo temor?, Cuando nos vemos en lugares solos nos invade un nerviosismo o si alguien está detrás de nosotras volteamos para ver si nos sigue... Este sentimiento lo refleja muy bien la artista cuando comienza a caminar sola durante todo el clip, con miedo a lo que podría pasar.
The song has been composed by Aitana herself along with Juan Pablo Isaza, Juan Pablo Villamil, Nicolas Gonzalez and Pablo Benito; and produced by Mapache. The most emotional thing about this song is the message it conveys and how it conveys it:
"What if there was no one, I feel insecure... though I'm not... Not seeing your intentions makes me vulnerable. There are thousands of stories that are buried in a drawer somewhere... There are so many screams that no one hears..." This is how Aitana sings while walking alone in a public place, a scene that many of us can identify with.
How many times have we walked alone on the street feeling afraid, when we see ourselves in lonely places we feel nervous or if someone is behind us we turn around to see if he is following us... This feeling is reflected very well by the artist when she starts walking alone throughout the clip, afraid of what might happen.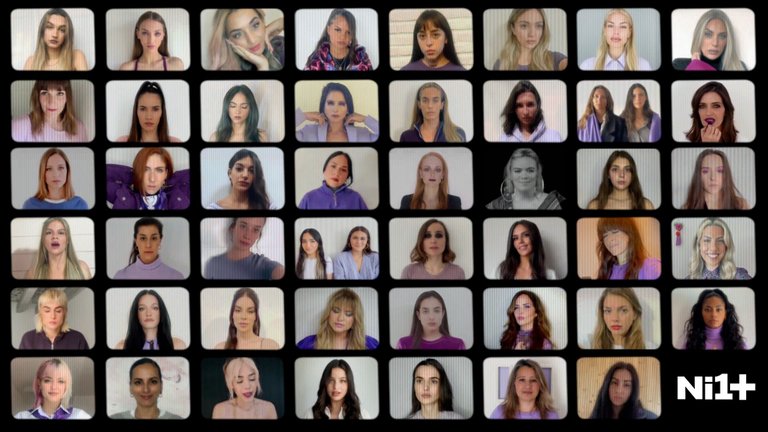 Fuente/Source
Al final del video aparecen muchos televisores y en la pantalla de cada uno de ellos se puede ver el rostro de más de 40 mujeres reconocidas a nivel mundial, artistas como Danna Paola, Gloria Trevi, Lola Índigo, Karol G, Paty Cantú y muchas más, se unieron a este proyecto para apoyar el mensaje de Aitana... Ni una más!
Una canción que vale la pena escuchar, aparte de tener una bella melodia y una hermosa voz, transmite un mensaje significativo. En lo particular me sentí muy identificada con ella, ha habido situaciones donde me he encontrado sola en la calle, cuando ya es de noche y gracias a Dios nunca me ha sucedido nada malo, pero no todas corren con la misma suerte... De ahí la importancia de este sencillo... Ni una más, Que pase por algo así, Ni una más, Que salga lastimada, Ni una más...
At the end of the video there are many televisions and on the screen of each one of them you can see the faces of more than 40 women recognized worldwide, artists like Danna Paola, Gloria Trevi, Lola Indigo, Karol G, Paty Cantú and many more, joined this project to support the message of Aitana... Not one more!
A song worth listening to, besides having a beautiful melody and a beautiful voice, it transmits a meaningful message. In particular I felt very identified with it, there have been situations where I have found myself alone on the street, when it's night and thank God nothing bad has ever happened to me, but not all run with the same luck... Hence the importance of this simple... Not one more, Who goes through something like that, Not one more, Who gets hurt, Not one more...

Gracias amigos por llegar hasta aquí, gracias por leer, gracias por su apoyo. Si te ha gustado o si has escuchado esta canción, cuentame que te ha parecido. ¡Nos vemos en la próxima entrega! 👋🏼
Thank you friends for making it this far, thank you for reading, thank you for your support. If you liked it or if you've heard this song, tell me what you thought. See you in the next installment! 👋🏼
Traducción realizada con la versión gratuita del traductor www.DeepL.com/Translator
Translated with www.DeepL.com/Translator (free version
---
Posted via MusicForLife.io