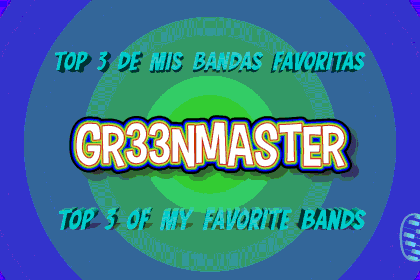 Saudos amigos, esta es mi participación en el concurso que hicieron nuestros amigos @lililuki y @mvl2304, donde nos proponen escribir acerca de nuestras 3 bandas preferidas y describir el porque lo son, aquí les dejo la publicación por si quieren participar.
Greetings friends, this is my participation in the contest made by our friends @lililuki and @mvl2304, where they propose us to write about our 3 favorite bands and describe why they are, here I leave you the publication in case you want to participate.
Ponerme a pensar en solo 3 bandas preferidas se me hace difícil, pues en general yo escucho muchísima música, ha lo largo de mi vida siempre la he escuchado , desde que cantaban las ardillitas de Lalo Guerrero, Cri-Cri, Enrique y Ana y muchos otros de mi niñez, en mi adolescencia grupos como The Doors, Kiss, Poison, Bon Jovi, The Beatles, etc...
En la edad adulta pues he hecho una lista de grupos actuales y no tan actuales muy variada, que van desde el Rock, Regué, reguetón que de hecho también me gusta, música regional Mexicana, Balada, Salsa, como verán es muy difícil para mi seleccionar a solo 3 grupos pero haré un esfuerzo y les traigo mis "3 Bandas Favoritas de Todos los tiempos".
To think of only 3 favorite bands is difficult for me, because in general I listen to a lot of music, throughout my life I have always listened to it, since the little squirrels of Lalo Guerrero, Cri-Cri, Enrique y Ana and many others in my childhood, in my adolescence groups like The Doors, Kiss, Poison, Bon Jovi, The Beatles, etc ....
In adulthood I have made a list of current and not so current bands, ranging from Rock, Reggaeton, Reggaeton, which in fact I also like, Mexican regional music, Balada, Salsa, as you can see it is very difficult for me to select only 3 bands but I will make an effort and I bring you my "3 Favorite Bands of All Time".

1.- El Tri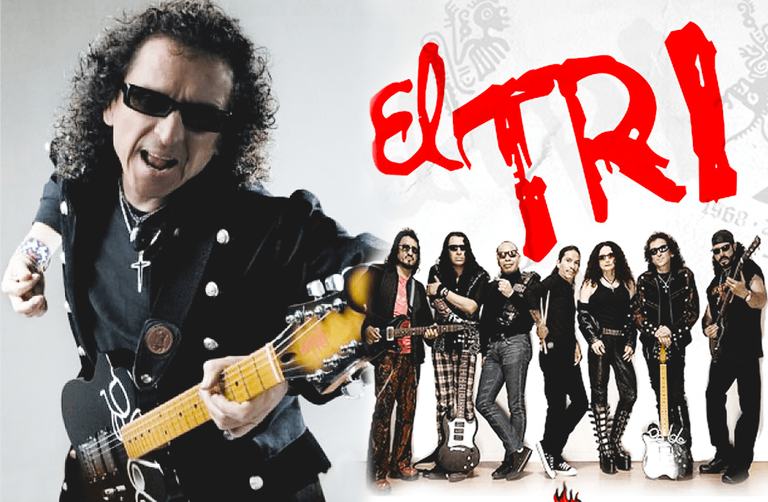 Fuente/Source
El Tri cuando los conocí por ahí de finales los 80s, siempre me ha gustado por sus canciones tan sinceras y el escandaloso tono de voz de su vocalista Alex Lora, con canciones en sus principios que dibujaban el panorama político y social de su época , nunca se han tentado el corazón para decir verdades que no muchos decían en la época donde ellos comenzaban a hacer música.
Me identifiqué mucho con algunas de sus canciones y su estilo urbano, que para mi en esa época de secundaria era el perfecto tipo de música para refugiar mi rebeldía de juventud, todavía no existía el reguetón, ¡si no! huy si que hubiera bailado o perreado en vez de rockear.
El Tri when I met them in the late 80s, I have always liked them for their sincere songs and the outrageous tone of voice of their vocalist Alex Lora, with songs in their beginnings that drew the political and social panorama of their time, they have never tempted their hearts to tell truths that not many said at the time when they were starting to make music.
I identified myself a lot with some of their songs and their urban style, which for me at that time of high school was the perfect type of music to shelter my youthful rebelliousness, there was still no reggaeton, otherwise I would have danced or bitched instead of rocking out.
Ahora en la época actual, me gusta escucharlos y me traen muchísimos buenos recuerdos, tanto de amistades como de amores pasados, pues antes la comunidad rockera en mi ciudad era muy activa, habían tocadas y eventos cada semana, era un orgullo vestir todo de negro y andar con el pelo largo, así tenias mucho pegue con las chicas, los rockeros éramos lo que son los reguetoneros ahora, odiados por unos y amados por otros.
A continuación les dejo con una pequeña muestra de la calidad musical y la profundidad de sus canciones de este magnifico grupo de Rock Mexicano, el cual fue uno de los pioneros en su genero y actualmente el mas antiguo, con mas de 50 años ininterrumpidos de rock and roll.
Now in the present time, I like to listen to them and they bring me many good memories, both of friendships and past loves, because before the rock community in my city was very active, there were concerts and events every week, it was a pride to wear all black and walk with long hair, so you had a lot of hit with the girls, the rockers were what the reguetoneros are now, hated by some and loved by many.
Here is a small sample of the musical quality and depth of the songs of this magnificent Mexican Rock group, which was one of the pioneers in its genre and currently the oldest, with more than 50 years of uninterrupted rock and roll.
Fuente/Source

2.-Molotov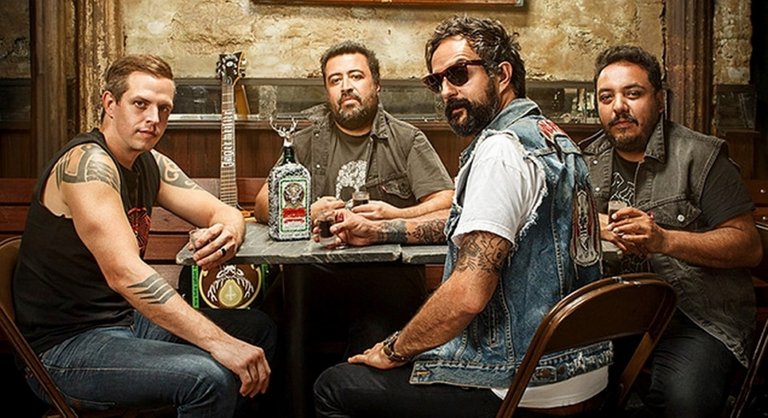 Fuente/Source
Molotov, está en mi lista de 3 preferidos por su constancia en el mundo de la música, pues son una muestra de que cuando se quiere se puede, ellos comenzaron desde abajo, fue hasta una competencia nacional, donde se dieron a conocer, y después lanzarse al estrellato.
Me gustan mucho sus canciones subidas de tono, sobre todo porque también tocan temas como el racismo, política y muchos otros temas polémicos, recuerdo uno de sus discos llamado Apocalypshit, tenia en su portada una Ouija, mi madre me tiro el disco a la basura porque según ella era satánico, jajaja que risa me da recordarlo.
Les dejo un tema donde ellos hablan de sus comienzos y el video es una joya pues refleja como la constancia y perseverancia te puede llevar al éxito.
Molotov, is in my list of 3 favorites for their constancy in the world of music, because they are a proof that when you want it you can, they started from the bottom, it was until a national competition, where they became known, and then launched to stardom.
I really like their songs, especially because they also touch on issues such as racism, politics and many other controversial issues, one of their albums I remember, the apocalypshit I think, had on its cover a Ouija, my mother threw the album in the trash because according to her it was satanic, hahaha that makes me laugh remember it.
I leave you a song where they talk about their beginnings and the video is a gem because it reflects how perseverance and perseverance can lead you to success.
Fuente/Source

3.-The Beatles
Este grupo creo que muchos conocemos, me ha gustado desde siempre, recuerdo que lo conocí porque en la casa de videojuegos donde yo iba a jugar de niño, había una maquinita donde la canción principal de la banda sonora era Hard Day's Night y se me quedo grabada en la mente.
Los admiro muchísimo por lo que lograron en esa época, donde la comunicación no era tan efectiva como ahora, no habían redes sociales , no había internet y aun así fueron mundialmente famosos, sus canciones me encantan porque tanto te pueden poner a bailar como te pueden hacer reflexionar en temas muy profundos, quien no recuerda Let it Be.
De este grupo mi madre estaba orgullosa de que yo los escuchara, porque ella en su juventud también los admiraba, les dejo un video con la canción que mas recuerdo de ellos y con la que los conocí.
This group I think many of us know, I have always liked them, I remember that I met them because in the video game house where I used to play as a child, there was a little machine where the main song of the soundtrack was Hard Day's Night and it stuck in my mind.
I admire them a lot for what they achieved at that time, where communication was not as effective as now, there were no social networks, there was no internet and yet they were world famous, I love their songs because they can make you dance as much as they can make you reflect on very deep issues, who does not remember Let it Be.
Of this group my mother was proud that I listened to them, because she in her youth also admired them, I leave you a video with the song that I remember most of them and with which I met them.
Fuente/Source

Es todo por mi parte amigos espero les guste mi publicación y entrada a este concurso, quiero invitar a mi amiga
@arlettemsalase
a participar, aun quedan varios días así que ojalá pueda unirse a esta iniciativa, que estén bien les deseo mucho éxito.
That's all from me friends I hope you like my publication and entry to this contest, I want to invite my friend @arlettemsalase to participate, there are still several days left so hopefully she can join this initiative, I wish you all success.
Traslated using DeepL.com/ Separators by @fabiyamada.
Traducido al idioma ingles con DeepL/Separadores cortesia de @fabiyamada

---
Posted via MusicForLife.io