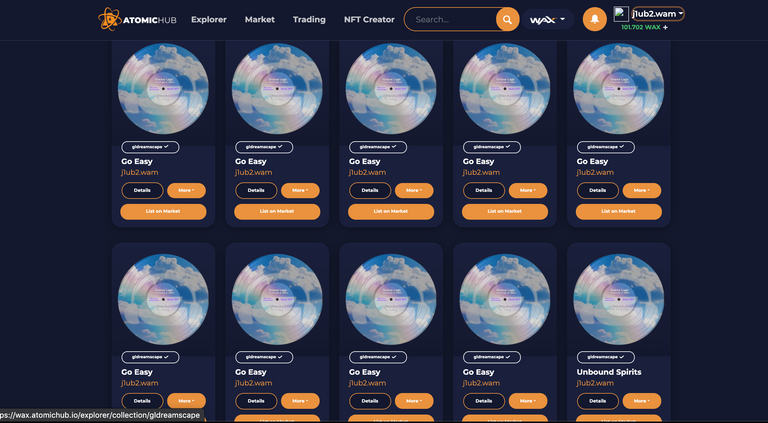 Well, this is allot more work than I though, lol, but NFT's will absolutely change the game in not just the music industry, but the collection world as a whole!
I am excited to get my latest release out as a limited NFT collection on WAX! I will be releasing it for regular download on the Hivelist.store once I get my store set up there. The NFT's though are cool to keep in your collection! I am going to do all of my covers from here on out with the vinyl record designs, because I can do some really cool things with them, plus you can build you digital vinyl collection, lol!
I have minted the first 10 editions of each song. Each song has a 1000 max supply. I will mint new copies as needed for the market, so not to flood the market. Once the first copies sell out, I will be minting more. Treating them like the old days of producing CDs or vinyl records.
As for all of the #1's for each song, those are mine! LOL. I will be keeping the first editions as the 'master' copy or basically copyright. Then I am bundling the numbers together, for example, all of the #2's and #3's etc, will be bundled together. I will be also be putting some of the copies out there individually. I will see what sells faster, if I get any sales at all... But hey, the guy at AtomicHub that whitelisted me is waiting for one to go on sale so he can pick up a copy! So that was a bit of a confidence builder.
I am working on some Special Edition copies as well with additional art, all of the songs bundled into one NFT, and an autographed vinyl... I spent allot of time getting my autograph right, so that alone should be worth it, LOL. Just kidding.
Anyway, if you can't tell, I am really excited to get this album fully released exclusively on the blockchain!
Here is the link to the collection!
https://wax.atomichub.io/explorer/collection/gldreamscape
Here is the link for the collection on the market:
https://wax.atomichub.io/market?collection_name=gldreamscape
I am whitelisted, but for some reason not marked as verified for some reason, which I got an email saying my sites were verified... I have an email back into them about that, so waiting to hear back.
Anyway, gonna get back on the grind and get these on the market!
Keep Calm and Groove On!

---
Posted via MusicForLife.io