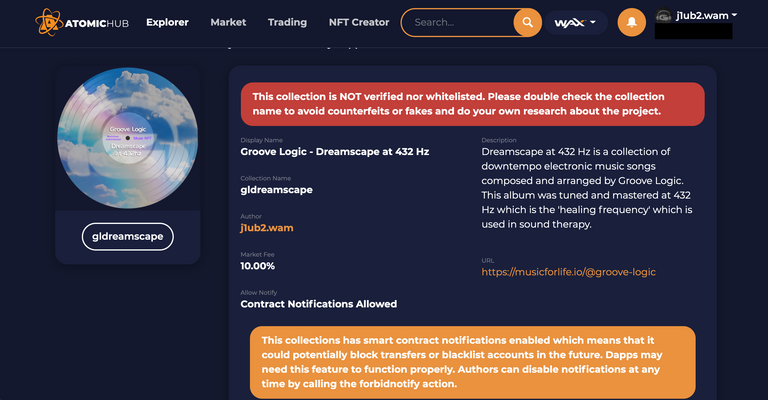 Hello everyone! This post is really meant for website verification purposes for AtomicHub.io because I am trying to get my first collection whitelisted on their exchange! This is an album called 'Dreamscape at 432 Hz' which is a collection of electronic music songs, more downbeat in nature, that is a real chill kind of album. Kind of one of those that you are meant to sit back relax and go into a different world!
What I am doing with this collection is making available each song individually as it's own NFT, and will be batching some together into full album bundles for sale! I am also going to be doing a Special Edition release which will include the entire album, bonus art, digitally autographed cover, and the royalty free rights to use! This will come with a cool designed certificate of Royalty Free rights.
Royalty Free license is a type of license that gives users the right to use a copyrighted material without having to compensate the owner for recurring use, per each copy or volume sold, or some time period of use. In short, you can use a copyrighted material for as long as you want. So you will be able to use any of these songs in Youtube videos, etc. This is only with the Special Edition release.
The regular releases are just like owning a copy of a rare album. Each song has a max supply of 1000 tokens. I have already minted the first editions of all the songs to get things set up, and started to mint more copies. I am keeping all first editions for myself as kind of a copyright thing, basically the Master copy.
Anyway, once I get whitelisted, I will get them up for sale as soon as they are all ready to roll!
Here is a link to the collection in it's current state, again, this is for verification purposes so I can prove I am a real person and the actual artist...
https://wax.atomichub.io/explorer/collection/gldreamscape
Keep Calm and Groove On!
--Groove Logic, also known on Hive as @thelogicaldude

---
Posted via MusicForLife.io