English
Good morning everyone!! I hope you have a beautiful Sunday! Today I want to bring you some good music, actually tell you about an artist that I admire a lot and that I would love to hear him live one day because he is a genius, his name is NAHUEL PENNISI, and now I am going to tell you about his story while I leave you the most beautiful songs for me of his interpretation, whether they are covers or his own, his style is unique and I love that.
Spanish
Buenas a todos!! Espero que tengan un hermoso domingo! Hoy quiero traerles un poco de buena música, en realidad contarles sobre un artista que admiro mucho y que me encantaría algún día escucharlo en vivo porque es un genio, se llama NAHUEL PENNISI, y ahora te voy a contar sobre su historia mientras te voy dejando los temas más lindos para mi de su interpretación, sean covers o propios, su estilo es único y eso me encanta.
---
NAHUEL PENNISI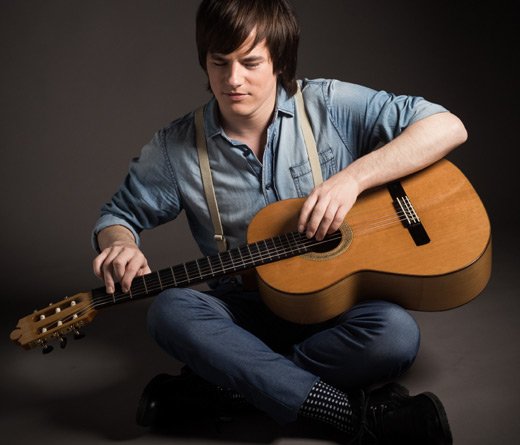 SOURCE
Nahuel interpreting ALFONSINA Y EL MAR in a Tribute to MERCEDES SOSA in the "Peña de Morfi" an Argentine TV program
Nahuel Pennisi was born in Buenos Aires on October 19, 1990, surrounded by musicians in his family, he began to play the keyboard when he was only 4 years old. Later, as he grew up, he began to play the bass, which he played in a peculiar way, on his legs because he could not measure it with respect to his body since Nahuel is blind, that is to say, blind from birth.
Nahuel Pennisi nació en Buenos Aires el 19 de octubre del año ´90, rodeado de músicos en su familia, comenzó a tocar el teclado con tan sólo 4 años de edad. Luego al crecer empezó a tocar el bajo, el cual lo tocaba de una manera peculiar, sobre sus piernas por no poder dimensionarlo con respecto a su cuerpo ya que Nahuel es no vidente, es decir ciego de nacimiento.
ABROJITO - Primavera
DURAZNO SANGRANDO de Luis Alberto Spinetta - Versión acústica
This did not make it difficult at all to develop his talent as you can hear it, it is magical in its melodies and chords. Later he started playing the guitar, he says it is an extension of his body. With her at the age of 16 he began to be a street artist, thus earning his bread and also the success he has today inside and outside the country.
Esto no dificultó en absoluto el poder desarrollar su talento como lo podrán escuchar, es mágico en sus melodías y acordes. Más tarde empezó a tocar la guitarra, él dice que es una extensión de su cuerpo. Con ella a los 16 años comenzó a ser artista callejero ganándose así el pan y además el éxito que hoy por hoy tiene dentro y fuera del país.
Plegaria para un niño dormido de Alberto Spinetta versión de Nahuel Pennisi
SER FELIZ - Primavera
When he finished secondary school, he devoted himself fully to music, so in 2009 he was part of the largest FOLKLÓRICO FESTIVAL in Argentina, COSQUÍN, where he met several musical characters, including Luis Salinas. From there, the doors were opened to a new world of many successes; And it is that Nahuel deserves it, and not only because of his talent, but because he reliably demonstrates that no matter what qualities you have, never limit yourself and so you can get wherever you want!
Cuando terminó el secundario se dedicó de lleno a la música, así fue que en 2009 fue parte del FESTIVAL FOLCLÓRICO más grande de Argentina, COSQUÍN donde conoce a varios personajes de la música, entre ellos a Luis Salinas. A partir de allí se abrieron las puertas a un mundo nuevo y de muchos éxitos; y es que Nahuel se lo merece, y no sólo por su talento, sino porque demuestra fehacientemente que no importa qué cualidades tengas, no te limites nunca y así podrás llegar a donde quieras!
COMPAÑERA - Acoustic
HOJAS DEL VIENTO - Claudia Brant y Nahuel Pennisi
In 2012 he recorded his first independent album "Nahuel Pennisi- El Sueño de la Canción". In 2015 he signed a contract with SONY MUSIC and released in December of that year: "Primavera", where several artists such as Chango Spasiuk, Luis Salinas, Teresa Parodi, among other artist friends participated. With this album Nahuel was nominated in 2016 by the LATIN GRAMMY, where he performed "Primavera" leaving everyone speechless.
En 2012 grabó su primer disco independiente "Nahuel Pennisi- el Sueño de la Canción". En 2015 firma contrato con SONY MUSIC y lanza en diciembre de ese año: "Primavera", donde participan varios artistas como Chango Spasiuk, Luis Salinas, Teresa Parodi, entre otros amigos artistas. Con éste álbum Nahuel fue nominado en 2016 por los LATIN GRAMMY, donde interpretó "Primavera" dejando a todos boquiabiertos.
PRIMAVERA acoustic
SOMOS- Nahuel Pennisi y Niña Pastori
In August 2017 he launched "Feliz" and with luxury guests such as ABEL PINTOS and NIÑA PASTORI, super recognized artists in the Spanish language. In 2018 he was a guest at the concert that SILVIO RODRÍGUEZ gave at Luna Park. And in February 2020 he was invited for the first time to the Viña del Mar Festival in Chile, where he got 6.7 points with his song "Avanzar" and which won two GAVIOTAS: Best Folklore Interpreter and Best Song . The same year he released his album RENACER.
En agosto de 2017 lanza "Feliz" y con invitados de lujo como ABEL PINTOS y NIÑA PASTORI, artistas súper reconocidos en la lengua hispana. En 2018 fue como invitado al concierto que dio SILVIO RODRÍGUEZ en el Luna Park. Y en febrero de 2020 fue invitado por primera vez al Festival de Viña del Mar en Chile, donde llegó a tener 6,7 puntos con su tema "Avanzar" y el cual se llevó dos GAVIOTAS: Mejor intérprete de folclore y mejor canción. El mismo año editó su álbum RENACER.
Nahuel Pennisi- AVANZAR- VIña del mar 2020
Nahuel recibiendo sus gaviotas en Viña del mar 2020
This young singer-songwriter has shared the stage with many artists such as: Soledad Pastorutti, Diego Torres, Axel, Teresa Parodi, Chango Spasiuk, Silvio Rodríguez, Gerónimo Rauch, L´Arpeggiata with regard to the national, and with international artists such as Gustavo Santaolalla, Sin Bandera, Fonseca, Niña Pastori, Ricardo Arjona, Franco de Vita, etc. Nahuel is so flexible when it comes to adapting to another artist that his ease of coupling his guitar and his voice is incredibly admirable.
Este joven cantautor ha compartido escenario con muchos artistas como: Soledad Pastorutti, Diego Torres, Axel, Teresa Parodi, Chango Spasiuk, Silvio Rodríguez, Gerónimo Rauch, L´Arpeggiata en lo que respecta a lo nacional, y con artistas internacionales como Gustavo Santaolalla, Sin Bandera, Fonseca, Niña Pastori, Ricardo Arjona, Franco de Vita, etc. Nahuel es tan flexible a la hora de adaptarse a otro artista que esa facilidad para acoplar su guitarra y su voz es increíblemente admirable.
MUNDO - Abel Pintos y Nahuel Pennisi
EL OLVIDAO y ORACIÓN DEL REMANSO - Versión de Nahuel Pennisi en Cosquín 2018
"Vuelve" is a song from his latest album, a ballad that shows a love story that could not be. This song was going to be released by Julio Reyes until it was postponed and after some arrangements together, they released this version performed by Nahuel, incredible as always, putting his stamp on it.
"Vuelve" es un tema de su último álbum, una balada que muestra una historia de amor que no pudo ser. Ésta canción la iba a lanzar Julio Reyes hasta que se postergó y luego de unos arreglos juntos, lanzaron esta versión interpretada por Nahuel, increíble como siempre, poniendo su impronta.
VUELVE- Renacer
1+1= UNO - Feliz
As if to finish, I tell you that Nahuel at the age of 31 has already formed his family with Mayra his wife and Mateo, his first child. This last song "1 + 1 = UNO" was sung to him when he was in the belly. Today they are in Tucumán, where Mayra is a native, and together they enjoy raising their son in the tranquility of their home. In addition, Nahuel likes to train, so he goes out for a run and with his chinstrap he disguises himself a little and nobody recognizes him, he says with a laugh in a note that they made him in SerArgentino.com that I recommend read here
Como para ir terminando, les cuento que Nahuel con 31 años ya formó su familia con Mayra su mujer y Mateo su primer hijo. Este último tema "1+1= UNO" se lo cantaba cuando estaba en la panza. Hoy se encuentran en Tucumán, donde es oriunda Mayra, y juntos disfrutan de la crianza de su hijo en la tranquilidad de su hogar. Además a Nahuel le gusta entrenar, asique sale a correr y con el barbijo se disfraza un poco y nadie lo reconoce, dice entre risas en una nota que le hicieron en SerArgentino.com que les recomiendo leer aquí
---
Nahuel and his son Mateo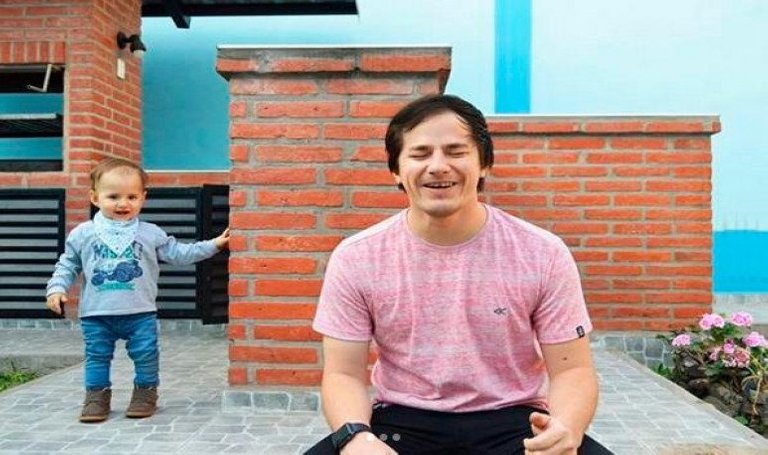 UNIVERSO PARALELO - Renacer
And with this last Parallel Universe theme, which fascinates me, I will leave you. I hope you have enjoyed this small biography of this beautiful compatriot artist, as well as the themes that I presented to you, which are the ones I like the most about his interpretation, but I hope you delve into his music, so varied and always so particular, in his lyrics, In his chords and melodies, that folkloric mix with flamenco makes me passionate about him. I leave the sources where I consulted some data and specific photos. Thanks for stopping by !! Have a great Sunday!! Arrivederchi !!
Y con este último tema Universo Paralelo, que me fascina, los dejo. Espero que hayan disfrutado de esta pequeña biografía de este hermoso artista compatriota, como también de los temas que les presenté que son los que más me gustan de su interpretación, pero ojalá ahonden en su música tan variada y siempre tan particular, en sus letras, en sus acordes y melodías, esa mezcla folclórica con flamenca me apasiona de él. Les dejo las fuentes donde consulté algunos datos y fotos puntuales. Gracias por pasar!! Que tengan un excelente domingo!! Arrivederchi!!
Follow me to see all my content upgrades hive.blog/@mimi05