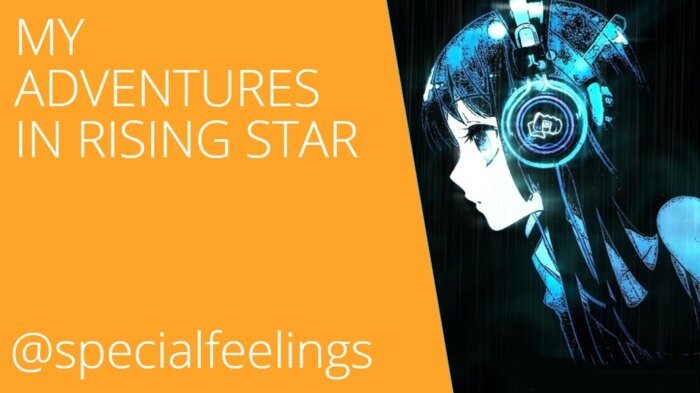 ENGLISH

Hi! How are you doing today? Sunday always seems to be a calm day but not today for me. It really amazed me. As you can read in the title I finally got some limited edition cards. Follow me and I will tell you about them.
Finally, I could get limited edition cards which I really loved. I got many pizzas from missions so I focused on completing the Summer Solstice Festival mission as many times as I could. It was worth it.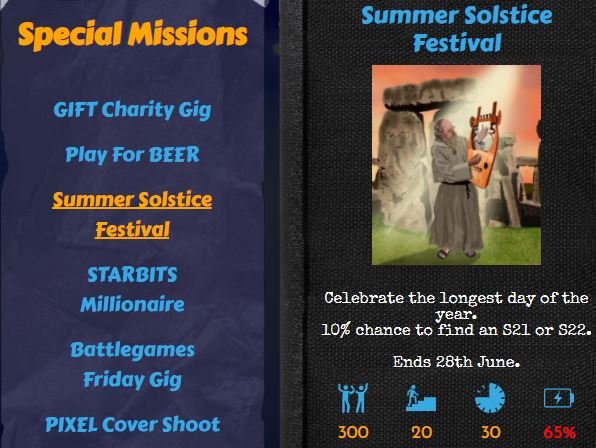 The first card I got was S21 Cow Horn.

I got it when completing the special mission 19 times.

A lot of tries were needed but it was worth it. Never lose hope. Sooner or later you will get what you deserve.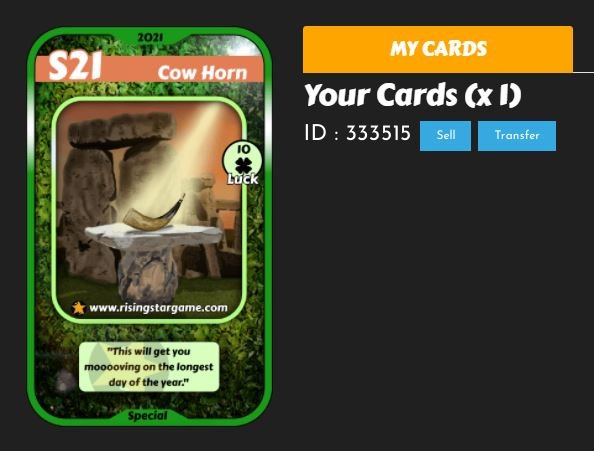 But that's not all. I was really surprised when I got another limited edition card. This time was S22 Pan Pipes card.

This time I had to try this mission 25 times, 6 more times after getting the previous card.

It was really rewarding. I was very happy and I couldn't believe it. I could have got the same card repeated but I was lucky I got the another one so I have both different cards now. 15 days until the event ends still! I'm really lucky to have these cards so soon!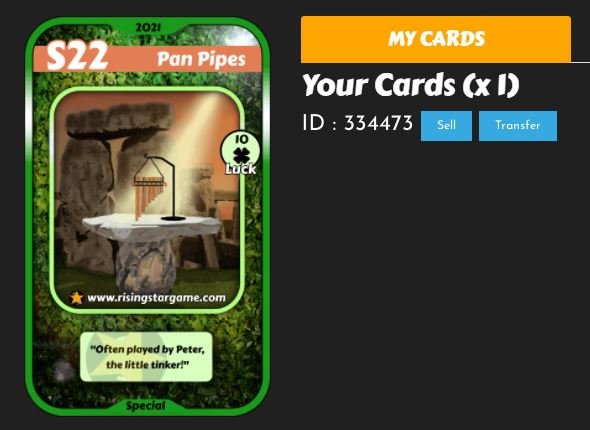 Although I have both cards, I would like to get more cards like these so I will keep completing this mission more times.
That's all about Summer Solstice Festival. Now it's time to talk about normal missions.
There hasn't been too much progress since I stuck in the second mission in Local Gig Circuit (second zone) because I need to reach level 25. My level is 24 right now.
By the way, there is something I want to tell you that I have found it recently. As you know I was collecting starbits to recover a little bit from my investment but I found out an interesting possibility in the game. It's staking our starbits. The option is called Record Staking. You can stake your starbits so when someone purchase one record in which you have staked your starbits you receive a percentage of it. I started today and earned some starbits. It's really interesting.

MY PROGRESS - DAY 12
TOTAL MISSIONS: 390 (+35)
CARDS: 171 (+2)
PERMANENT FANS: 3630 (=)
LUCK: 3272 (+20)
SKILL: 5819 (=)
IM: 67 (=)
LEVEL: 24 (+1)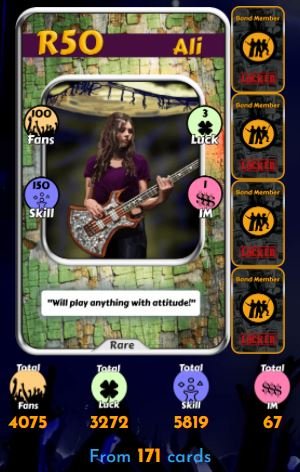 ACHIEVEMENTS

RANKING

TODAY'S INVESTMENT: -
TOTAL INVESTMENT: 582,081 STARBITS
REINVESTED: 13,000 STARBITS
STAKING: 24,000 STARBITS
That's all for today! I hope you liked it. It was a great day! See you soon!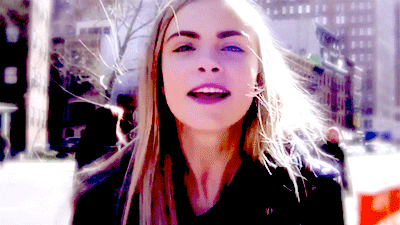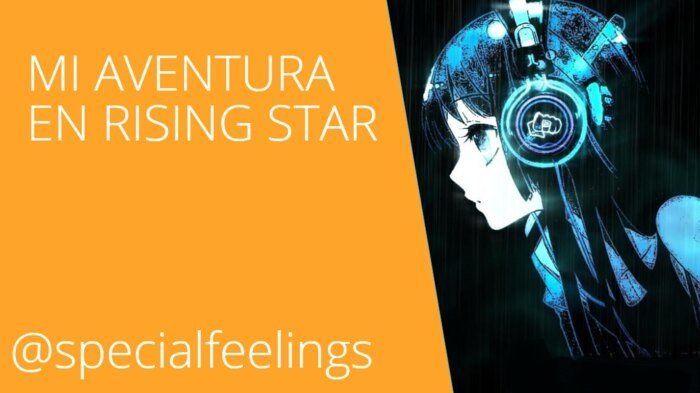 ESPAÑOL

¡Hola! ¿Qué tal están hoy? Hoy domingo parecía un día muy tranquilo, pero me ha sorprendido de una manera increíble. Como habéis leído en el título he conseguido finalmente cartas de edición limitada. Acompañadme y veréis cuáles son.
Pues así ha sido, por fin conseguí cartas de edición limitada que tanto quería. Conseguí muchas pizzas y aproveché para centrarme 100% en la misión de Summer Solstice Festival y valió la pena el resultado.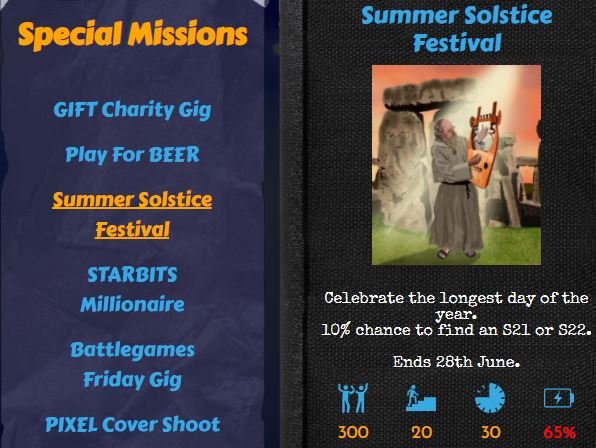 La primera carta que conseguí fue S21 Cow Horn.

La conseguí tras completar la misión 19 veces.

Fueron muchos intentos, pero mereció la pena. Ya lo saben, nunca pierdan la esperanza. Tarde o temprano todo llega.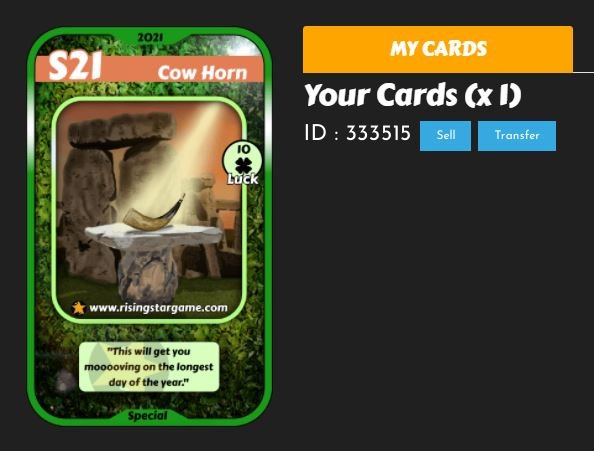 Pero aquí no queda la cosa. Lo mejor de todo y lo más sorprendente es que conseguí la otra carta especial, la S22 Pan Pipes.

Esta la conseguí al intento número 25, 6 intentos después de conseguir la anterior.

Fue una auténtica bendición, me puse muy contenta y no lo podía creer. Podría haber salido la carta anterior repetida, pero afortunadamente salió la otra, así que ya tengo las 2 cartas de edición limitada ¡Y todavía quedan 15 días para que termine el evento! ¡Me siento increíblemente afortunada!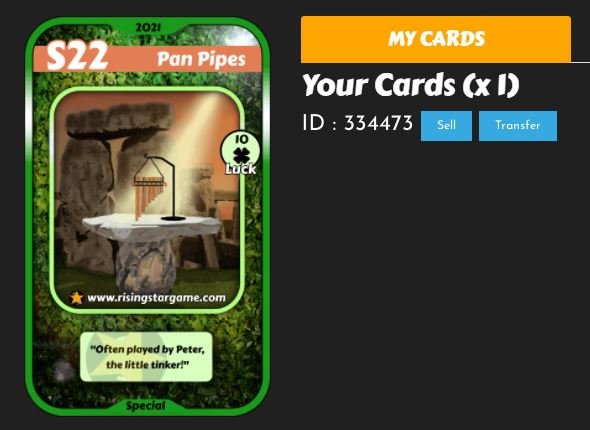 Aunque tenga las 2 cartas, me gustaría conseguir algunas más, así que seguiré completando estas misiones.
Eso ha sido todo sobre el Summer Solstice Festival. Ahora les hablaré sobre mi progreso en las misiones normales.
En este aspecto no ha habido demasiado progreso, ya que me he quedado atascada en la segunda misión de la segunda zona, ya que necesito llegar al nivel 25 para desbloquearla y aún soy nivel 24.
Otra de las cosas que tenía que contarles es que he descubierto una nueva funcionalidad dentro de la plataforma. Como saben, estoy ahorrando un poco para recuperar algo de mi inversión, pero descubrí que hay una manera en la que podemos depositar nuestros starbits en una especie de staking y recibir un porcentaje por cada compra que se haga del disco en el que hayas decidido poner tus starbits. He empezado hoy y ya he recibido algo de recompensa.

No está nada mal y es mejor que tener nuestros starbits parados sin generar nada.
MI PROGRESO - DÍA 12
MISIONES EN TOTAL: 390 (+35)
CARTAS: 171 (+2)
FANS PERMANENTES: 3630 (=)
LUCK: 3272 (+20)
SKILL: 5819 (=)
IM: 67 (=)
NIVEL: 24 (+1)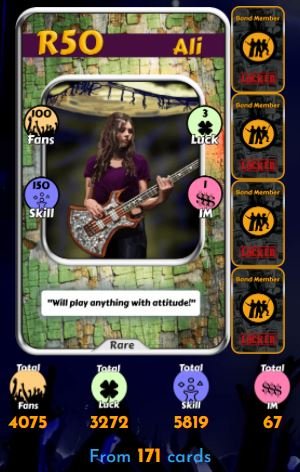 LOGROS

RANKING

INVERSIÓN HOY: -
INVERSIÓN TOTAL: 582.081 STARBITS
REINVERSIÓN: 13.000 STARBITS
STAKING: 24.000 STARBITS
¡Esto ha sido todo por hoy! Espero que os haya gustado y que os vaya tan bien como a mí en Rising Star. Hoy ha sido un gran día ¡Hasta la próxima!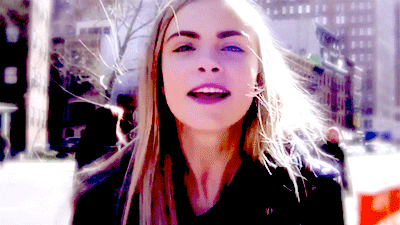 ---
Posted via MusicForLife.io