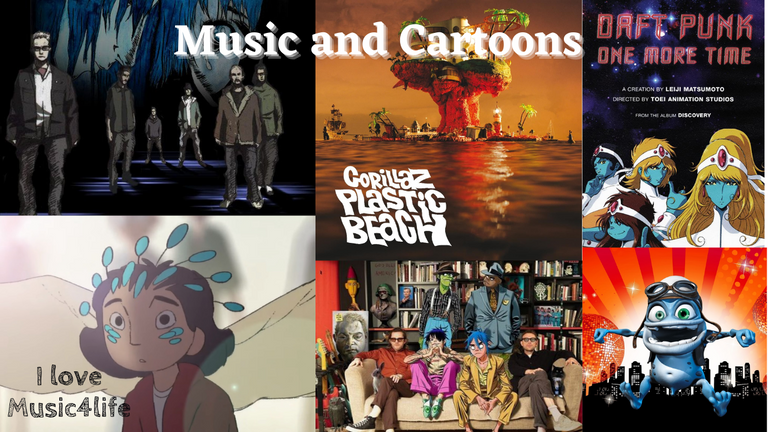 Hello music lovers friends. Compilation Vol. 2 of the best music videos with cartoons. Because music is more than just sound, it is a complete and exciting art that complements many artistic fields such as painting, drawing, production.
Thanks to the music and these great artists !!
Daft Punk - One More Time
The daft punk guys transport us to the party with this excellent song. Nobody wants the party to stop, nobody wants to stop dancing, once again we are going to have fun to be young forever.
Let's celebrate tonight, it is the only thing we have, everything is so ephemeral, only in this celebration I feel eternal, smiling and sharing with my loved ones. One more time, another chance, I don't want to miss a party anymore, repeat tonight, make this night eternal
Gorillaz - On Melancholy Hill
On the hill of melancholy I remember you, are you still by my side or is it just another dream. I will stop dreaming when you are by my side. You can't see it, I can't live without you. It seems that you are the only one who does not see it, everyone around us can see it, everyone except you. Come closer to me.
On the hill of melancholy I still remember you and listen to these wonderful songs.
Linkin Park - Breaking The Habit
Break the habit, try it tonight you know what I'm talking about, instinct doesn't lie to you, break that habit tonight, because you can't be wrong all your life, you must find out. Break the habit tonight and find out.
The change begins with a small step, until the longest journey begins with the first step.
Make change happen.
Imagine Dragons - Birds
Join me to fly, to see a new world. A new world is reborn, the world changes and I don't want to be left behind or die.
I will only try to fly, I would like it to be by your side, because I love your company, when in the morning my day begins with you, I am happy just to see you.
Accompany me to fly, do not leave me alone, my wings do not hold and I can fall.
**Axel F - Crazy Frog **
Bonus, who does not remember this crazy frog, one of my first funny videos seen on the internet.
This frog is adorable
Thanks. I hope you like let your vote
Thanks!!!
torrecoin90