Another dull Winter day in England, almost -3˚ C very early this morning with heavy frost on the ground. So I waited patiently until the afternoon before going out on my daily exercise walk.
On my return home I searched though some Netflix documentaries on TV. After some time I finally got interested in the video (below) as it contained such amazing scenery and awesome Reggae Tunes. Some of the Reggae tracks are listed, but too many to include all of the titles as there are over seventy in total.
If possible watch and listen to the video on a High Definition "Wide Screen" TV, as the overall experience will be so much better (in my opinion). Both in audio quality & visually enhanced.
Happy Irie Thursday everyone... 😎
As always, please enjoy the awesome Reggae Riddim.... 🎶🎧
The Video (below) was Up-loaded to ©YouTube by ©PMB Music
Video Title: Reggae Hits Café // Cool Reggae Music 2022 Playlist.
01 00:00​ Don't Speak (Reggae Version) - Sarah Menescal
02 04:04​ Got To Leave - Pinky Dread
03 08:01​ Smooth Operator - General Soundbwoy, Ivette Moraes
04 12:09​ L'appuntamento - Beluga's Trio
05 15:24​ I Put A Spell On You - Jamaican Reggae Cuts
06 19:00​ No Rain - Natty Bong
07 22:55​ Ironic - Pinky Dread, Vintage Reggae Soundsystem
08 26:27​ Quicksand - Natty Bong
09 29:55​ I Say A Little Prayer - Sarah Menescal
10 33:11​ I Can't Go For That (No Can Do) - Pinky Dread, Sarah Menescal
11 36:09​ Dance Monkey - Freedom Dub, DJ Leao
12 39:05​ Don't Start Now - Bristol Love, Lee Avril
13 42:50​ Stuck In A Moment You Can't Get Out Of - Sublime Reggae Kings, Pinky Dread
14 46:54​ Friends - The Reggister's
15 50:58​ Say My Name - Jamaican Reggae Cuts, Pinky Dread
16 53:39​ Feels Like We Only Go Backwards - Bristol Love, Lee Avril
17 56:33​ Circles (Reggae Version) - Natty Bong, General Soundbwoy
18 59:46​ Love Hurts - Trippynova
19 01:03:07​ Love Shot (Reggae Version) - Shamanic Dub, Shain J
The above "Music Video" (& "Screen Shot" image) were both sourced from ©YouTube [here] Some "color enhancing" & focus filters were used by me on the paused "freeze framed" video "Screen Shot" image.

Please explore the very friendly #ReggaeJAHM Hive Community ... 😎
Lastly:
I also want to mention that the [ Music Community #BeatZchain Tribe ] is now hosting an exciting "Open Mic" event for Musicians, Producers & Music fans every THURSDAY on MSP-Waves ~ You can read more about this event on the initial @beatzchain Hive Account Post [here] (The image shown (below) is a "screen shot" from the post).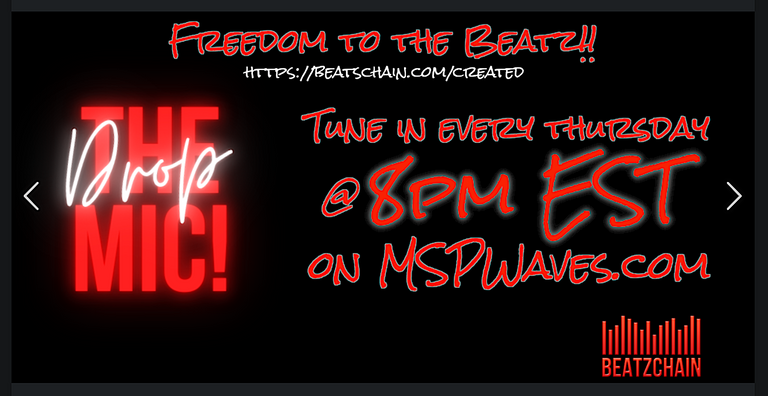 Many thanks for visiting me 🙋‍♂️
Your kind attention is very much appreciated 👍
This publication is "Cross Posted" from my personal Hive Account [here]
reggae music cent pimp thealliance teamuk pob vyb musicforlife tv