💞Hello Hive Community!💞
---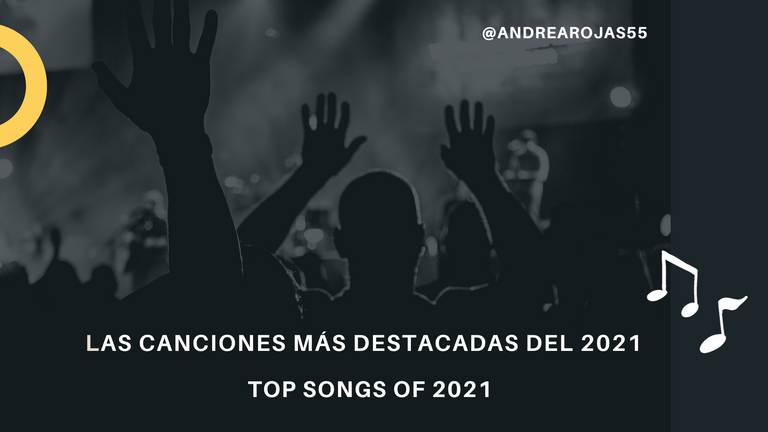 ---
Revivir las mejores canciones que he escuchado en el año 2021 es algo demasiado reconfortante, ya que sientes la misma chispa desde que la escuchaste en aquel momento hasta que haces un trayecto en ese viaje temporal ¿No? Por eso, en esta ocasión hago una recopilación de esas canciones que más he escuchado en el 2021 para compartirlas con todos ustedes ¡Empecemos!
Reliving the best songs I've listened to in the year 2021 is something too comforting, since you feel the same spark since you heard it at that moment until you take a trip in that time travel, right? That's why, this time I'm making a compilation of those songs I've listened to the most in 2021 to share them with all of you Let's get started!
---
Harry Styles - Treat People With Kindness
---
---
Está súper canción de Harry Styles se estrenó precisamente el 1 de enero del 2021, me trae muchísimos recuerdos nostálgicos y alegre porque estaba estudiando Hive desde lo más profundo sin haberme creado la cuenta. Sentía algo nuevo que iba a surgir en mí, añadiendo que ese baile y el ritmo de la música te motiva demasiado y anima a bailar por todo lo alto. No he sentido el mismo sentimiento con ninguna otra cuando lo escuché por primera vez ya que si fuera como si me hubiese dado la bienvenida, por lo mismo espero que sea así en este año.
Harry Styles es uno de los cantantes que mas me gustan, recordando que fue uno de los integrantes de la boy band mas famosa "One Direction". Ha construido un exito inigualable con sus canciones, debo decir que este ha sido uno de las canciones que mas alcance tuvo apenas entrando un nuevo año encima que es admirable verlo bailar. "Encontrar un lugar para sentirnos bien y podamos tratar a la gente con amabilidad" efectivamente, es el mensaje que Harry Styles envía con esta canción. Tratar a la gente con amabilidad es el green flag que debemos tener a lo largo de nuestras vidas, nada nos quita ni nos pesa ser amable así que hay tenerlo en cuenta.
This super song by Harry Styles was released precisely on January 1, 2021, it brings me a lot of nostalgic and joyful memories because I was studying Hive from the depths without having created the account. I felt something new coming up in me, adding that dance and the rhythm of the music motivate you too much and encourage you to dance your heart out. I haven't felt the same feeling with any other when I first heard it as if it was like it welcomed me, so I hope it will be like that this year.
Harry Styles is one of the singers I like the most, remembering that he was one of the members of the most famous boy band "One Direction". He has built an unparalleled success with his songs, I must say that this has been one of the songs that had more reach just entering a new year on top of that it is admirable to see him dance. "Find a place to feel good and we can treat people with kindness" indeed, is the message Harry Styles sends with this song. Treating people with kindness is the green flag we should have throughout our lives, nothing takes away from us or weighs us down to be kind so there is that to keep in mind.
---

---
GAYLE - abcdefu
---
---
Esta canción dio el boom exacto en el año 2021, recuerdo que esta canción salio por los videos de tik tok. Es demasiado pegadiza, por eso me gusta tanto. Prácticamente el significado de la canción es sobre ese chico que recién terminaste una relación, que diste todo de ti por esa persona, lo colocaste delante de ti por sobre todas las cosas y te termino mal. Es el himno de los ex's, básicamente. Tiene un ambiente de adolescente, es lo que mas me llama la atención sobre todo por lo rudo del mensaje que tiene.
This song boomed exactly in the year 2021, I remember this song came out because of Tik Tok videos. It's too catchy, that's why I like it so much. Practically the meaning of the song is about that guy that you just ended a relationship with, that you gave all of yourself for that person, you put him in front of you above all things and it ended badly. It's the anthem of the ex's, basically. It has a teenage vibe to it, that's what I find most striking, especially because of the rude message it has.
---

---
Meghan Trainor - Title
---
---
Esta canción aparte de ser divertida es demasiado pegadiza, fresca y sincera sobre todo por la parte de "Kiss My ass goodbye" jajaja. La conseguí también en Tik Tok,en uno de esos videos famosos sobre bailes, de una vez me atrapó. Tiene buen ritmo de hecho, especialmente para bailar. Debo decir que la artista Meghan Trainor no es alguien que escuche todo el tiempo, sin embargo, de repente aparece y es un buen hit musical que empieza a sonar por todos lados. Realmente me gusta demasiado, es una de mis favoritas de ese año 2021.
This song apart from being fun is too catchy, fresh, and sincere especially for the "Kiss My ass goodbye" part hahaha. I got it also on Tik Tok, in one of those famous videos about dances, it caught me at once. It has a good beat actually, especially for dancing. I must say that the artist Meghan Trainor is not someone I listen to all the time, however, all of a sudden she appears and it's a good music hit that starts playing everywhere. I really like it too much, it's one of my favorites of that year 2021.
---
---
Imagine Dragons es una banda pop rock que es una de mis favoritas, realmente me gusta demasiado su genero musical ¡me declaro fan! todas sus canciones me fascinan. Debo admitir que ellos tenían bastante tiempo sin sacar música, sin embargo, esta canción es demasiado curiosa.
Debo confesar que esta canción se estrenó el 28 de octubre de 2021 pero yo la vine a descubrir fue el 2 de enero de este año jajaja. Esta canción esta inspirada en la serie "Arcane" basada en el juego League Of Legens que he de admitir que pronto hare una reseña sobre esta serie porque me gustó mucho.
Imagine Dragons is a pop-rock band that is one of my favorites, I really like their musical genre, I declare myself a fan! all their songs fascinate me. I must admit that they had a long time without releasing any music, however, this song is too curious.
I must confess that this song was released on October 28, 2021, but I came to discover it on January 2 of this year hahaha. This song is inspired by the series "Arcane" based on the game League Of Legends that I have to admit that soon will do a review about this series because I liked it a lot.
---

---
Creo que tenia mucho tiempo sin extenderme al escribir jaja pero me gusta demasiado destacar cada canción que me gustó mucho, por ello, también me gusta compartirlo con ustedes para que se deleiten al escuchar. Espero que les haya gustado esta recopilación tanto como a mi, nos vemos pronto!
I think I had a long time without writing haha but I like too much to highlight each song that I liked a lot, so I also like to share it with you so you can enjoy listening to it. I hope you liked this compilation as much as I did, see you soon!
---

---
The photos are my property taken with my Realme C11 phone.
---