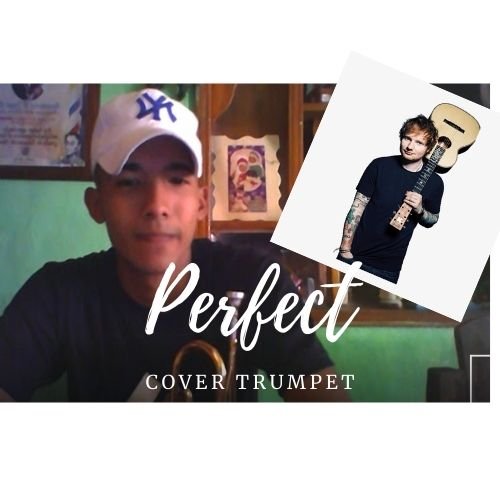 Si amigos, les traigo otro tema de amor. Me encantan este estilo de covers, son muy lindos y las letras originales te llenan el corazón de muchos sentimientos, espero les guste mucho escuchar este precioso tema como lo es Perfect, cual es muy conocida por el artista Ed Sheeran y también por su versión en español (igual de preciosa) por los maravillosos Kevin & Karla
Espero les guste mucho, tenía ya un tiempo sin subir vídeos espero me disculpen jejejejej, no tengo internet por ahora pero ya resolví, nos vemos en una próxima oportunidad.
Yes friends, I bring you another love theme. I love this style of covers, they are very cute and the original lyrics fill your heart with many feelings, I hope you enjoy listening to this beautiful song as Perfect, which is well known by the artist Ed Sheeran and also for its Spanish version (just as beautiful) by the wonderful Kevin & Karla.
I hope you like it a lot, I had a while without uploading videos I hope you excuse me jejejejej, I have no internet for now but I solved, see you in a next opportunity.

Letra/ Lyrics
I found a love for me
Oh darling, just dive right in and follow my lead
Well, I found a girl, beautiful and sweet
Oh, I never knew you were the someone waiting for me
'Cause we were just kids when we fell in love
Not knowing what it was
I will not give you up this time
But darling, just kiss me slow, your heart is all I own
And in your eyes, you're holding mine
Baby, I'm dancing in the dark with you between my arms
Barefoot on the grass, listening to our favourite song
When you said you looked a mess, I whispered underneath my breath
But you heard it, darling, you look perfect tonight
Well I found a woman, stronger than anyone I know
She shares my dreams, I hope that someday I'll share her home
I found a love, to carry more than just my secrets
To carry love, to carry children of our own
We are still kids, but we're so in love
Fighting against all odds
I know we'll be alright this time
Darling, just hold my hand
Be my girl, I'll be your man
I see my future in your eyes
Baby, I'm dancing in the dark, with you between my arms
Barefoot on the grass, listening to our favorite song
When I saw you in that dress, looking so beautiful
I don't deserve this, darling, you look perfect tonight
Baby, I'm dancing in the dark, with you between my arms
Barefoot on the grass, listening to our favorite song
I have faith in what I see
Now I know I have met an angel in person
And she looks perfect
I don't deserve this
You look perfect tonight
Español
Creo en tu amor
Por mí
Sólo atrévete
Y sígueme hasta el fin
Y ya te encontré
Tan dulce tú te ves
Yo nunca pensé que fueras tú
Lo que siempre esperé
Éramos niños buscando amor
Sin saber sentirlo
Pero ahora no renunciaré
Bésame lento, amor
Tengo tu corazón
El mío en tus manos ya está
Bailaré
En la oscuridad
Abrazándote
Descalzos al bailar
Nuestra favorita ya sonó
Y dices que te ves tan mal
Yo susurré y dije
Eres tan bella y la más perfecta, amor
Encontré una persona
Más fuerte de lo que pensé
Mis sueños comparte
Espero que nuestras vidas también
Encontré el amor
No solo para guardar secretos
Para soñar por nuestros hijos
Que vendrán
Tan jóvenes, pero en eterno amor
Luchando contra el dolor
Todo estará muy bien, lo sé
Tu mano pediré
Soy tu hombre y tú mi mujer
El futuro en tus ojos ya puedo ver
Bailaré
En la oscuridad
Abrazándote
Descalzos al bailar
Nuestra favorita ya sonó
Y dices que te ves tan mal
Yo susurré y dije
Eres tan bella y la más perfecta, amor
Bailaré
En la oscuridad
Abrazándote
Descalzos al bailar
Nuestra favorita ya sonó
Tengo fe en nosotros dos
Eres un ángel, no merezco esto
Eres tan perfecto
No merezco esto
Somos tan perfectos, amor