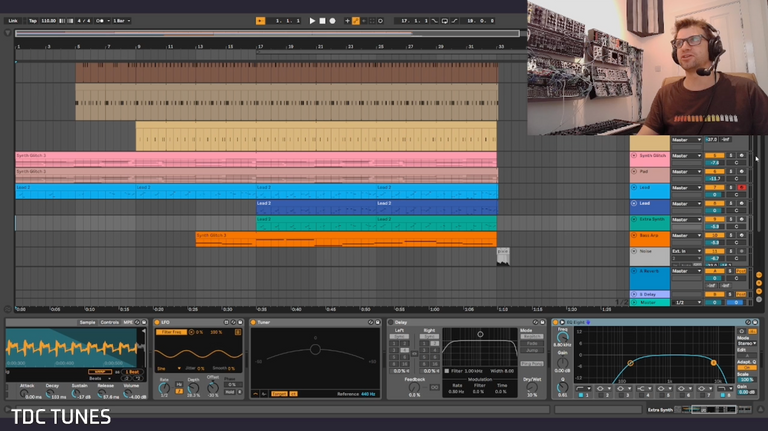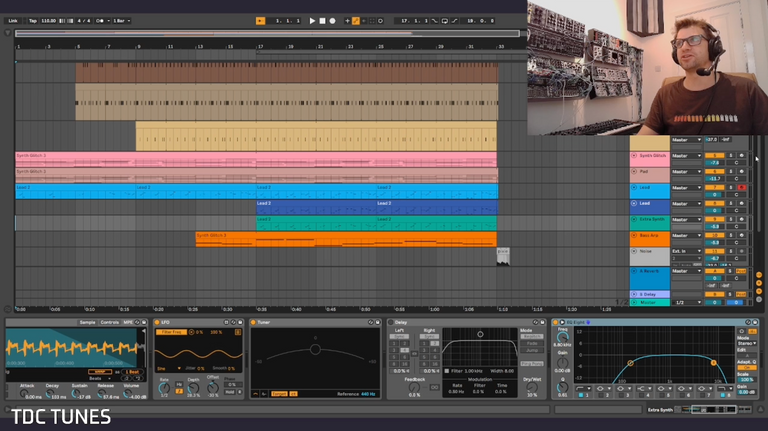 ---
Part 2 of my experiements with the audio glitch sound taken from a VLOG by @pixiepost - now I've made a bunch of instruments out of it and starting to make a track!
If you missed part 1 - check it out here.
To break down the instruments and some of the main tools used to create them all from one glitch sound, the most important ones are:
Pitch. The original glitch is a very low noisy buzz which doesn't sound very musical at all. But pitch it up and it becomes a useful melodic waveform that I've used in all the voices.

Envelopes. The way the volume of each sounds changes over time. Percussion sounds tend to have fast attacks (they increase to maximum volume almost instantly) wheras others ramp up more slowly. The pad sound I made uses a slower attack which makes it sound completely different.

Filters and EQ. I've cut or boosted frequencies in all these voices - in some cases very drastically to carve out sounds that complement each other. The kick drum naturally has a lot of low frequencies boosted, but with all of them I'm trying to emphasis or remove different ranges in the frequency spectrum in order to create instruments that are different and complimentary to one another.

Effects. I've used Delay (echo) Reverb (reflections that help the sound seem as if it's in a physical space) and various other effects to give a different character to each. The delay is clocked (a subdivision of the tempo of the track which creates interesting rythmns, especially on the hihats and synth arpeggios. That's something I almost always use heavily in both my produced tracks and in my modular synth for my live sets.
As you can see with these and other techniques I can take one single sampled source waveform and create a set of sounds that are radically different to one another.
So far there really is no other source waveform being used at all. I'm not sure were to go next with it - I might now combine it with other sounds to move towards a more finished track. Or maybe I should continue and see if I can finish a track based entirely on that glitch. What do you think?
Another big thanks to @pixiepost for the source material for the glitch sound - once again I've made her a 50% beneficiary on this post as it couldn't have happened without her!
Check out her original video where the glitch happened:
"The Productivity Myth"
The glitch sound is also the inspiration (and sound source) for the new "glitch mode" in my live radio shows. If you are in the Twitch channel you can simply type !glitch to activate glitch mode! And you can catch me live every Monday on Twitch from 9pm UK time.
---
▶️ 3Speak