📀A Rising Star📀


While immersed in the epic depths that music creates, whether producing, listening, or preforming,
It is important to always remember...





Let me tell you time flies when your having fun. It was during August 2020, I started playing Rising Star. It stood out to me right away as a Block-Chain game with awesome potential. The game, even though still in its early stages of development, had an appeal to it. With content and prize giveaways on Twitch TV, a Cypto currency called Starbits, and a ton of NFTs and missions to go with it, everything seemed like a win-win situation.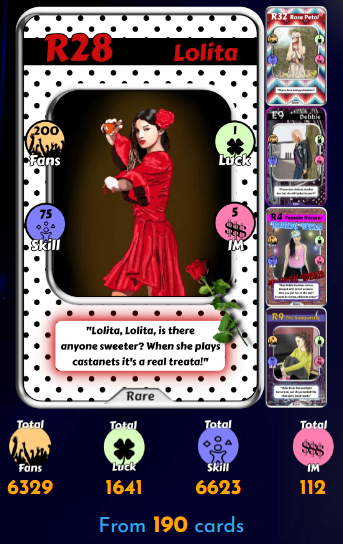 Currently, I am at level 157, and so far the daily journey has been rewarding with numerous ways of building up a musical empire.. And it appears to be growing as a potentially potent tool.
As I built up experience and went through missions, I started seeing an intricate musical network unfolding in front of my very eyes! 👀 With so much I could do, I started to take the time to explore the possibilities which Rising Star has created.
I invested some time into missions building up some 🤑Starbits, and started purchasing some of the NFT packs and began building up a collection, currently consisting of 190 cards altogether. Simply fabulous.
While patiently building up my experience, expanding my collection, the game began to implement other aspects to it. One of those being the ability to add our own music🎤 and mint NFTS🎬 where I also discovered the ability to invest in those NFTS, staking Starbits to make a return as an investor.
And really, that is just the beginning!
Within the game, we can place bids using 🤑Starbits to run ads for marketing, play fun mini-games, gain achievements, and is full of prizes and contests. It also is complete with a marketplace to buy and sell NFTS, has all kinds of special missions that come out regularly, and with the ability to create instruments, bands, and all kinds of music, the possibilities seem endless!🎼

We also can take part in an awesome 🎯 curation trail which is manually curated, and take part in the community discussions and activities on their discord server.
I recently just discovered there is some amazing 🎁 Merch as well that is available. I will definitely have to look into getting some of the shoes they have on there.

I am looking forward to seeing how everything progresses and am still in the process of learning what other tools the game has to offer. I know there are other functions they are still in the process of implementing and that will be exciting once more components are released.

The climb up the ranks is difficult but fun and rewarding none the less.. I hope to see all you music fanatics participate in the Rising Star community because I believe this is something you are not gonna want to miss. The Potential to Rise and become a🌟Star🌟is Real!




🌟