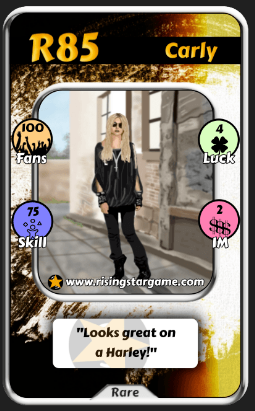 Hi people! i've have always wanting to open some packs in #RisingStar, but i usually swap my starbits to DEC and instead of track all "STARBITS" that i have in my splinterlands account to avoid to spend it, i usually end to spend it all into rents or cards in splinterlands because i'am to lazy to track all that lol. So to counter that i decided to buy the starbits directly xD.
¡Hola gente! Siempre he querido abrir algunos paquetes en #RisingStar, pero generalmente cambio mis starbits a DEC y en lugar de rastrear todos los "STARBITS" que tengo en mi cuenta de splinterlands para evitar gastarlos, por lo general termino gastando todo en rentas o cartas en splinterlands porque soy demasiado vago para rastrear todo eso jajaja. Entonces, para contrarrestar eso, decidí comprar los Starbits directamente xD.
Being honest I was hoping that the boost in fans would make a bigger difference to my earnings per mission (like, at least the double), however i feel like there is not a big difference compared from when i had 1600 fans e_e.
Siendo honesto, esperaba que el aumento de fans hiciera una mayor diferencia en mis ganancias por misión (como, al menos, el doble), sin embargo, siento que no hay una gran diferencia en comparación con cuando tenía 1600 fans e_e.
I remember that when i was starting in the game and did my first investment (a Red lambo, 1200 Fans) the difference was really noticeable. I'm a little disappointed, but just a little, i really like the game and the economy! <3, But I may think a little more about buying packs in a future.
Recuerdo que cuando comencé en el juego e hice mi primera inversión (un Red lambo, 1200 Fans) la diferencia fue realmente notable. Estoy un poco decepcionado, pero solo un poco, ¡me gusta mucho el juego y la economía! <3, pero puede que me piense un poco más esto de comprar paquetes en el futuro.
So this makes me wonder...do i need a LOT more fans to notice a major change in this stage of fans in the game? or maybe is my level? (i would be glad if a advanced player answers that). Maybe is better choice save to get the millionaire card someday in that case haha.
Entonces esto me hace preguntarme ... ¿necesito MUCHOS más fans para notar un cambio importante en esta etapa de fans en el juego? ¿O tal vez es mi nivel? (Me alegraría si un jugador avanzado respondiera eso). Quizás sea mejor opción guardar para conseguir la carta de millonario algún día en ese caso jaja.
Current Stats
(note: I leave The Busker there because it gives some extra stats)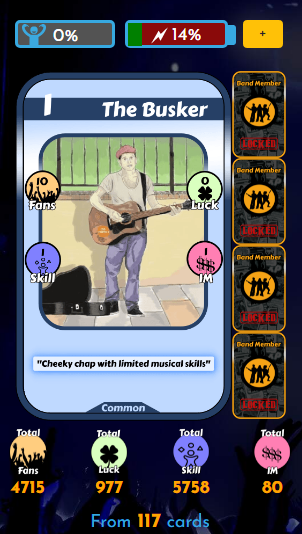 Level: 45.
Max Quest that i can do: Acoutic tent in Local Gig Circuit.
Experience: Potato.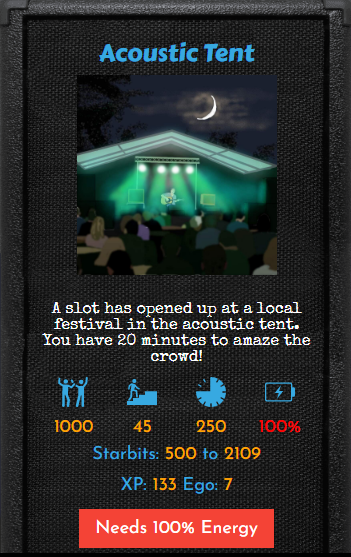 GIVEAWAY /SORTEO
In this Giveaway i will choose 3 Random winners from the comments, the first one will win a rare card (R85 Carly), and the others two a common card.
En este sorteo elegiré 3 ganadores aleatorios de los comentarios, el primero ganará una carta rara (R85 Carly) y los otros dos una carta común.
Rules to participate/Reglas para participar:
1.Leave a comment, you can write whatever just remember to post your rising star username if you rising star account is another one.
Deja un comentario, puedes escribir lo que sea, solo recuerda publicar tu nombre de usuario de Rising Star si tu cuenta de Rising Star es otra.
2.Just ONE entry per person (more comments are ok, but will not give you more % to win)
Solo UNA entrada por persona (más comentarios están bien, pero no te darán más % de ganar).
3.Los Upvotes and reblogs are not neccesary but YOU CAN HELP ME A LOT BY DOING IT, specially because this is my first giveaway and post will probably pass a bit... emmm unnoticed e_e.
Los Upvotes y reblogs no son necesarios, pero PUEDES AYUDARME MUCHO HACIENDOLO, especialmente porque este es mi primer sorteo y la publicación probablemente pasará un poco ... emmm desapercibida e_e.
4.The Giveaway will ends in a week (Oct 21), probabbly i will edit this post when that time comes.
El Sorteo terminará en una semana, probablemente editaré esta publicación cuando llegue ese momento.
CARDS PACK OPENIIIIIING!/APERTURA DE PAQUEEEETES :O
1



Niice! i need more mics, when i get to Level 50 i will change to
drums (note: drums are my favorite instrument!).
¡Niice! necesito más micrófonos, cuando llegue al nivel 50 cambiaré a tambores (nota: ¡los tambores son mi instrumento favorito!).
2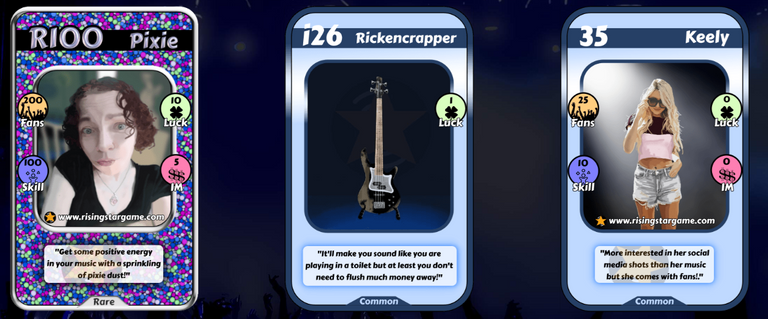 I like the new Pixie Card, it has a lot of fans to be a rare card and is pretty common.
Me gusta la nueva carta de Pixie, tiene muchos fans y para ser una carta rara es bastante común entre estas.
3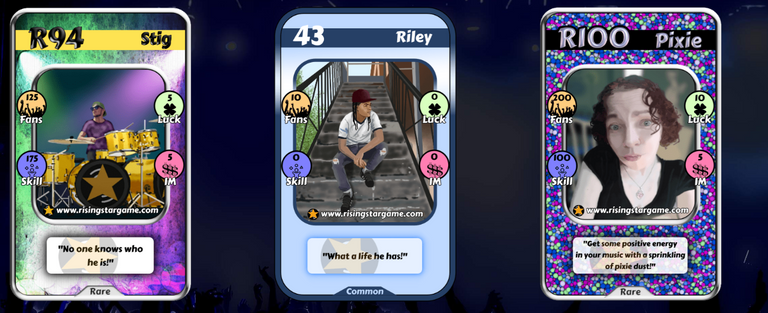 Look, another one!, is pretty common xD.
Mira, otra !, es bastante común xD.
4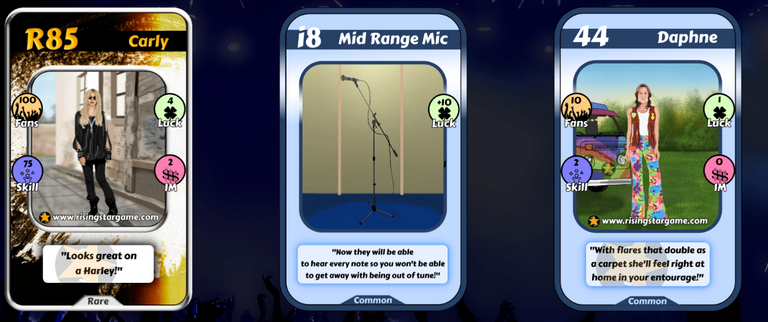 Oh, the card that will be sent it to a lucky winner is here!
¡Oh, la carta que se enviará a un afortunado ganador está aquí!
5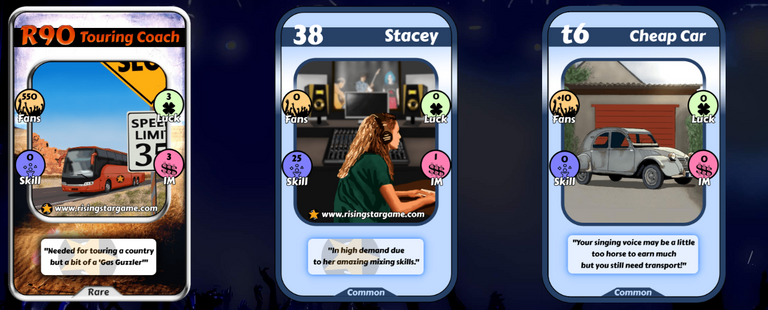 Ooh nice, a vehicle! is vehiculous.
¡Oh, lindo, un vehículo! es vehicular.
6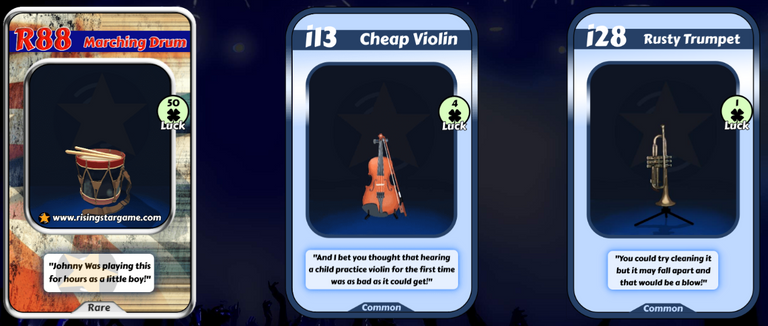 A drum to my collection.
Un tambor para mi colección.
7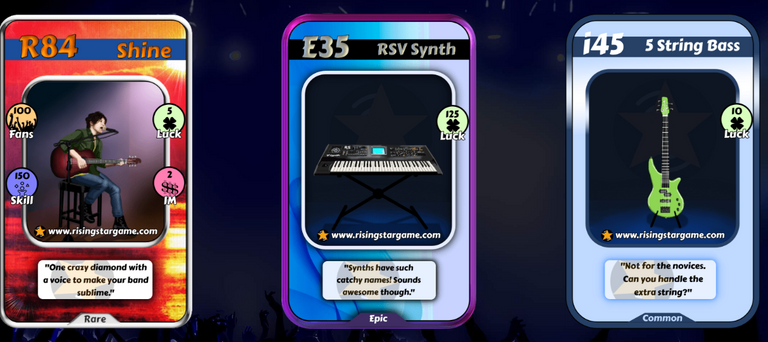 ZOMG! A epic card! Oh, is a Synth, i probabbly will changing it for a drum latter on.
ZOMG! ¡Una carta épica! Oh, es un sintetizador, probablemente lo cambiaré por un tambor.
8

9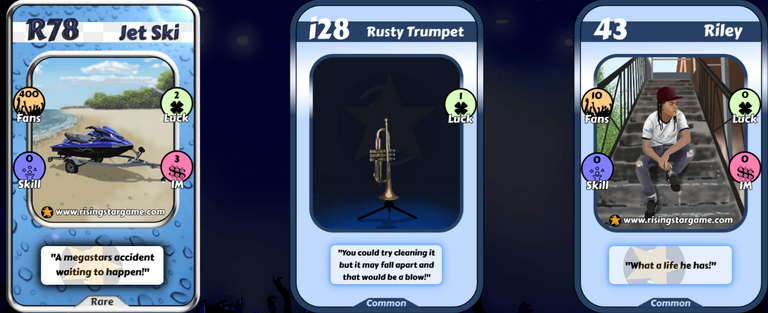 Oooh nice, another vehicle! 400 fans!
Oooh bonito, otro vehículo! 400 fans!
10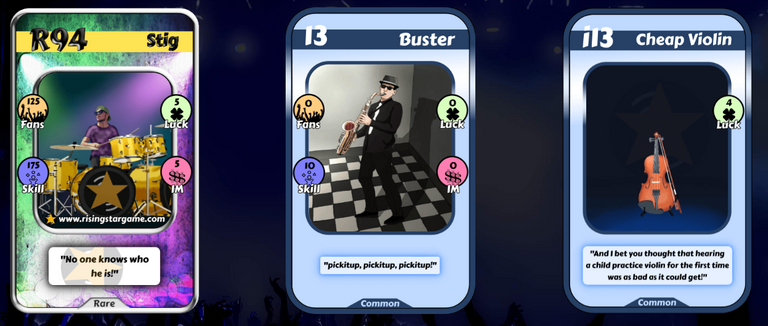 11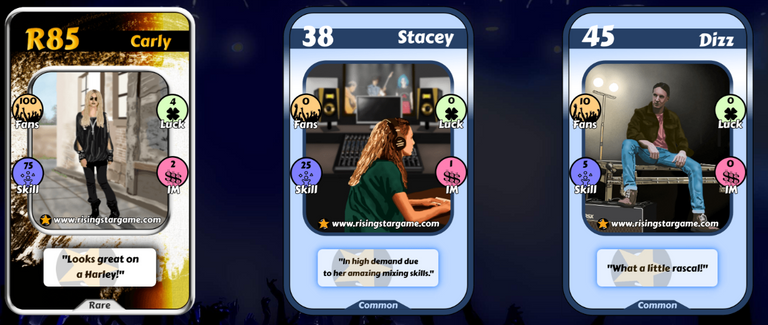 12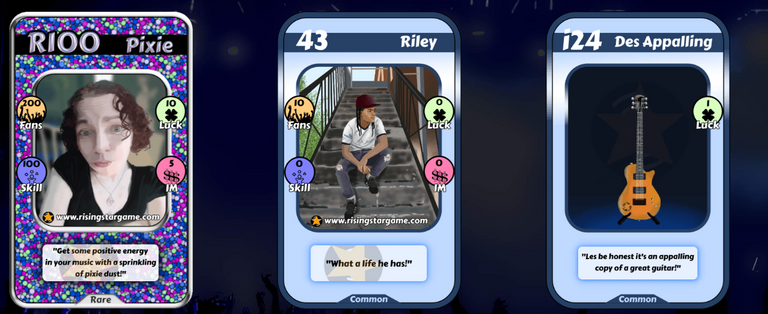 Common!
¡Común!
13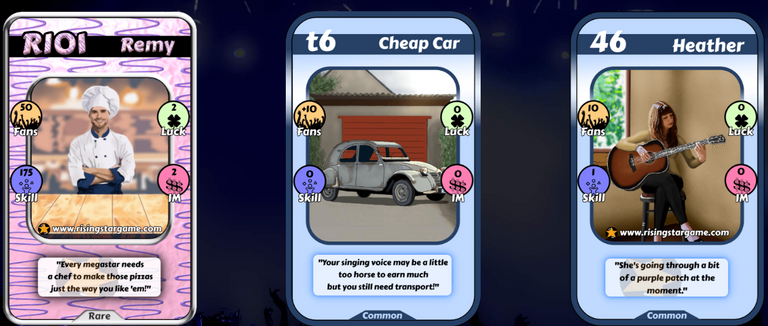 So pinky!
¡Es tan rosado!
14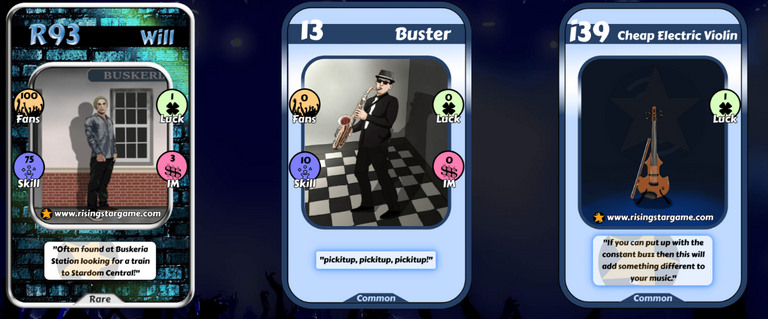 15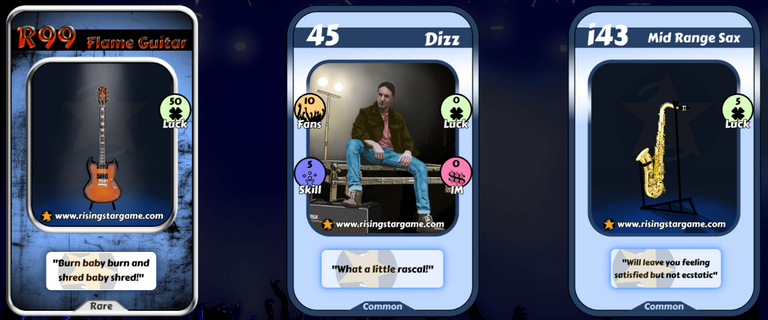 16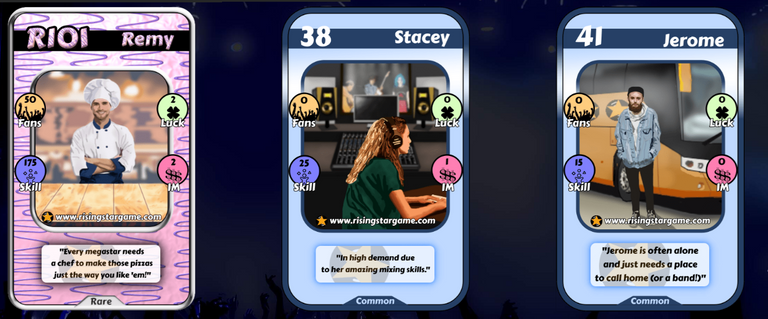 17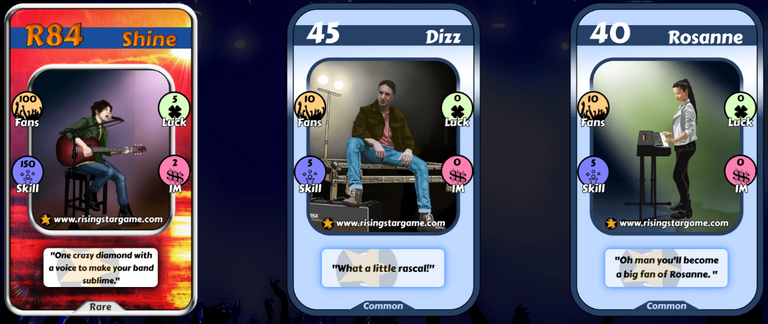 18



Note: i forgot to take a screenshot of this one xD.
Nota: olvidé tomar una captura de pantalla de este xD.
19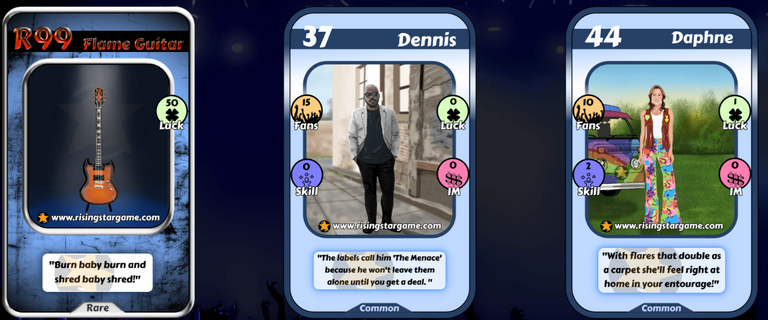 20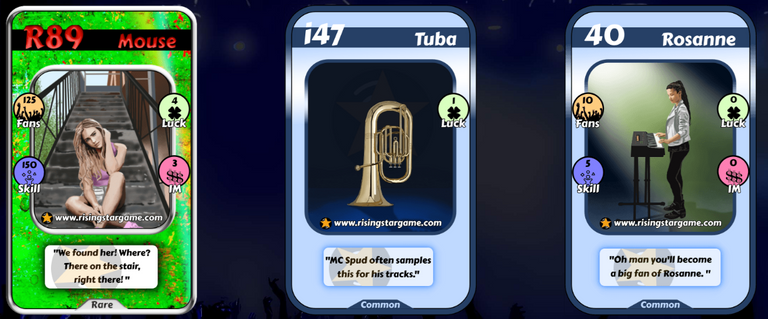 21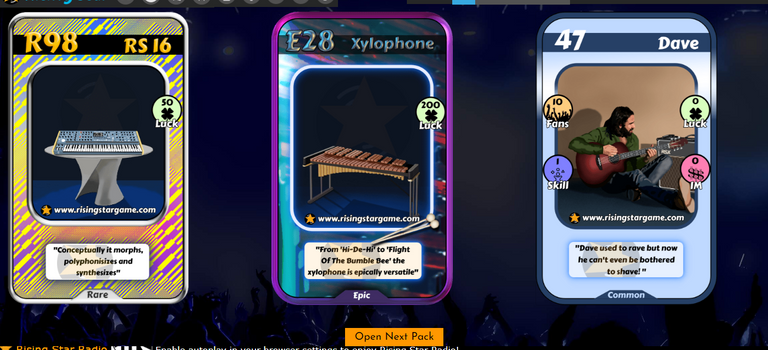 Another Epic card aslñdkalñsdkalñsdkñaskld!
Otra carta épica aslñdkalñsdkalñsdkñaskld!
22

23

A mic?! Niice.
Un micro? genial.
24

Another mic? Perfect! That Kithara looks cute xD
Otro micrófono? Perfecto! Esa Kithara luce linda xD.
Thanks for read see you in the next post!
Gracias por leer, nos vemos en el siguiente post!
---
Do you want to try Splinterlands? You can use my referral link (https://splinterlands.com/?ref=amaillo-m), if you do I can delegate some cards that will help you rise in ranks faster!
¿Quieres probar Splinterlands? Puedes usar mi link de referido (https://splinterlands.com/?ref=amaillo-m), si lo haces puedo delegarte (es decir, prestarte) algunas cartas que te ayudarán a subir más rápido de rango!
Hey, if you want to get some extra income in Hive (because yeah, never is enough income xD), why do not to try Rising Star? And also Cryptobrewmaster!, both of them are good and easy games! HUH?! did you don't like games?! O_o. Well you can try Exode which is a bit more strategic, ah? You do not like to think ?!
Oye, si quieres obtener un ingreso extra en Hive (porque sí, nunca hay suficientes ingresos xD), ¿por qué no pruebas Rising Star? Y también Cryptobrewmaster!, ¡ambos son juegos buenos y fáciles! ¡¿EH?! ¡¿No te gustan los...juegos de solo dar clicks?! O_o. Bueno puedes probar Exode que es un poco más estraégico,Ah? No te gusta pensar?!
Welps, you can emm get PIZZA here and stake 20 PIZZA , to get some more PIZZA and also be capable of give pizza in your comments! What?! The pizza makes you fat u say? O_o (note: you can still be capable of give pizza just by holding 20 tokens).
Bueno, puedes conseguir PIZZA aquí stackear 20 PIZZA, para conseguir más PIZZA y también ser capaz de regalar pizza en tus comentarios! ¡¿Qué?! La pizza engorda, dices? O_o (nota: puedes otorgar pizza aún solo si holdeas 20 tokens).
Ok, you can also delegate some of SPT to (@)monster-curator to get some pasive SPT (in case you aren't doing nothing with it).
Ok, también puedes delegar algo de SPT a (@)monster-curator para obtener algo de SPT pasivo (en caso de que no le estés dando uso para hacer curaciones/dar votos).
¿Nuevo en Hive? Date una vuelta por este post que te explica todo lo básico que necesitas saber. Si quieres comprar Hive puedes darte una vuelta por
Binance o por Orinoco.io, puedes usar Hive para stackearlo y obtener más recursos (es decir, más capacidad para hacer transacciones) además de poder obtener más Hive por tus curaciones ("likes").