I didn't get as many missions in as I would have liked. I decided to try and convert some Starbits to Starpro. I'm not sure what I'll do with it yet. Good luck in the giveaway!
Make sure to follow me for future giveaways!
Progress Report
I earned 11,000 Starbits from missions.
My current rank is 264 - an improvement of 14 slots from yesterday.
I held at 47,768 fans.
I'm at 1,261 of 6,500 experience needed for level 131.
Giveaway Rules
Upvotes are appreciated, but not required
Leave a comment - make sure to include your username if it is different than your posting name
Only one entry per human
Results of Last Giveaway
We had 23 entries yesterday. Thanks for entering @akiraymd, @coquicoin, @arieruzzzz, @monsterbuster, @dubble, @bitandi, @davideownzall, @bandada, @imfarhad, @diochen, @tydynrain, @blitzzzz, @c3r34lk1ll3r, @supriya.gupta, @golddiggernrw, @kryptofire, @stewie.wieno, @wazock, @vaynard86, @henruc, @noroi, and @hatdogsensei!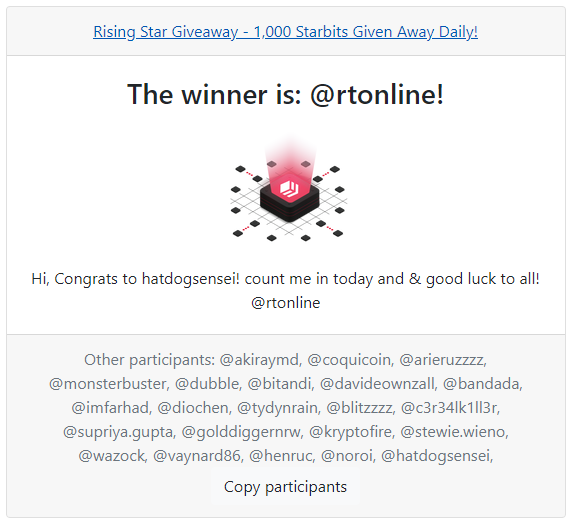 Congratulations @rtonline!
Good luck in the next draw!
If you aren't currently playing Rising Star - sign up through my referral link below! Feel free to message me for tips and maybe a gift to help you get going!