Bem vindo ao meu primeiro sorteio aqui no Peakd estou um pouco ansioso meu objetivo e fazer sorteios semanais para pessoas que jogam ou para novos jogadores conhecer esse jogo fantastico o qual eu ja estou a quase 2 anos
Welcome to my first giveaway here at Peakd I'm a little anxious my goal is to do weekly giveaways for people who play or for new players to discover this fantastic game which I've been playing for almost 2 years
Bienvenidos a mi primer sorteo aquí en Peakd. Estoy un poco ansioso. Mi objetivo es hacer sorteos semanales para que las personas que juegan o para los nuevos jugadores descubran este fantástico juego al que juego desde hace casi 2 años.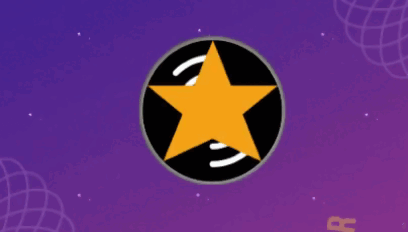 Antes de começar o sorteio vou falar um pouco sobre o jogo para quem ainda nao conhece, basicamente conta a historiado musico do começo de carreira ateo auge com grandes shows lotados ao redor do mundo e tudo começo com vc no colegio com um violão enquanto toca musica para seus amigos ate que alguem fala: "acho que vc tem futuro na musica" e é exatamente como tudo começa
Before starting the giveaway, I'm going to talk a little about the game for those who don't know it, basically it tells the musical story from the beginning of his career to the peak with big concerts sold out around the world and it all starts with you in high school with a guitar while playing music to your friends until someone says: "I think you have a future in music" and that's exactly how it all started
Antes de comenzar con el sorteo, voy a hablar un poco sobre el juego para los que no lo conocen, básicamente cuenta la historia musical desde el comienzo de su carrera hasta la cima con grandes conciertos con entradas agotadas en todo el mundo y todo comienza contigo en la escuela secundaria con una guitarra mientras tocas música para tus amigos hasta que alguien dice: "Creo que tienes un futuro en la música" y así es exactamente como comenzó todo.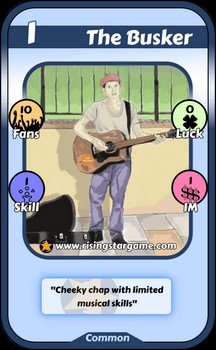 Seu objetivo é fazer pequenas missoes para que assim vc vai ficando mais "conhecido" e possa fazer algumas apresentações ganhando mais fãs e a medida que vc for progredindo vc vai desbloqueando novas areas, novas missoes, para fazer as missoes é usado energia (vc tem 100%)cada missao usa uma certa quantidade de energia que vai aumentando gradativamente quando vc usar vc pode recupera-la por exemplo com pizza, para algumas missoes vc vai precisar de fãs que vc pode conseguir comprando cartas ou fazendo algumas missoes e gannhando alguns bebados que duram apenas "24 horas" para cada missao feita vc ganha ego quando maior o ego menor a recompensa para diminuir o ego vc precisa de cartas com bastante skill ou fazer a missao aula de musica com professores para melhora suas habilidades
Your objective is to do small missions so that you become more "known" and can do some presentations, gaining more fans and as you progress you unlock new areas, new missions, to do the missions energy is used (you have 100%) each mission uses a certain amount of energy that gradually increases when you use it you can recover it for example with pizza, for some missions you will need fans that you can get by buying cards or doing some missions and winning some drinks that last only "24 hours" for each mission done you gain ego the bigger the ego the smaller the reward to lower the ego you need cards with a lot of skill or do the mission music class with teachers to improve your skills
Tu objetivo es hacer pequeñas misiones para que seas más "conocido" y puedas hacer algunas presentaciones, ganando más fanáticos y a medida que avanzas desbloqueas nuevas áreas, nuevas misiones, para hacer las misiones se usa energía (tienes 100%) cada uno mision usa cierta cantidad de energia que aumenta gradualmente cuando la usas puedes recuperarla por ejemplo con pizza, para algunas misiones necesitaras fanaticos que puedes conseguir comprando cartas o haciendo algunas misiones y ganando unos tragos que duran solo" 24 horas" por cada misión realizada ganas ego cuanto más grande es el ego menor es la recompensa para bajar el ego necesitas cartas con mucha habilidad o haz la misión clase de música con profesores para mejorar tus habilidades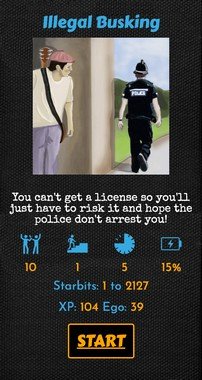 Voce pode fazer seus proprios instrumentos
You can make your own instruments
Puedes hacer tus propios instrumentos.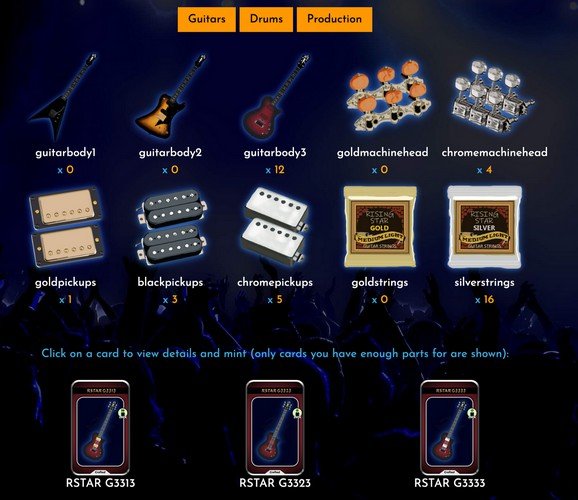 Voce pode participar de eventos e missoes especiais de acordo com as festas do ano como por exemplo durante o natal
You can participate in special events and missions according to the holidays of the year, for example during Christmas
Puedes participar en eventos y misiones especiales según las festividades del año, por ejemplo durante la Navidad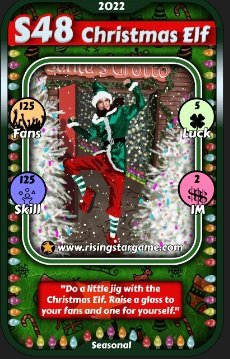 Fazer um tour pelo mundo e ficar bem famoso. é bem simples nao da muito trabalho e nem é tao dificil de se jogar garanto a voce
Take a tour around the world and get really famous. It's very simple, it doesn't take much work and it's not that difficult to play, I guarantee you
Da la vuelta al mundo y hazte realmente famoso. Es muy simple, no requiere mucho trabajo y no es tan difícil de jugar, te lo garantizo.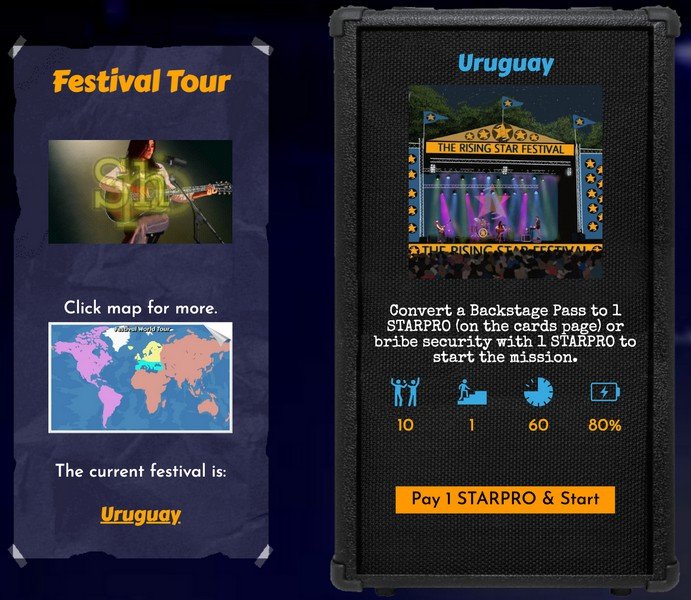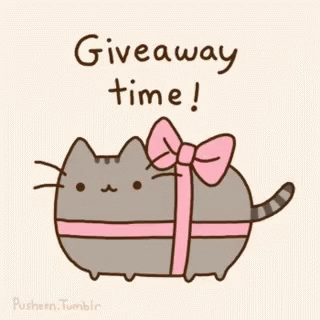 ❗️ ATENÇÃO PARA AS REGRAS❗️
❗️ ATENCIÓN A LAS NORMAS ❗️
❗️ ATTENTION TO THE RULES ❗️
1- Voce precisa ser meu seguidor (obrigatorio)
2- Comentar seu nome hive nos comentarios (obrigatorio)
3- Votar não é obrigatorio mas ajuda a melhora os premios das proxima semana
4- Reblogar nao é obrigatorio mas aumenta a sua chance de ganhar em 2x
1- You need to be my follower (required)
2- Comment your hive name in the comments (required)
3- Voting is not mandatory but it helps to improve next week's prizes
4- Reblogging is not mandatory but increases your chance of winning by 2x
1- Necesitas ser mi seguidor (requerido)
2- Comenta tu nombre de colmena en los comentarios (requerido)
3- Votar no es obligatorio pero ayuda a mejorar los premios de la próxima semana
4- Rebloguear no es obligatorio, pero aumenta 2 veces tus posibilidades de ganar 2x


O sorteio vai ser da seguinte forma todos os participantes terão seu nome colocado na roleta, serão 5 premios de 500 starbits se vc reblogar essa postagem seu nome aparecerá 2 vezes na roleta ( veja que no exemplo tem "USER 1" e "User 1 b") os vencedores podem ser repetidos isso significa que se vc tiver sorte vc pode ganhar 2 vezes ou mais, o resultado será dia 30 de Janeiro daqui a 1 semana, todos os participantes serão marcados no sorteio seguinte se nao quiser mais apenas nao participe, o sorteio da semana que vem poderá ter um valor maior vai depender da quantidade de pessoas que participarem e das recompensas recebidas portante nao se esqueça de participar, boa sorte a todos!
The giveaway will be as follows: all participants will have their name placed on the roulette wheel, there will be 5 prizes of 500 starbits if you reblog this post your name will appear 2 times on the roulette wheel (see that in the example there are "USER 1" and "User 1 b ") the winners can be repeated that means if you are lucky you can win 2 times or more, the result will be January 30th in 1 week, all participants will be marked in the next draw if you don't want more just don't participate, next week's draw may have a higher value depending on the number of people who participate and the rewards received so don't forget to participate, good luck everyone!
El sorteo será el siguiente: todos los participantes tendrán su nombre en la rueda de la ruleta, habrá 5 premios de 500 starbits si reblogueas esta publicación tu nombre aparecerá 2 veces en la rueda de la ruleta (mira que en el ejemplo hay "USUARIO 1" y "Usuario 1 b") los ganadores se pueden repetir eso significa que si tiene suerte puede ganar 2 veces o más, el resultado será el 30 de enero en 1 semana, todos los participantes serán marcados en el próximo sorteo si no quieres mas solo no participes, el sorteo de la próxima semana puede tener un valor mayor dependiendo de la cantidad de personas que participen y las recompensas recibidas así que no olvides participar, ¡mucha suerte a todos!

Join Rising Stars click HERE

*exchange tokens*

!Oneup 
!Pizza
!Alive !Luv 
!Lolz !Pgm !Meme

whetever you use...