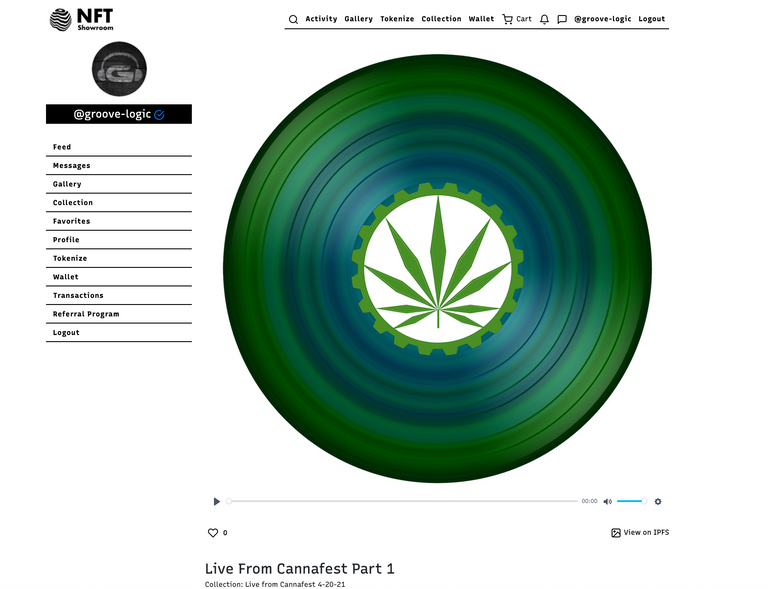 First off, I just want to say thanks for everyone that attended the @canna-curate and #Weedcash Cannafest yesterday! It was a good time. We had some productive conversations that has sparked some action in some community members to help market Weedcash!
In effort to help this, I recorded 3 parts of my set and are tokenizing them as single edition pieces!
The first part of the Cannafest set has been minted on my @groove-logic account and is on sale at:
https://nftshowroom.com/groove-logic/collection/groove-logic_live-from-cannafest-4-20-21_live-from-cannafest-part-1
Not only do you get the cool vinyl image and the live production recording, with flaws and all, hey that's the art in it, but you also get a bonus unlock-able file that is a GIF of the vinyl image spinning on a turntable... The GIF was too big to use as the cover image, lol, so you get a bonus!
Each part has a different looking vinyl cover with it!
I am selling them for 210 HIVE each and half of each sale is going into the @weedcash-fund account to help pay for some online and print marketing!
I will release the next edition tomorrow 4/22, then the last one on Friday 4/23!

---
Posted via weedcash.network