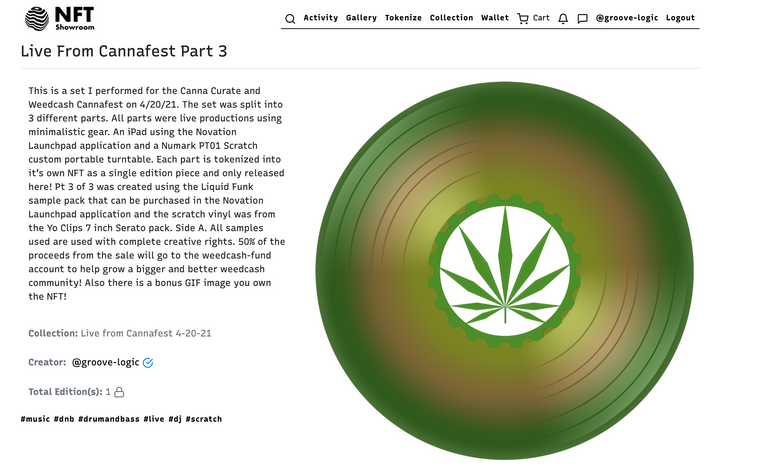 The 3rd and final edition of the Live from Cannafest on 4/20 series is now minted and for sale on @nftshowroom! You will find this on my music account @groove-logic, which you should go give a follow to, because there is way more content and NFT's coming!
Also, after doing some math while not as high as I was when I first started pricing the NFTs, I have dropped the price of all 3 pieces to 140 SWAP.HIVE for each piece! That is 420 divided by 3... DUH... LOL
While going through this process, I have learned some things for sure. I will be using the nftshowroom for one off pieces super limited edition, and Limited reproduction pieces, like song publishing rights and such. I will most likely be using the WAX blockchain and AtomicHub to mint any pieces that I will be offering many editions, just simply because of price of creation. We will see how it goes, I have finally started learning a bit how the WAX side of things works and have bought some Bitboy NFTs to support their efforts because it's been cool to see him and his channel blow up.
Anyway, if you are a fan of drum and bass and want to support myself and the Weedcash community, because 50% of the sales go to the @weedcash-fund which will be used for marketing for the community.
Don't forget to come check out the https://weedcash.org and the new Weedchat area. Sign up and get a referral code for future referral contests! This can be a great place to invite your cannabis loving friends that may be a bit hesitant to use the blockchain.
Be Cool, Be Real, and Abide!



---
Posted via weedcash.network