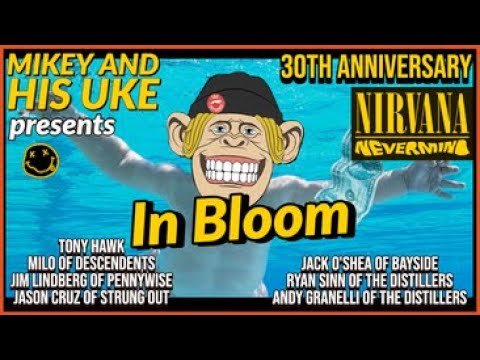 ---
Mikey And His Uke presents:
Nirvana - In Bloom Cover
30th Anniversary of Nevermind
Sept. 24/1991
Distribute your music and support our channel by signing up through our Soundrop affiliate link for FREE!! 99 cents per track + worldwide distribution here: https://app.soundrop.com/Account/signUp?source=MikeyAndHisUke
https://linktr.ee/MikeyandhisUke​​
Today marks the 30th anniversary of Nirvana's Nevermind. Released on Sept 24th, 1991, it became the defining album of the early 90s, and ushered in a new era of music, paving the way for the punk explosion of 1994. For me, and for so many others, it was a revelation. We knew we needed to do something special to honour this iconic album.
Enjoy.
If you would like to support the team that it takes to create these videos, please check out our Patreon Page here :
https://www.patreon.com/mikeyandhisuke
Featuring:
Tony Hawk
Milo - Descendents
Jim Lindberg - Pennywise
Jason Cruz - Strung Out
Jack O'Shea - Bayside
Ryan Sinn - The Distillers
Andy Granelli - The Distillers
Mikey Hawdon - Fairmounts
Video Edited by Michael Crusty at Crusty Media
Mixed and Mastered by Steve Rizun at Drive Studios
Additional engineering on Tony Hawk audio by Alan Deremo
Tony Hawk footage by Catherine O.
---
▶️ DTube