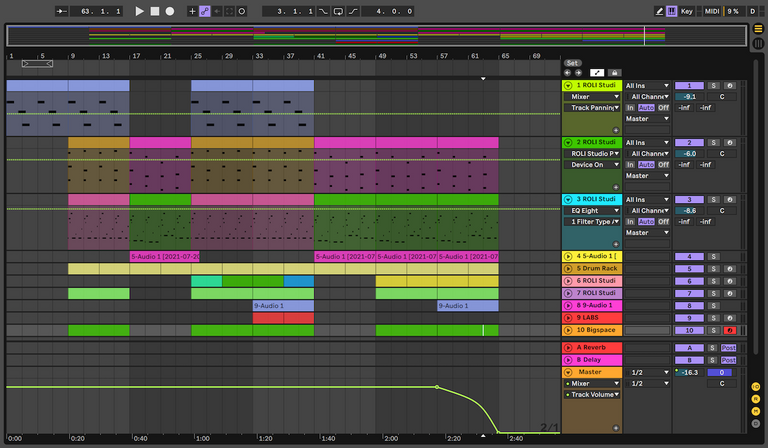 This happened randomly last night

Track 3, ROLI Bass
as I was spacing out on some TV, relaxing in the evening. As I added layers, it wound up being pretty cool, though its still very rough. I really like the bass and drums, so I think I'd like a break where those get to play on their own, before the other stuff comes back. I started with Track 1, which just plays 3 notes, a C, down to A, down to F. I was envisioning something in Cmaj or Amin, but the chords I added afterwards altered that. In Track 2, I wrote two sections, A (in Yellow) and B (in Pink). In the A part, over those 3 aforementioned notes, we C5add9 (over the C), and an F7 (without the third), with Track 1 providing that A for the third. The B section changes things up, with a 4 chord line, starting on Bb, Amin11, G5add9, and an Ab, before either returning to the A section, or repeating.
---

Track 2, Chords, ROLI 'Neon Lush Pad'
---
---
Track 3 is the bass, which is a pretty busy part, and though

Track 6, Melody Line, Jumping Octaves
I like it, I may need to cut it back a bit, to have it fit better with everything. Track 4 is only used over the B parts, and adds a plucky arpeggiated sort of thing. Tracks 5, 7, 8 and 10 are all the drums, and probably should be grouped together to make these descriptions a bit easier, but I forgot, haha. 5 consists of various kick sounds, which mostly I dig, though it's a little muddy, so that may get altered. Tracks 7 and 8 are hats/cymbals, with Track 8 just using a basic Nerve loop. Track 10 is the snares, which are sort of too acoustic for how digital everything else, so I may change that up too. Track 6 is a melody line, except the notes are split up across multiple octaves, to make more of a texture. Track 9 adds an ascending Lydian line, which sort of just floats in the background. I like this overall, so I'll keep playing with it and see what happens.
Hope you enjoy!
---
---
---


⚔️ JOIN THE OFFICIAL SPLINTERLANDS TELEGRAM ⚔️