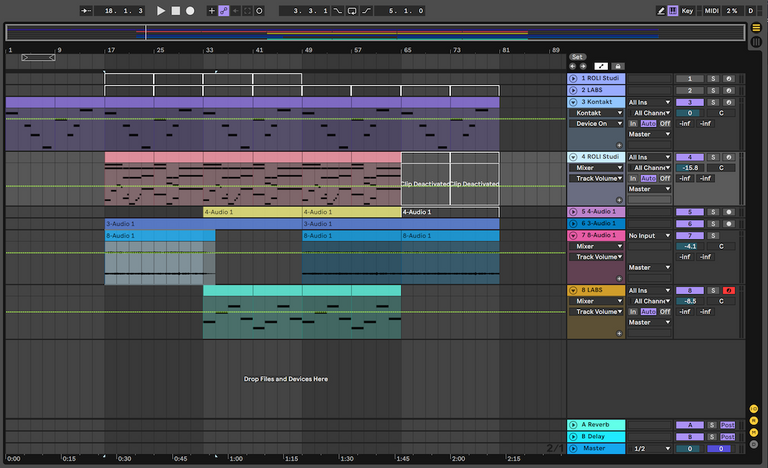 I didn't really have much of a

Track 3, Hybrid Keys Pad
clear idea with this, was just sort of lazily going through instruments and trying things out. It actually started with a LABS 'Soft Piano' playing the chords below, though that wound up getting muted. Instead, Track 4 plays the same progression, but with a ROLI 'Stargaze Synthwave' pack sound. I also put a crazy, glitchy Portal effect on it, and bounced that into Track 6. Then, I spent WAY too long just scrolling through the various presets in that 'Hybrid Keys' pack I got for free a few weeks ago, before finding an interesting sound, which I tweaked about, before adding it into Track 3. It basically just outlines the root notes, playing over the intro by itself.
---

Chords, Tracks 4 and 6
---
---
The chord progression was initially a lot simpler, more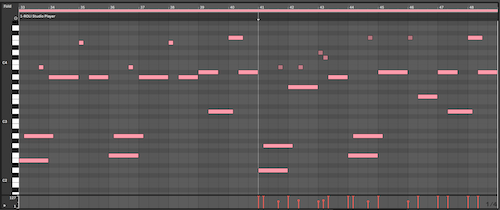 ROLI Synth, Audio in Track 5
diatonic, but I wound up throwing some stuff in, like the Bb, and the whole second set of 4 chords, which wound up feeling a little bit epic, but interestingly different enough to not feel like cheesy epic. Very subjective, lol. Track 7 adds an organ, I believe from LABS, which for some reason I bounced to audio, though I honestly don't know why, haha. It follows the chords, with a sort of melody line that pops out on the top every few bars. Finally we have Track 5, which was recorded from the ROLI synth up at Track 1, and plays the line pictured to the left here. This was definitely a very random, lazy thing I recorded, but I liked parts of it, so I spent a little time fixing it up, resulting in this.
Hope you enjoy it!
---
---
---


⚔️ JOIN THE OFFICIAL SPLINTERLANDS TELEGRAM ⚔️