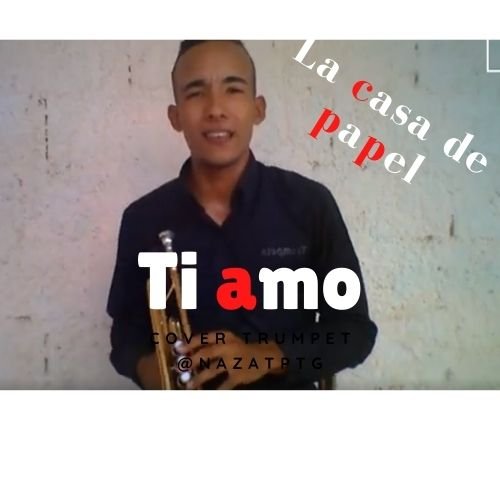 En honor a Berlin; que tal amigos de hive? espero estén muy bien. Como fan de la casa de papel no puedo dejar por fuera este precioso tema Italiano del señor Umberto Tozzi, utilizado en la serie.
Este y muchos otros temas sé que han conquistado el Corazón de los allegados a la serie. Les comparto este precioso tema que en lo personal me encanta, les dejare la letra en español y la versión de la casa de papel.
In honor of Berlin; how are you hive friends? hope you are doing well. As a fan of la casa de papel I can't leave out this beautiful Italian theme by Mr. Umberto Tozzi, used in the series.
I know that this and many other themes have conquered the hearts of those close to the series. I share with you this beautiful song that I personally love, I will leave the lyrics in Spanish and the version of the paper house.

Letra/ Lyrics
Ti amo
In sogno, ti amo
In aria, ti amo
Se viene testa vuol dire che basta lasciamoci
Ti amo
Io sono, ti amo
In fondo un uomo
Che non ha freddo nel cuore e nel letto, comando io
Ma tremo davanti al tuo seno
Ti odio e ti amo
È una farfalla che muore sbattendo le ali
L'amore che a letto si fa (ti amo)
Rendimi l'altra metà (ti amo, ti amo)
Oggi ritorno da lei (ti amo, ti amo)
Primo Maggio, su coraggio (ti amo, ti amo, ti amo, ti amo)
Io ti amo e chiedo perdono
Ricordi chi sono
Apri la porta a un guerriero di carta igienica
E dammi il tuo vino leggero (ti amo, ti amo)
Che hai fatto quando non c'ero (ti amo, ti amo)
E le lenzuola di lino (ti amo, ti amo
Dammi il sonno di un bambino (ti amo, ti amo, ti amo)
Che, ta, sogna cavalli e si gira (si gira)
E un po' di lavoro
Fammi abbracciare una donna che stira cantando
E poi fatti un po' prendere in giro (ti amo)
Prima di fare l'amore (ti amo, ti amo)
Vesti la rabbia di pace e sottane sulla luce (ti amo, ti amo)
Io ti amo e chiedo perdono
Ricordi chi sono
Ti amo, ti amo, ti amo, ti amo, ti amo
Dammi il tuo vino leggero
Che hai fatto quando non c'ero
E le lenzuola di lino
Dammi il sonno di un bambino
Che, ta, sogna (sogna) cavalli e si gira (gira)
E un po' di lavoro
Fammi abbracciare una donna che stira cantando
E poi fatti un po' prendere in giro (ti amo)
Prima di fare l'amore (ti amo, ti amo)
Vesti la rabbia di pace e sottane sulla luce
Io ti amo, ti amo, ti
Amo, ti amo, ti
Amo, ti amo, ti amo, ti amo, ti amo, ti amo
Ti amo, ti amo, ti
Amo, ti amo, ti
Amo, ti amo, ti amo, ti amo, ti amo, ti amo, ti amo
Español
Te amo
Moneda, te amo
Al viento, te amo
Si sale cara, dirá que tu amor está muerto
Yo te amo
Me siento, te amo
Un hombre sobre ti
Con fuego dentro del alma
Quemando en la cama
Mas yo tiemblo
Sintiendo tus senos
Te odio y te amo
Mi mariposa que muere agitando las alas
Haciendo el amor en sus brazos
Piel de mi propio fracaso
Hoy necesito tenerla
Voy a hablarle con coraje
Yo te amo y ahora perdóname
Solo recuérdame
Abre la puerta a un guerrero
Sin armas ni ejército
Y dame tu vino ligero
¿Qué has hecho mientras no estaba?
Y las sábanas de lino
Dame el sueño de algún niño que da vueltas
Soñando con nubes, déjame trabajar
Hazme abrazar a una joven que plancha cantando
Y hazte rogar un poco
Antes de hacer el amor
Viste de calma tu furia
Y tus faldas sobre la luz
Yo te amo y ahora perdóname
Solo recuérdame
Te amo, te amo, te amo
Te amo, te amo
Y dame tu vino ligero
¿Qué has hecho mientras no estaba?
Y las sábanas de lino
Dame el sueño de algún niño que da vueltas
Soñando con nubes, déjame trabajar
Hazme abrazar a una joven que plancha cantando
Y hazte rogar un poco
Antes de hacer el amor
Viste de calma tu furia
Y tus faldas sobre la luz
Yo te amo y ahora perdóname
Solo recuérdame
Te amo, te amo, te amo
Te amo, te amo
Te amo
Te amo, te amo
Te amo, te amo
Te amo, te amo, te amo, te amo