An update on on our musical competition around our Song Make me Beautiful! We have been fundraising for a week for Young Minds UK and are really pleased that so far we have raised £283 pounds. This was way above our target and I know we still have more money to come in! You could still donate if you wanted to! https://www.justgiving.com/fundraising/stickupmusic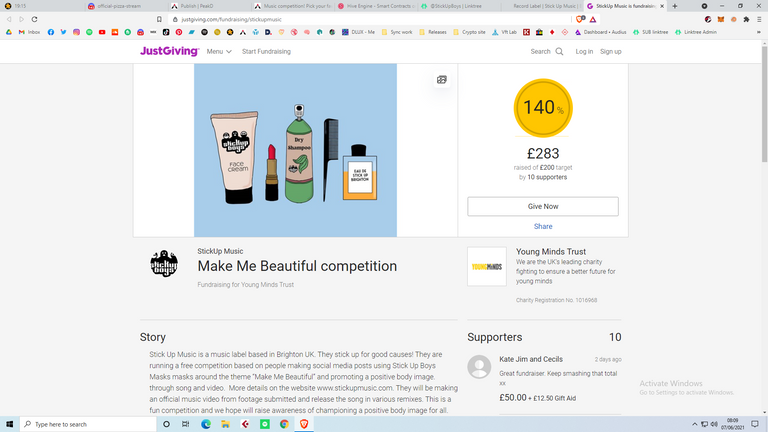 The competition on Hive was to listen to the 9 mixes and pick your top 3! You could still have a listen now if you fancy it, great song with some great remixes!
We have also managed to spread the positive message of Young Minds on different social media networks with 100's of posts with a positive message being posted on different platforms. You can always hook us with us out there if you like - https://linktr.ee/StickUpBoys
The competition bit!
We said the following
All you have to do is listen to the remixes and leave a comment of which is your favourite and why - the most interesting comments will win the prize!
1st Place 5 Hive 5 POB 5 Vibes and 5 Leo
2nd Place 2 Hive 2 POB 2 Vibes and 2 Leo
3rd Place 1 Hive 1 POB 1 Vibe and 1 Leo
Every comment will get a free Pizza @pizzaexpress
The competition will end 7 days while the post is open.
Winners
We only had 2 people who fulfilled the criteria and the winner is @musicgeek who posted the following:
I admire the different styles. Listened to all and I have three favourites:
https://open.spotify.com/track/0v3xC7IITLFC2Ej7HIAv6A?si=4f7b412065a84461 @gribbles rings a music bell here
https://open.spotify.com/track/2FQiitvb9hSrvqF9Gy1jYx?si=b7146c504fc7416f - I see also here on the chain @ambrosechappel
https://open.spotify.com/track/2TMOkDUlDMyLqUQgZQhLqP?si=1e5931eba7494c6b
No. 1 and 3 combine my love for Disco especially remind me of the good ole Philli and Motown Disco tunes kind of. No. 7 is kind of vocal housey music I really like.
My decision is for no. 3 though as it combines not only this Motown / Phili / Chic kind of sounds but also have new electronic dance elements. Well done to all 9.*
In second place is @akumagai whose favourite was the Ambrose Chappel Remix!
However as we only had two I would like to nominate @tygertyger for 3rd place for her ongoing support not only through One Tribe Radio but by some of her posts both on Hive and Instagram. I particularly loved this post on Insta https://www.instagram.com/p/CPb2_urjJmJ/?utm_source=ig_web_copy_link
So...
1st Place @musicgeek - 5 Hive 5 POB 5 Vibes and 5 Leo
2nd Place @akumagai - 2 Hive 2 POB 2 Vibes and 2 Leo
3rd Place @tygertyger 1 Hive 1 POB 1 Vibe and 1 Leo
Thank you to the three of you for your support, it is greatly appreciated. I will send over your winnings shortly with 1 pizza too @pizzaexpress!
The message!
This is the message we have been trying to share and we will always try and share. If you ever need us please leave a comment or find us on discord and we will be there!
**You are not alone. **
We're not afraid to speak up for what's right.
We know what needs to change because young people tell us. If they raise their voices, so do we.
We're optimistic.
Things get tough, but we never forget to celebrate progress and never stop looking for practical ways to make things better.
Kindness is our strength.
Everything we do, we do with love, care and compassion.
We celebrate what makes you you.
Whoever you are, we welcome you and we always encourage you to be true to yourself.
Big up the love and the music
the Stick Up Boys
https://linktr.ee/StickUpBoys