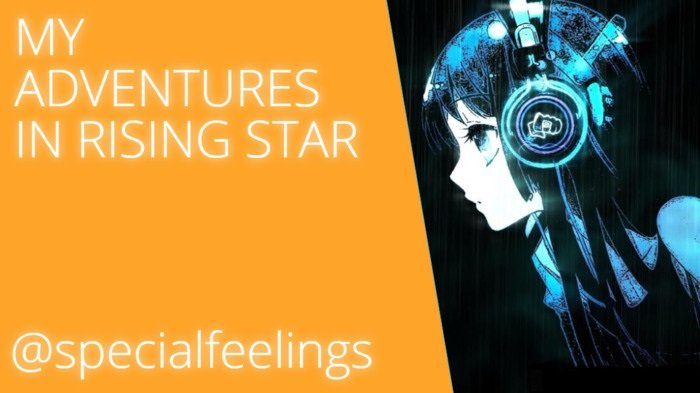 ENGLISH

Hi, how are you today? I hope you are very well and that you are looking forward to another daily post of Rising Star. Here we go!
First of all I want to remind you that I am holding a giveaway to celebrate my 100 days on Rising Star and you can participate by telling me what your favorite musical instruments are in the giveaway post. I leave you the link to the giveaway post below.
The card I am drawing is the card currently available at the festival, which is the Finland wristband. I hope you like it as much as I do. I will talk a little bit about the festival later.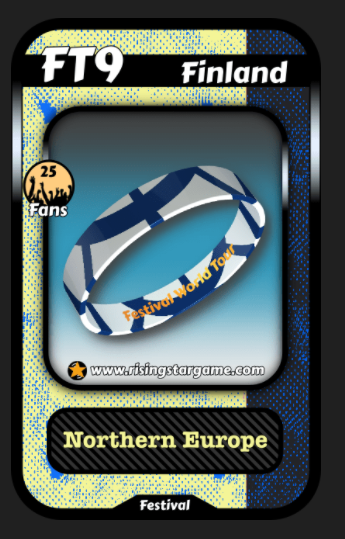 Now let's talk about the goal I've been focusing on the most lately, the ranking. My main goal was to reach the top 100 before the end of the year and I achieved it recently much earlier than expected. Now my desire is to stay in the top 100 until the end of the year, so let's see where I stand in the ranking today.

Yesterday my position in the ranking was 94th and today it is 93rd so I have moved up one position from yesterday. This has surprised me a bit, since I didn't buy more packs, but it is due to the increase of my weekly minutes played. For the moment anything that keeps me in the top 100 is very positive for me. I hope I can keep a lot of weekly minutes played because they are very important to climb more positions in the ranking.
Now it's time to talk about the festival. As I mentioned before, the festival is currently being held in Finland until the 15th, which is the day when it will start in Sweden.

In the meantime, we will be able to get the Finland wristband until that day arrives. There are only 2 days left to get it including today. This is the same wristband that I am raffling as I mentioned above, so I encourage you to participate in the draw if you want to get it. It's my favorite wristband of all the festivals that have been held so far, it's beautiful! 😍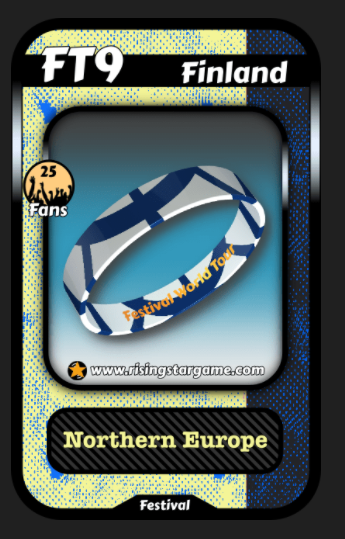 One of my most ambitious goals is to get all the wristbands of all the festivals and I am currently with 9/9 achieved. I am very excited about this goal as well.

Finally, one of my big goals is to unlock all the Rising Star missions. This takes a long time and you have to be patient, advancing little by little. I already managed to reach the 3rd zone where I unlocked 4 missions. Now I'm focused on unlocking the 5th mission for which I need to reach level 150, something that will take me about 2 weeks at most, as I'm currently at level 138.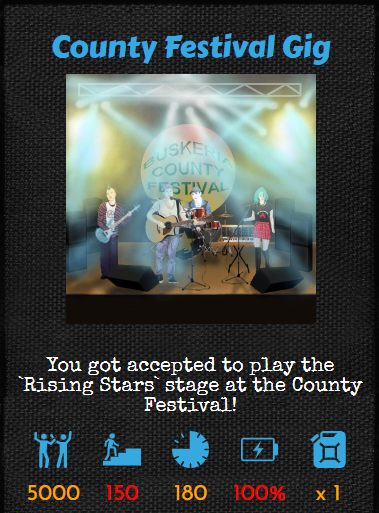 MY PROGRESS - DAY 102
TOTAL MISSIONS: 3111
CARDS: 696
PERMANENT FANS: 25295
LUCK: 7264
SKILL: 37802
IM: 425
LEVEL: 138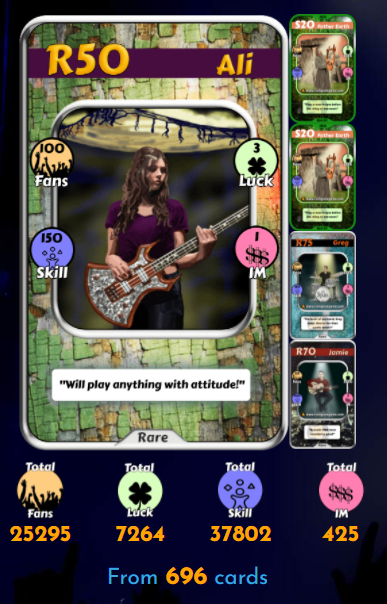 RANKING

And that's all for today! I'm still in the top 100 and even climbing some positions, so everything is going well. I hope it keeps going like this. Thanks for joining me for another day. See you tomorrow on the last day of the festival in Finland!💋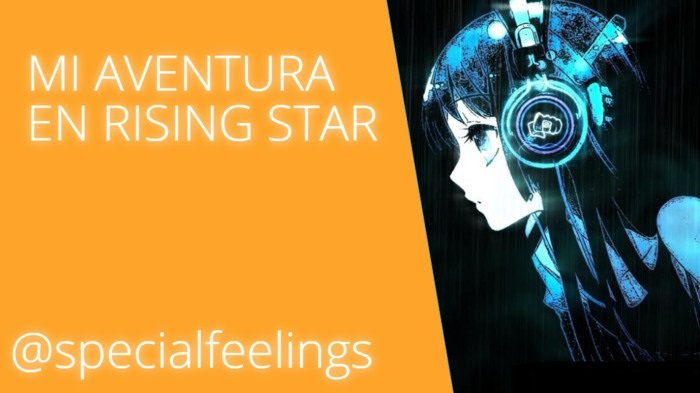 ESPAÑOL

¡Hola! ¿Qué tal estáis hoy? Espero que muy bien y que estéis con muchas ganas para otra entrega diaria de Rising Star. ¡Vamos allá!
Para empezar quiero recordaros que estoy llevando a cabo un sorteo para celebrar mis 100 días en Rising Star y que podéis participar comentándome cual es vuestro instrumento musical favorito en la entrada del sorteo. Os dejo el link de la entrada a continuación.
La carta que estoy sortenado es la carta que actualmente se puede conseguir en el festival, que es la pulsera de Finlandia. Espero que os guste tanto como a mí. Más adelante hablaré un poquito sobre el festival.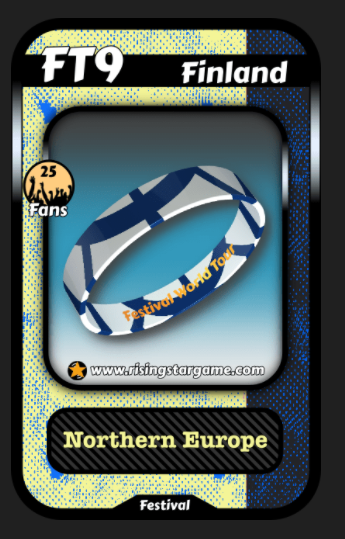 Ahora hablemos del objetivo en el que más he estado enfocada últimamente, el ranking. Mi objetivo principal era alcanzar el top 100 antes de final de año y lo conseguí hace poco tiempo mucho antes de lo previsto. Ahora mi deseo es mantenerme en el top 100 hasta finales de año, así que vamos a ver cual es mi situación en el ranking hoy.

Ayer mi posición en el ranking era la 94 y hoy es la 93 por lo que he ascendido una posición respecto a ayer. Esto me ha sorprendido un poco, ya que no compré más packs, pero se debe al aumento de mis minutos semanales jugados. Por el momento todo lo que sea mantenerme dentro del top 100 es muy positivo para mí. Espero poder mantener muchos minutos semanales jugados porque son muy importantes para el ranking.
Ahora es momento de hablar del festival. Como antes he comentado, actualmente se está celebrando el festival en Finlandia hasta el día 15, que es cuando se trasladará a Suecia.

Mientras tanto, podremos conseguir la pulsera de Finlandia hasta que llegue ese día. Ya solo quedan 2 días para conseguirla incluyendo hoy. Esta es la misma pulsera que estoy sorteando como comenté más arriba, así que os animo a que participéis en el sorteo si queréis conseguirla. Es mi pulsera favorita de todos los festivales que se han celebrado hasta el día de hoy. ¡Es preciosa!😍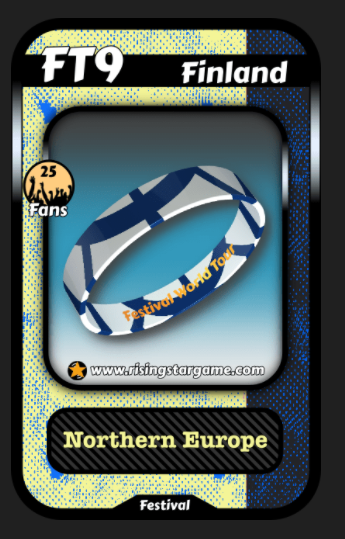 Uno de mis objetivos más ambiciosos es conseguir todas las pulseras de todos los festivales y en ello estoy actualmente con 9/9 conseguidas. Estoy muy ilusionada con este objetivo también.

Por último, otro de mis grandes objetivos es desbloquear todas las misiones de Rising Star. Esto lleva mucho tiempo y hay que tener paciencia, avanzando poco a poco. Ya conseguí llegar a la 3º zona donde desbloqueé 4 misiones. Ahora estoy enfocada en desbloquear la 5º misión para lo que necesito alcanzar el nivel 150, algo que me llevará unas 2 semanas como máximo, ya que actualmente me encuentro al nivel 138.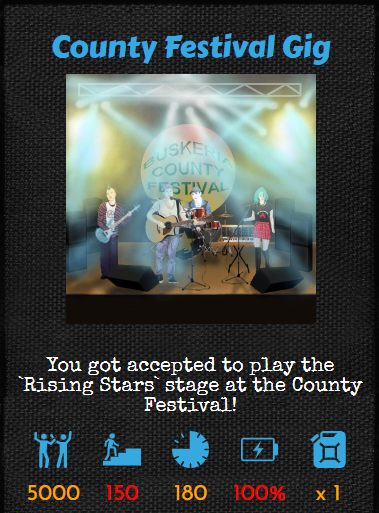 MI PROGRESO - DÍA 102
MISIONES TOTALES: 3111
CARTAS: 696
FANS PERMANENTES: 25295
LUCK: 7264
SKILL: 37802
IM: 425
NIVEL: 138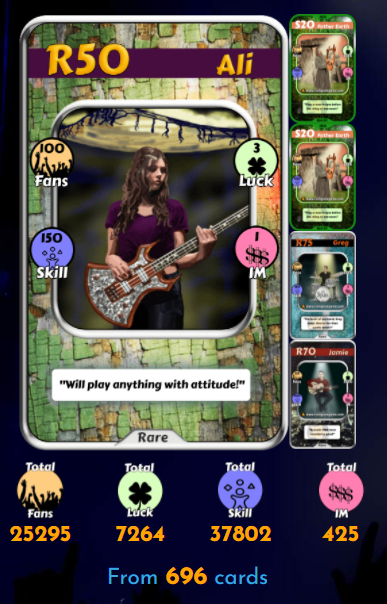 RANKING

¡Y esto ha sido todo por hoy! Sigo manteniéndome en el top 100 e incluso llegando a subir alguna posición con lo cual todo va por buen camino. Espero que todo esto siga así. Gracias por acompañarme un día más ¡Nos vemos mañana en el último día del festival de Finlandia!💋