Hi Everyone.
We are almost there. Auditions have really ramped up now and band is almost complete.
Ladies and Gentlemen, we have the Bass player.
May we introduce to you Matt.
It took literal few minutes to decide to take him in.
Once he plugged the Bass and started simply warming up, we were already excited. Together with our drummer Stig, this will make for a great rhythm section.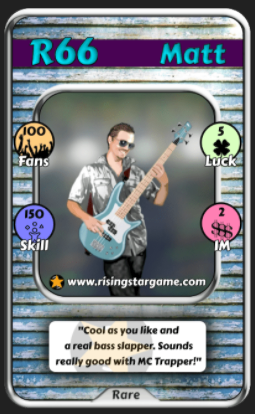 Still doubting whether we shall take another guitar, or perhaps keyboard player to be the 5th member, but we won't wait for long.
Decision will be made very soon.

"""
Rising Star Game is one of those truly awesome, ground breaking projects. Appealing to both and gamers and artists. It is my honor and joy to be personally involved from the beginning and as a supporter, player and content provider.
If you like gaming, music, crypto I'm pretty sure you would be enjoying this game just as we do.
You are more than welcome
"Start as a lowly busker and work your way up to global mega star! Earn STARBITS playing Rising Star, the Hive Engine NFT music career game!"
https://www.risingstargame.com?referrer=ugochill
Thank You so much for all your love and support.
Wishing everyone all the best.!
""