🤘 Hello ROCK Stars! 🤘
Today I finally made another pack purchase, YEAAH!
With this new rare card, I will be able to better manage my ego, which was rising too fast.
I'm farming a lot of starbit, compared to the number of cards I have, I'm getting an average of 1k+ starbit per day sometimes up to 2k, so maybe I'll be able to open another pack next week.

You can view My previous status here in this Post
Keep an eye on my current Status: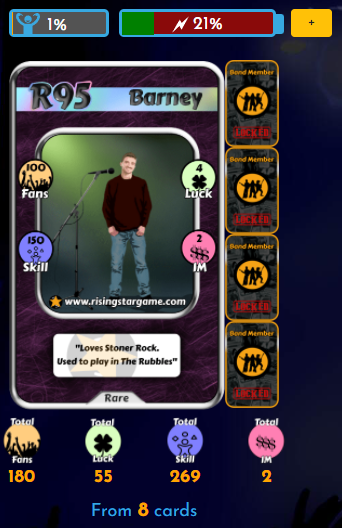 At the time of this post I have:
180 fans, I got a raise from 5 to 8 cards.
are from cards.
55 Luck.
269 Skill and 1% ego.
I'm at level 22, missing 283 XP for level 23 and 990 starbits.

00:00 Congratulations! You completed your first Saturday Headline mission and got a reward of 10 starbits!
Yesterday I did my first Saturday Headline mission and got 468 starbits plus the bonus for completing it.
My career gains on November 03th
468 starbits

I felt very lucky on the 3rd, I had an empty energy bar, so I couldn't do any more missions and then just like !PIZZA and my energy was restored. Thus being able to complete more missions.
🏆 My goal 🏆
I'm thinking about starting more daily missions to increase my starbit farm, with that I would be able to open my next pack of cards in 5 days, if I can keep this routine I would have 3 to 4 packs open in the month what I do I think it's a good number. By achieving this feat, my rise to fame would be one step further. 🤘

If you want to play, enter through the following links, I would love to have you as a friend.🤩🤩